How Couch Guy Really Feels About That Viral TikTok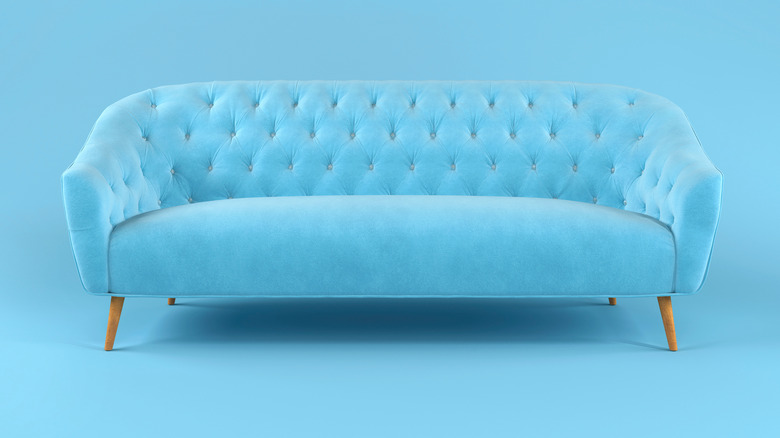 Arkhipenko Olga/Shutterstock
In the last few weeks, it didn't matter if you were on the "Berries and Cream" side of TikTok or watching the oddly satisfying videos on #cleantok; the algorithm made sure your FYP was filled with one guy — Couch Guy. On September 21, Lauren Zarras, a student at Purdue University, posted a video surprising her long-distance boyfriend on TikTok. Captioned, "Robbie had no idea," the video garnered 62 million views and 131,000 comments and all of them agree: Robbie didn't seem too happy to see his girlfriend.
Robbie was on a couch with three other girls when the TikTok video was filmed and looked just about moderately pleased to see his girlfriend. "The girls look sus, the boys look amused, the boyfriend looks scared. Sis... please ask questions," a top comment on the post summed up everything the internet felt. Conspiracies of Robbie cheating, reenactments, and detailed frame-by-frame analyses of the video gave rise to #couchguy, which has 880 million views right now.
Read on to find out how Zarras and Couch Guy felt about the entire internet coming for their relationship.
Couch Guy's girlfriend set the record straight
In the video's comments section, Lauren Zarras defended her relationship and herself as many said she was in denial. She wrote (via The Tab), "breaks my heart that people can watch a special moment and bring so much negativity ... thanks for the concerns though! And no I'm not in denial." However, Couch Guy (we'd like to petition this to be his real name) released his own response video, set in the scene of alleged crime (via TikTok). "I love @laurenzarras, she's the best," he captioned the video. "Not everything is true crime. Don't be a parasocial creep," he said. The top comment: "Yes king, you can pull this off, gaslight her and us."
Zarras finally went on a podcast "Tea with Publyssity" to debunk all the theories on the internet. She explained that Robbie was actually in his room before she came and his friend had to go bring him out for Zarras. She also said that all the girls on the couch knew that she was coming and that ultimately, "We know what happened, we know our relationship."
We may never know the full truth, but maybe we can relish in the fact that for once, comment sections around the world united. If only we could depolarize climate change.