The Truth About Seth Rogan's Massage From Paul Rudd
Robin Marchant/Getty Images
Seth Rogen and Paul Rudd are two of the modern era's more prolific movie comedians, playing everyman type characters so many of us can relate to, even in the most absurd of movies. The two performers have appeared in several flicks together through the years, including "Anchorman: The Legend of Ron Burgundy," "The 40-Year-old Virgin," "Knocked Up," and "Sausage Party," (via Newsweek).
Starring in all those movies together created what looks to be a lifelong friendship between the two prolific and hilarious actors — or as some might call, a lifelong bromance. Apparently, Rudd and Rogen can play some pretty racy pranks on one another in the most interesting of places, and they are so comfortable in their friendship that Rogen has no trouble telling some of their more surprising pranks to the social media world, as he did on July 5, 2021, when he tweeted a gem that got the internet laughing and talking.
Paul Rudd's massage prank on Seth Rogen worked like a charm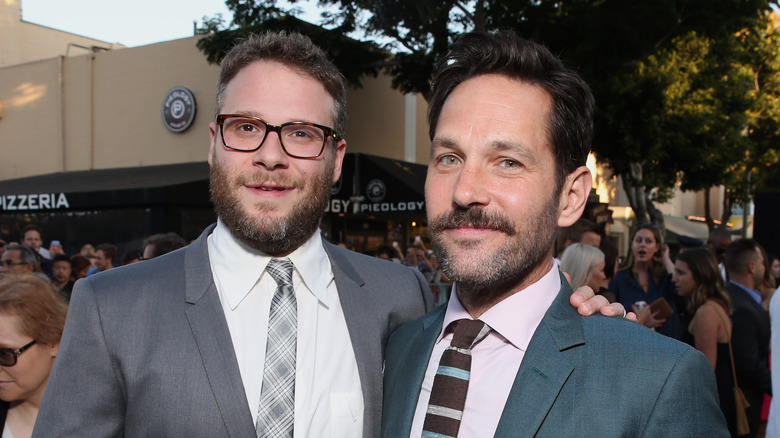 Todd Williamson/Getty Images
This particular prank in question took place in Las Vegas and Seth Rogen described it well in his random tweet that left Twitter users a bit perplexed, but with proper responses.
"Once I was in the spa in a hotel in Vegas getting a massage," Rogen tweeted. "When I finished I turned over and to my shock Paul Rudd was massaging me. He saw me go in and convinced the masseuse to let him take over, thinking I'd notice immediately. I didn't, and Paul did the entire rest of it."
Needless to say, Twitter had all the jokes that July day in response to such an unusual anecdote.
"Are we sure this wasn't a weed induced hallucination Seth?" producer Jeremy Wein asked, to which Rogen replied, "I'm sure Paul would confirm it."
Director and screenwriter Greg Mottola asked simply "Happy Ending?" while "General Hospital" actor Marc Anthony Samuel asked if he was any good. Yet another tweeter gave Rudd the new perfect nickname, "Paul Rubb."