Machine Gun Kelly And Megan Fox Share New Details About Their Unusual Relationship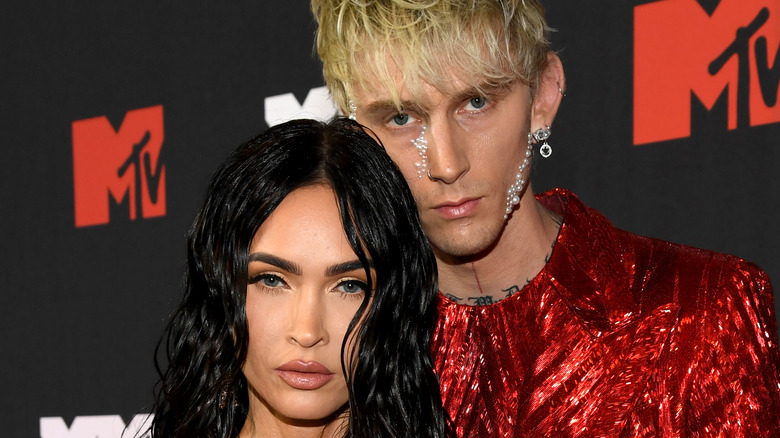 Kevin Mazur/mtv Vmas 2021/Getty Images
Machine Gun Kelly and Megan Fox are definitely one of Hollywood's most interesting couples. The actress and the singer first began dating in 2020, and fans were instantly intrigued by their relationship. 
Fox, who was previously married to former "Beverly Hills 90210" star Brian Austin Green, first met Kelly on a movie set, and the pair were said to form a solid connection right off the bat (via Us Weekly). "They started off as friends and their relationship grew from there. Megan thinks MGK is a really cool guy and their relationship turned more romantic," a source told the outlet in May 2020.
After the couple had been dating for a few weeks, they began to speak out about their intense love for each other. Fox even called Kelly her "twin flame" during an interview on the "Give Them Lala...With Randall" podcast. 
"The second that I was in a room with him ... I knew right away that he was what I call a twin flame," she said. "Instead of a soul mate, a twin flame is actually where a soul has ascended into a high enough level that it can be split into two different bodies at the same time. So we're actually two halves of the same soul, I think. And I said that to him almost immediately because I felt it right away."
Now, Fox and Kelly are opening up even more about their interesting love story.
Machine Gun Kelly and Megan Fox talk about their dark romance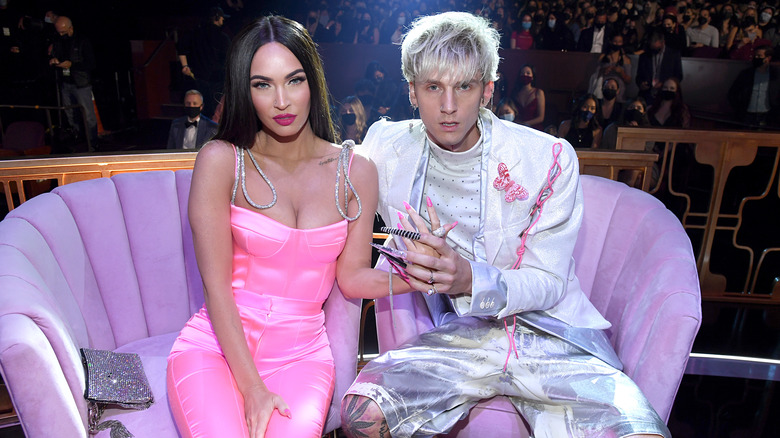 Kevin Mazur/Getty Images
The Daily Mail reports that Machine Gun Kelly and Megan Fox recently sat down for a cover interview for British GQ Style. They posed provocatively in photos and detailed their epic love for each other inside the pages of the magazine.
"This weird thing happened," Fox said. "We didn't see each other. I don't remember [his] face. I just remember this tall, blond, ghostly creature. Then, I swear to God, he disappeared like a ninja in a smoke bomb." She continued: "I think we weren't allowed to see each other yet. We weren't supposed to run into each other that night, so our souls, our spirit guides, were luring us away from each other." 
Fox went on to explain their powerful connection. "This is a very intense relationship," she said. "Our souls chose this to absolutely have to face our shadow selves; to face things about ourselves we didn't want to have to know, that we tried to push away. It should be light, but also we go to hell with each other."
For his part, Kelly went on to reveal that the couple isn't perfect. "It's ecstasy and agony for sure ... I don't want people to think anything's perfect with us," the "Bloody Valentine" singer confessed. "I didn't say it was the darkest fairy tale for no reason."
While some fans may not understand their connection, it appears that Fox and Kelly are on the same page about their romance.