What's Really Going On With Nicki Minaj And Little Mix?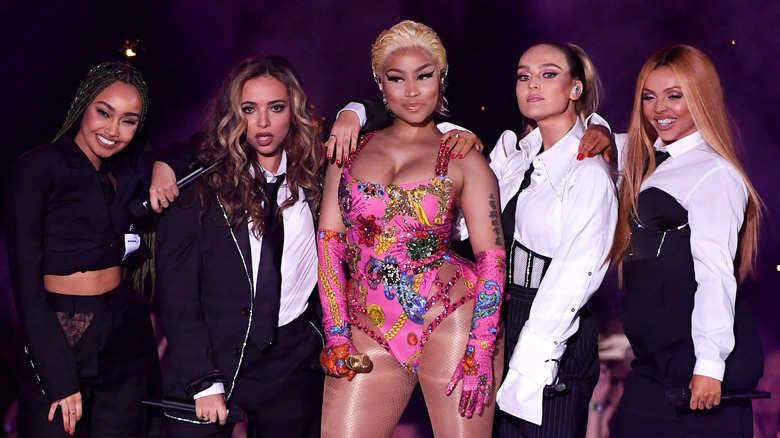 Ian Gavan/Getty Images
Jesy Nelson, formerly of Little Mix, finally made her big solo debut with highly-anticipated single "Boyz." As Vulture notes in a profile of the singer, the song includes a sample from Diddy's anthem "Bad Boy for Life." The accompanying music video, meanwhile, features the man himself in a seal-of-approval cameo. Nelson, a lifelong and very vocal fan of hip hop and R&B, is dressed accordingly in stylishly baggy clothes with big, curly hair, the way she's always wanted to be. As the former girl-band member put it, "I wrote it and realized, If there was a song out there to describe Jesy Nelson, this is it."
However, although the release of her first song as a solo artist is, obviously, a major moment of triumph for the long-bullied pop star, it hasn't been without controversy. Nelson has faced wide-ranging accusations of Blackfishing, which Vulture explains as "disingenuously using the aesthetics of Black women and R&B to introduce her solo era", though they note that Nelson doesn't seem to have realized the harm she might cause. She even stands accused of using a so-called "Blaccent" on the song itself. However, firmly in her corner is rapper Nicki Minaj, who features on "Boyz" and is defending Nelson to the end. 
Nicki Minaj defended Jesy Nelson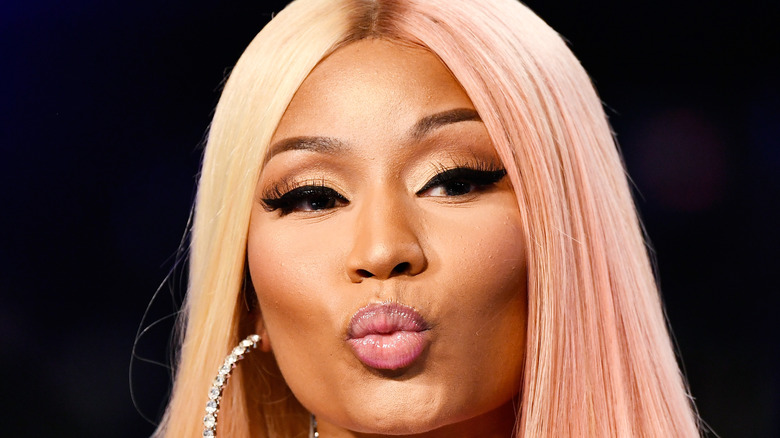 Frazer Harrison/Getty Images
Vulture makes it clear Nicki Minaj's verse on Jesy Nelson's "Boyz" was recorded before the rapper's widely discussed tweet about her cousin's friend's swollen testicles, though the video was reportedly filmed soon afterwards. Regardless Minaj, whom Nelson met when she guested on Little Mix track "Woman Like Me," is clearly unafraid of getting embroiled in another controversy since she's wading into the ongoing Blackfishing issue. According to E! News, TikTok star NoHun shared screenshots, allegedly from Little Mix star Leigh-Anne Pinnock, seemingly calling her former bandmate Nelson a "horrible person," and asking NoHun to make a video calling her out for Blackfishing. 
The messages, which have been widely shared on Twitter, have not been independently verified, but it hasn't stopped fans of the band rallying behind Pinnock and fellow Little Mix members Jade Thirwall and Perrie Edwards, with many suggesting they're better as a trio. Nelson left the band in 2020, admitting she couldn't handle the pressure of being in a girl group any longer. Minaj took the opportunity to defend her during an Instagram Live, complaining about the "clown s**t" going on and arguing that the girls should be supporting Nelson rather than attacking her. Minaj didn't refer to Little Mix by name, but it was clear who the targets of her ire were as the rapper railed, "Sweetheart, take them text messages and shove it up your f*****g ass." 
Jesy Nelson is confused by the backlash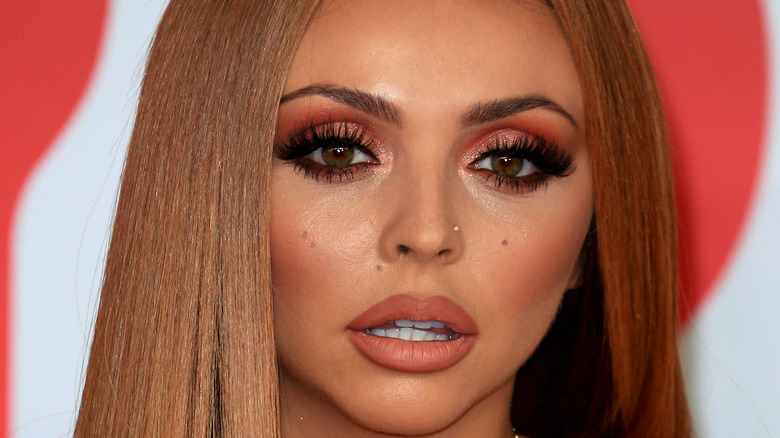 Cubankite/Shutterstock
E! News notes Nicki Minaj even accused the remaining Little Mix members of "trying to hurt people and kill people's lives and career," reasoning that the girls are simply jealous. On Leigh-Anne Pinnock feeling as though Jesy Nelson was Blackfishing during her time with the group, the rapper argued, "If that's how you felt, why were you kiki'ing with her and being in the videos with her for 10 years? Now, all of a sudden she's not in a video with you, you have some negative, evil thing to do and say?" Meanwhile, Nelson clarified to Vulture she's never presented as anything other than a "white British woman." Nelson claimed to be confused by the allegations, arguing they never surfaced while she was in Little Mix. 
The singer clarified, "I love Black culture. I love Black music. That's all I know; it's what I grew up on." The backlash to "Boyz" has been swift, with one Twitter user pointing out, "Jesy Nelson profiting off of Black culture, when she herself couldn't even be a good ally to an ex bandmate let alone the Black community, whilst Blackfishing and trying to sing with a Blaccent in an attempt to sound hard when she's from Essex." Nelson promised Minaj, during their chat, she never intended to cause offense and simply wanted to celebrate an era of music she really loves. She admitted, "It actually does really hurt me that may have offended people."