Is This How Donald Trump Lost His Fortune In The Last Year?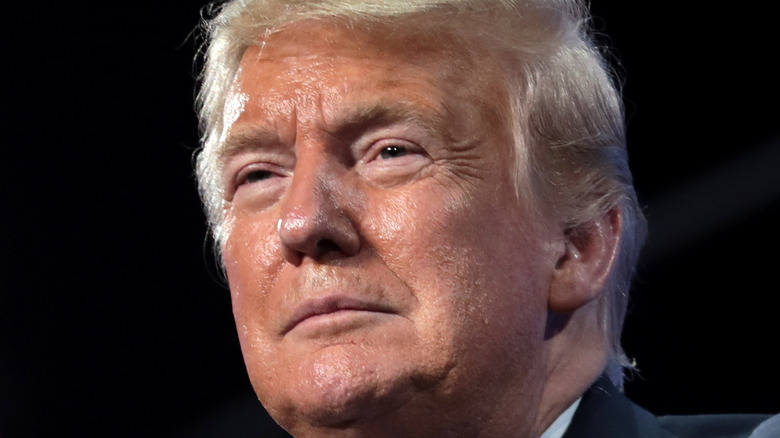 Nuno21/Shutterstock
Donald Trump was a well-known and successful businessman years before he stepped into the White House, when he became the richest president ever. Investopedia broke down his net worth, which includes $1.2 billion from commercial real estate, $148 million from residential real estate, $38 million from hospitality, $42 million from hotel licensing and management, $217 million from golf courses, $295 million from other properties, and $160 million in cash.
However, times have been tough, even for this former president. For instance, before the COVID-19 pandemic, that $38 million in hospitality holdings had a projected value of $107 million.
In 2018, it was estimated that Trump was worth $3.1 billion (though, he would overstate the number by more than $7 billion, as reported by Business Insider and CNBC). That number was down from Trump's estimated net worth in 2015, which was reportedly $4.5 billion. Now, six years later, the number is $2.5 billion, meaning, for the first time in 25 years, Trump has not made this year's Forbes 400 list of the richest people in America (via Forbes).
Donald Trump should be focused on paying off his debt, according to this source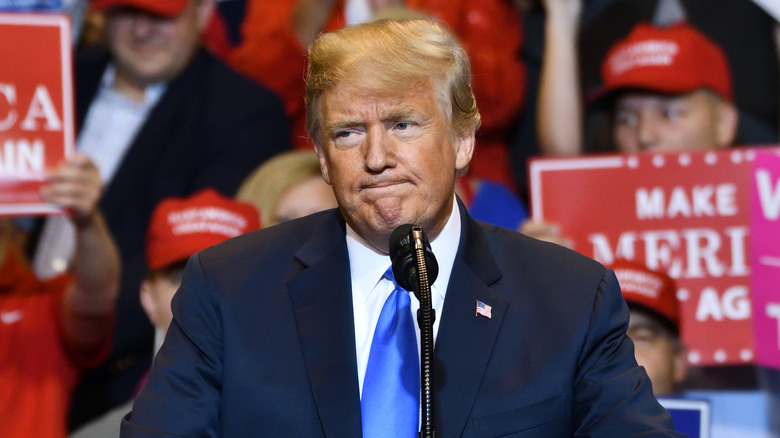 Evan El-Amin/Shutterstock
According to Forbes, some people have always thought that Donald Trump would be in a better financial situation if he had put the money his father gave him in the S&P 500. However, the former president has done well ... until COVID-19 came. One of the many negative side effects of the pandemic was an economic crisis, and Trump lost $1 billion in just weeks.
"Right now, the former president should be sorting out how to pay back hundreds of millions of dollars in debt coming due over the next three years," wrote Forbes' Senior Editor Dan Alexander, before highlighting that the former president instead is focusing his energy on the political circles that he was all but excluded from after losing the 2020 presidential election. Alexander went on to highlight that the person who historically would help Trump navigate his personal finances, Allen Weisselberg, is currently facing 15 charges of financial crime, some of which include conspiracy and grand larceny, as well as fraud. 
So will Trump make a financial come back, pay off his debt, and finally crawl his way back up the Forbes' list of richest people in America? Only time will tell.