What You Never Knew About Lashana Lynch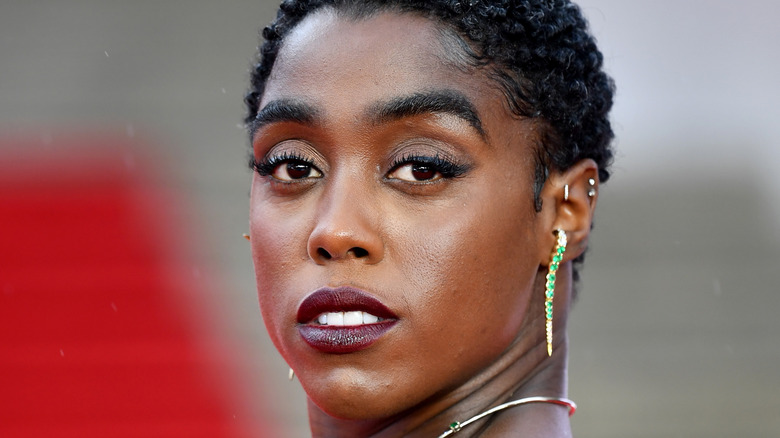 Gareth Cattermole/Getty Images
If you hadn't heard of Lashana Lynch before 2021, chances are, you've heard of her now. Lynch exploded onto the scene as Nomi, the new 007 agent in "No Time to Die," and quickly became a household name. As the first Black woman to play 007, Lynch made dozens of headlines — and also attracted some trolls (via BBC). You may have also seen Lynch in "Still Star-Crossed," "Bulletproof," or as Maria Rambeau in "Captain Marvel," the titular character's best friend. With films like the musical "Matilda," "The Woman King," and "The Outside Room" in the works, it's clear that Lynch is well on her way to superstardom (via IMDb).
Lynch was born and raised in West London by Jamaican parents, and she has retained a strong sense of her roots. As she put it to Vogue, she "only felt British outside the house." As a young girl, Lynch quickly realized that acting was her passion. After going to ArtsEd drama school, she soon began racking up impressive film and TV credits. Curious to learn more about this up-and-coming British star? Here are some of the things you never knew about Lashana Lynch.
Lashana Lynch loves her natural hair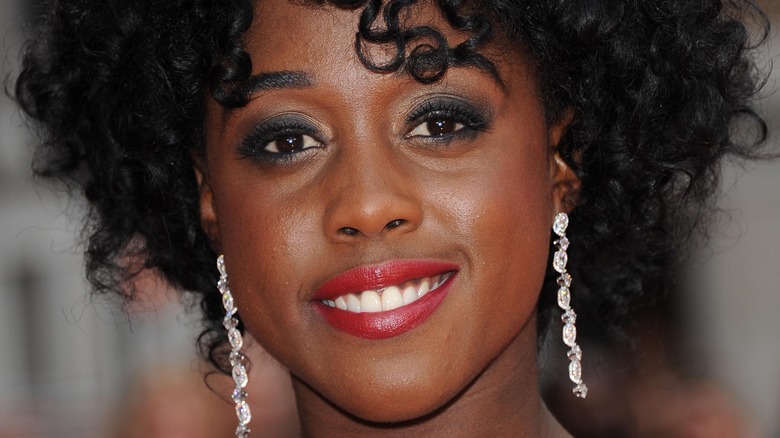 Stuart C. Wilson/Getty Images
Lashana Lynch grew up feeling a little insecure. As a Black girl in London, she didn't always feel confident in her appearance. As she explained to Vogue, "Hair was a massive factor," she says. "I've always had natural hair, which is a big deal for a black girl ... I used to do canerows and curls, which was wonderful at the time, but in retrospect, you realise you're trying to channel someone other than yourself."
As an adult, Lynch has fully embraced her natural Black hair — and has tried to ensure that Black hair is well-represented in her films. For instance, as she told Harper's Bazaar, there have been occasions when she has told directors how she wraps her hair up at night to make sure her films accurately present the Black experience.
Lynch later cut her hair into a short pixie cut for the film "Y: The Last Man." At first, she missed her old look. But soon, she found that her shorter style could help her learn about herself. "When I got into that and learned about who I truly am, it shifted me into a space I hadn't shifted into before," she told Essence. Sounds like Lynch's hair journey has been a big part of her life!
The actress prefers to eat healthy
One thing's for sure — Lashana Lynch definitely knows how to eat well and stay healthy! Like many other health-conscious actresses and actors, Lynch does follow a fairly strict diet on most days. As she explained to The New Potato, for six of the seven days of the week, Lynch steers clear of "white carbs, processed sugar products, dairy and wheat."
Every morning, she drinks a lemon tea to, as she put it, "wake up [her] digestive system." Her go-to meals include smoked salmon, eggs, and spinach, as well as fried or roasted fish with a side of vegetables. On Friday evenings, she and her friends have a ritual of doing an intense workout followed by a big dinner. Sounds like Lynch is super healthy and regimented.
Even though Lynch keeps her diet clean for most of the week, on the seventh day, she lets herself have whatever she feels like — sounds like the perfect balanced diet to us!
Animated movies inspired Lashana Lynch to act as a child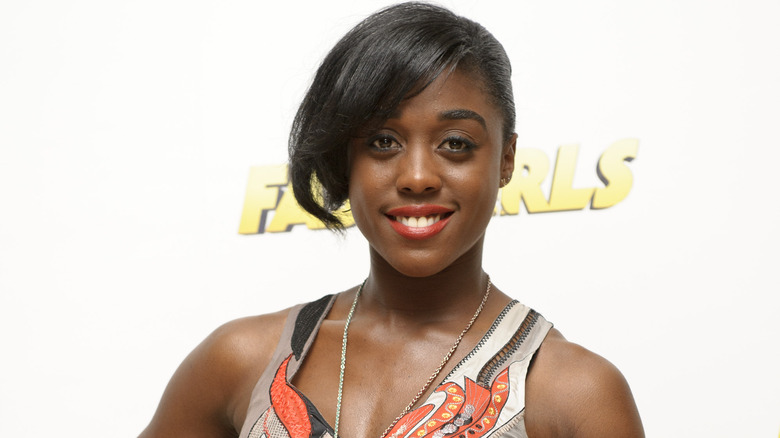 Ben A. Pruchnie/Getty Images
Lashana Lynch wasn't always interested in acting. It turns out, she got her inspiration from a pretty unexpected place. As a child, she became inspired to enter the industry after watching the animated Disney films of the '90s. As the actress told GQ, she was blown away by just how moving and affecting the films really were. "I found it fascinating that you can take a little cartoon or a little animal and give them human-sequence features and suddenly I'm drawn into the story," she explained. After learning to love movies through her Disney obsession, Lynch later "felt more related to emoting through [her] voice," and that was how she was inspired to get into acting.
It sounds like Disney's animated films are super important to Lynch — we only wish we could see her take on an animated character role one of these days.
She got into acting as a kid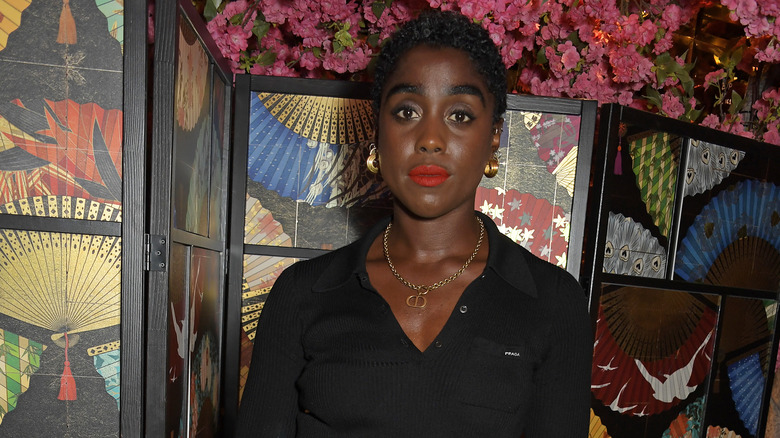 David M. Benett/Getty Images
After developing a love of acting thanks to animated Disney films, Lashana Lynch wanted to do as much acting as she possibly could, even when she was still young. So, her dramatic education began early. As a child, she took dance and music lessons. She also took part in school plays. "My first lead was Pinocchio in the school play," she told The Guardian.
As a teenager, she continued to pursue acting by taking classes at Sylvia Young Theater School every weekend. It seems that Lynch was already taking her career pretty seriously, even as a child. In fact, at the time, she didn't even let herself consider doing anything else. "I was like, '[Another option] doesn't exist. There was never a plan B," she said.
After high school, Lynch continued her acting studies at the Arts Education School in London, where, according to The Sun, she graduated with the best possible mark. It sounds like Lynch has always put the work in when it comes to her acting career — and it's definitely paid off.
The actress is passionate about inspiring Black women through her work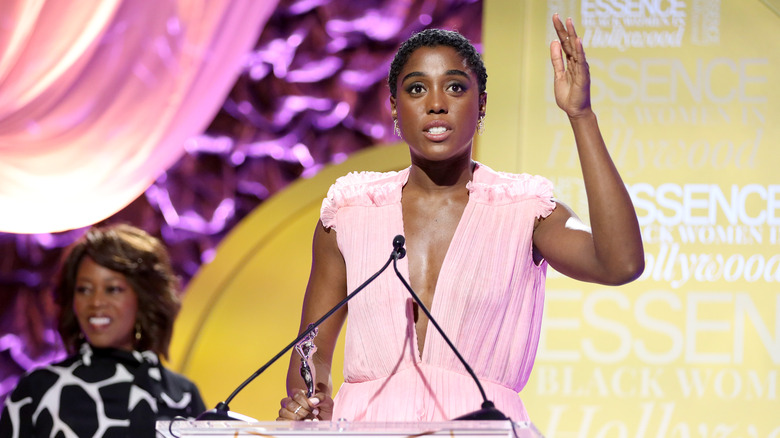 Rich Polk/Getty Images
Lashana Lynch made history as the first Black female 007 agent in a James Bond film. For Lynch, this was a hugely important step — especially as she's passionate about advocating for Black women in the industry. As the actress explained to Rolling Stone, she and one of the scriptwriters, Phoebe Waller-Bridge, worked hard to make sure the character was a positive role model for Black women who would represent an important step forward for Black characters in action films. "As the script was being written, we kind of created this big melting pot of who she could be, what she represents in MI6, what kind of Black woman is she? Strong, whip-sharp, witty and brave, playful, very cheeky, very sarcastic and dry," she said (via the Daily Mail).
In an interview with the Independent, Lynch explained that being cast in the "James Bond" franchise would hopefully provide some inspiration for other young Black actresses. "I'm hoping that my career and my choice in roles and me just being me, authentically, is shining a light on our power," she said.
Lashana Lynch had some strong opinions about the arts during COVID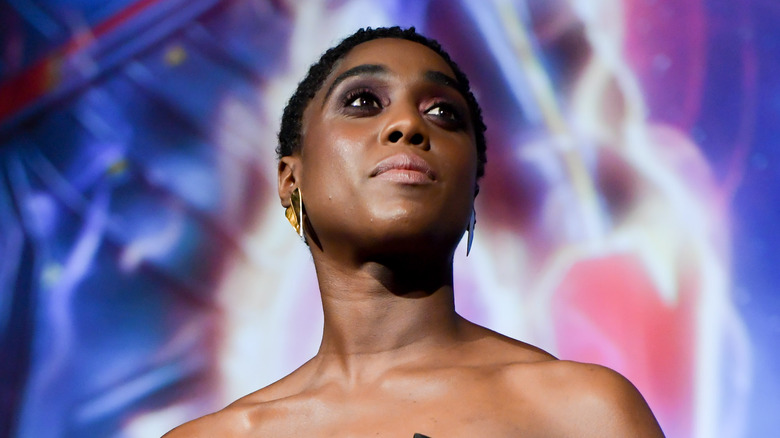 GP Images/Getty Images
One thing's for sure — Lashana Lynch isn't afraid to speak up about her political opinions when it matters. In 2020, the actress spoke with GQ about how the British government was handling the COVID-19 pandemic and what their policies meant for people in artistic industries.
"I'm scared for cinema and theater," Lynch said. "It's affecting actors. We're being told to go and seek other avenues, which is probably the most disrespectful thing you can tell a creator," she went on. For Lynch, the government's suggestion that actors and other creatives should retrain in other sectors was hugely insulting. As she explained, millions of people had relied on movies and TV to keep them going during the pandemic, so, in her opinion, creatives deserved more respect. As she put it, "We can't continue to trust the government to do the right thing." We have to say, we're super impressed with Lynch's honesty and openness about her political views!
She almost missed out on her first ever professional TV role in The Bill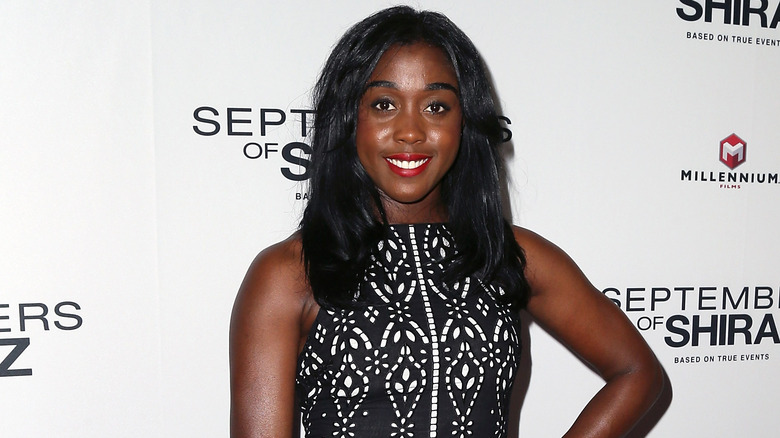 David Livingston/Getty Images
Lashana Lynch got her first professional role in a 2007 episode of "The Bill," in which she played a young woman who was kidnapped. However, as the actress revealed in an interview with Rolling Stone, she almost missed her audition for the part.
Apparently, the actress got a little lost on her way to the audition when she got on the wrong train. "I got on the Northern Line the wrong way and got there so late," she recalled. Luckily, the ordeal with the train only helped Lynch with her performance. "The scene was her crying her eyes out and, literally, I did not have to act," she explained (via The Sun). Sounds like this was the perfect audition to get a little stressed about. Talk about fate taking a hand — it turns out that even running late to an audition can sometimes be a good thing!
Lashana Lynch likes to express herself with red carpet fashion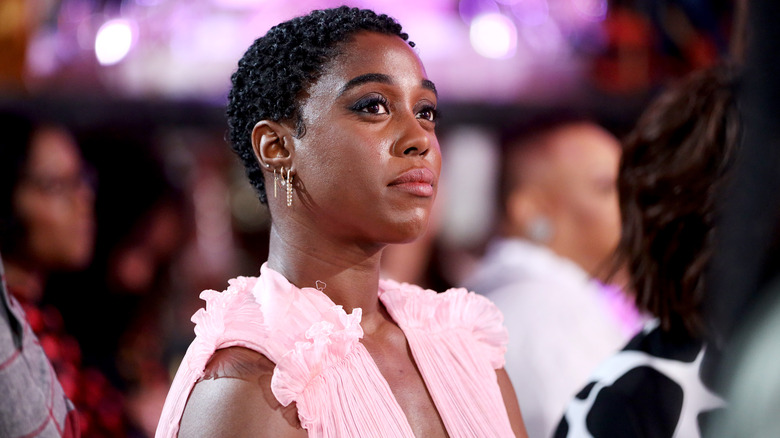 Rich Polk/Getty Images
Lashana Lynch is always a breath of fresh air on the red carpet. As she explained to Who What Wear, that's all thanks to her unique, bold approach to fashion. "I think it's really important both in my public life and my work life to represent myself comfortably but also step outside of my comfort zone in terms of colors and shapes," she said. For Lynch, fashion is just another opportunity to express herself and take charge of her appearance.
One of her favorite looks to date was her outfit for the "Captain Marvel" premiere in London. "I'm really proud of [it] because it made me feel celebratory of myself and my body," she said. "That's all I want to do — celebrate what I have while feeling comfortable."
Lynch also has a great everyday style that's all about pairing practicality and style. Her go-to look? Sneakers paired with a dress. What a total style inspiration!
When working on No Time to Die, Lashana Lynch upped her health game
Lashana Lynch is obviously in great shape, but her health hasn't always been her main focus. All of that changed when she took on the role of Nomi in "No Time to Die." As she explained to The Guardian, she realized that she needed to seriously up her health game in order to do the role justice.
For one thing, Lynch took on an intensive training regime for the part. "I asked the stunt team if they could make me into a ninja and they said yes," she explained. "They've trained me for life." She also became obsessed with healthy eating. In fact, once the shoot was finished, she even bought herself a juicer. "Forget all the big, expensive fancy stuff, I just want juice. And I want it to be green," she said.
Lynch clearly transformed into a ninja juice-drinker after Bond — and we are super impressed!
She had always wanted to do a Marvel movie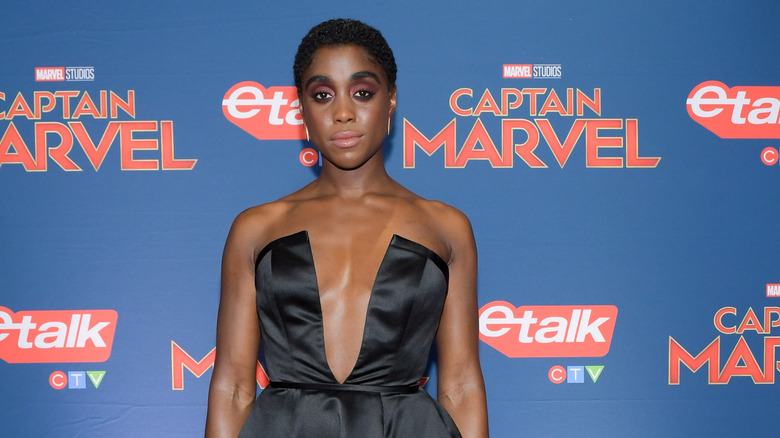 GP Images/Getty Images
Lashana Lynch officially joined the MCU when she starred in "Captain Marvel" as fighter pilot Maria Rambeau. While it was her first Marvel movie, it wasn't her first brush with the MCU. As she told GQ, she had been trying to land a role in a Marvel movie for years. "I'd taped for many roles, big and small," she said. "'Black Panther,' ... 'Venom,' an 'Avengers' film."
Even though she didn't land a role until "Captain Marvel," Lynch continued pushing for Marvel auditions. In fact, her ultimate goal was joining the MCU. "I said it out loud to friends and family, and made [Marvel] my goal," she told Elle. "It was a good few years of sending audition tapes before my role in 'Captain Marvel.'" As far as Lynch is concerned, she manifested her role in the film. We totally love how she never gave up on her dream!
Lashana Lynch takes her wellness very seriously
Being a movie star isn't easy at the best of times. And for Lashana Lynch, it can be extra difficult thanks to racist and misogynistic online trolls. Luckily, Lynch has a great self-care routine to keep herself grounded. In an Instagram post in 2021, Lynch described some of her self-care practices, which include taking time for herself, looking at the moon, being silent, paying attention to her energy, using candles, drinking water, and getting in touch with nature. Lynch has also posted on Instagram about her love of crystal healing, yoga, and self-help books.
Lynch also loves to focus on taking care of her physical and mental health after a long day at work. In an interview with The New Potato, Lynch explained that before work, she loves to chat and get hyped up with music. However, after work, she prefers to cook herself dinner, spend some time in total silence, and then head to bed. This actress certainly knows how to take care of her mind and body!
This is Lashana Lynch's beauty routine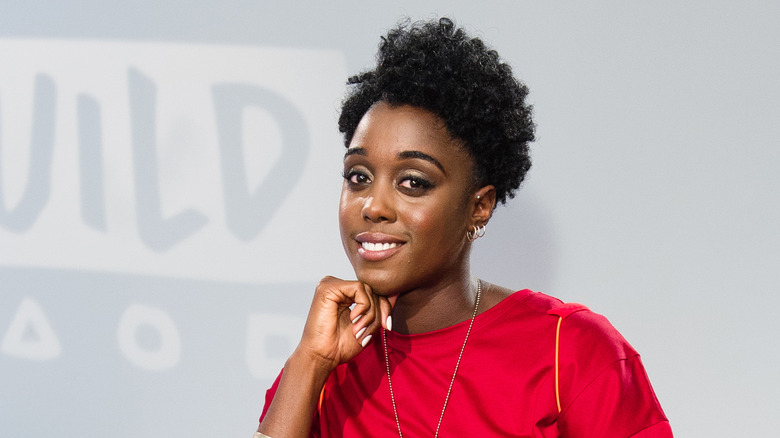 Jeff Spicer/Getty Images
Lashana Lynch is one of those Hollywood stars who always seems to look her best. It's no surprise that she has a totally amazing beauty routine. As the star explained to The New Potato, her routine involves a few key ingredients. Her favorite brand is Dermologica, especially for days when she's on set. "I tone with Dermalogica multi active toner and moisturize with either an organic coconut oil I got from Thailand or raw shea butter that I force my friends to get me from Ghana after their holidays," she explained. Apparently, shea butter really helps her with blemishes.
For days when her skin needs some extra TLC, Lynch uses a few additional products, including the Dermalogica Precleanse, Dermal Clay Cleanser, and Oil Control Lotion. She also likes to use the Rituals Lotus Flower & Moringa Extract Creamy Foam Cleanser on a day-to-day basis. As she explained, it "is cleansing but also gentle on the skin." It's pretty clear that this star has an airtight skincare routine — we'll definitely take some notes!
During lockdown, Lashana Lynch spent her free time in nature
The COVID-19 lockdown was hard for all of us. However, some of us found ways to make the most of the time at home. For Lashana Lynch, lockdown was an opportunity to reflect and spend some quality time with herself focusing on self-care. "At first I thought, 'So, what do I do with my thoughts? Where do I place all of these plans that I have?'" Lynch told Time Out. However, as she went on to explain, she quickly found ways to keep calm.
One of her favorite coping mechanisms was binge-watching TV shows online. Another way she kept calm was by meditating and walking through nature. "I was having conversations with nature, saying, 'I was here a week ago and you were just a baby. Look at you, growing,'" Lynch recalled, laughing at herself. Whether or not you think Lynch's lockdown habits are a little weird, they clearly helped her get through what was a very tough time for us all. Who knows, maybe we could all benefit from talking to our local plants!
This is Lashana Lynch's technique to get into character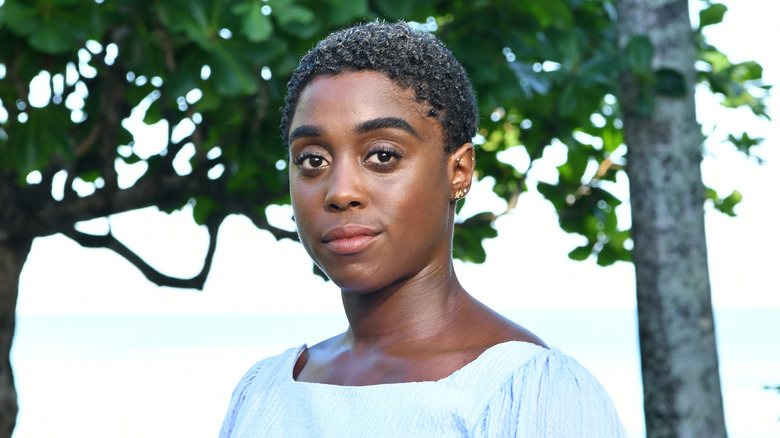 Slaven Vlasic/Getty Images
Most actors have their own unique ways of preparing to play their roles. For Lashana Lynch, getting into character is something that happens somewhat differently for each film. However, she does have a few habits. "I tend to turn into a recluse and become engrossed in the script and emotions of the character," Lynch told The New Potato.
However, as she went on to explain, she can't always prepare before the shoot begins — sometimes, inspiration strikes in the moment. As she put it, "Ideas usually stick during the job, rather than before. I could write a whole list of ideas in prep, but they'll all change by the time I actually get to work." It sounds like Lynch has a very organic, flexible process. We can safely say that whatever she's doing, either before or during the shoot, her method clearly works!