The Exact Lip Color Anya Taylor-Joy Wore In The Queen's Gambit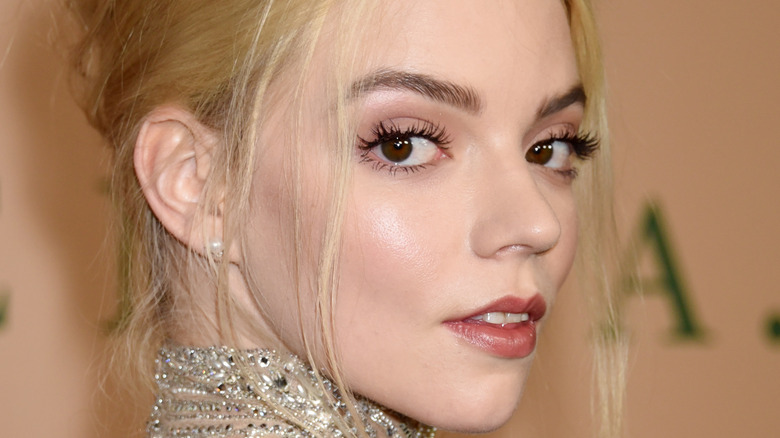 Ga Fullner/Shutterstock
We may receive a commission on purchases made from links.
When Netflix announced in 2019 that they were adapting Walter Tevis' 1983 novel "The Queen's Gambit" for a limited series, most people read the news without giving it much thought (via Netflix). The novel, though well reviewed by book critics when it came out, had largely been forgotten (via the New York Times). By the time "The Queen's Gambit" was published, Tevis had already received acclaim for his wildly popular 1963 novel "The Man Who Fell to Earth." The film adaptation of that story, starring David Bowie, was equally captivating, and would become the works that Tevis was most known for (via IMDb).
The premise of an orphaned girl becoming a chess prodigy was intriguing enough, but interest was piqued even further when writer, director, and executive producer Scott Frank announced that he had already signed on Anya Taylor-Joy to play Beth Harmon. 
As Taylor-Joy put it during an interview with Deadline, Frank approached her about the project before he had even written the script. Little did she know that the show would go on to spark a renewed interest in the game of chess, and would subsequently turn her into a fashion icon for women across the world. 
Everything from the clothes Taylor-Joy wore as Beth Harmon to the way she styled her hair was devoured by viewers. In addition to picking up a chess guide and recreating some of Beth Harmon's most iconic outfits, you can buy the exact lip color Anya Taylor-Joy wore in "The Queen's Gambit" to complete your own '60s inspired transformation (via Vanity Fair).
Anya Taylor-Joy wore this shade of lipstick in The Queen's Gambit
If you fell in love with Anya Taylor-Joy's portrayal of Beth Harmon, you're not alone. The actress had an idea of what she wanted her character to look like and made her opinion known. Speaking with Deadline, Taylor-Joy said, "I ran to meet Scott and then I semi-terrified him because I burst into the restaurant, and I just kind of yelled at him and said, 'She has to have red hair.'"
Taylor-Joy's involvement with the overall look of her character didn't stop there, though. The actress worked directly with costume designer Gabriele Binder to create Beth's unique wardrobe (via BuzzFeed). The level of care and attention is visible in every detail of the show, from the way Beth's style evolves over the years to the gradual changes in her makeup as she becomes more deeply imbued with the world of chess. One moment in particular stands out in the series, as it serves as a physical indication of how far Beth has come as a chess player and as a woman.
When Beth Harmon is completing her final match against Vasily Borgov, she's wearing the most beautiful shade of red lipstick. According to Brittney Kale on TikTok, the exact color she wears is fittingly called Russian Red. The MAC lipstick captures the glamour of the 1960s and pays a nod to Beth's involvement in the 1968 Moscow Invitational Chess Tournament during the show's final scenes.