AHA Vs. BHA: Which Is Better For Oily Skin?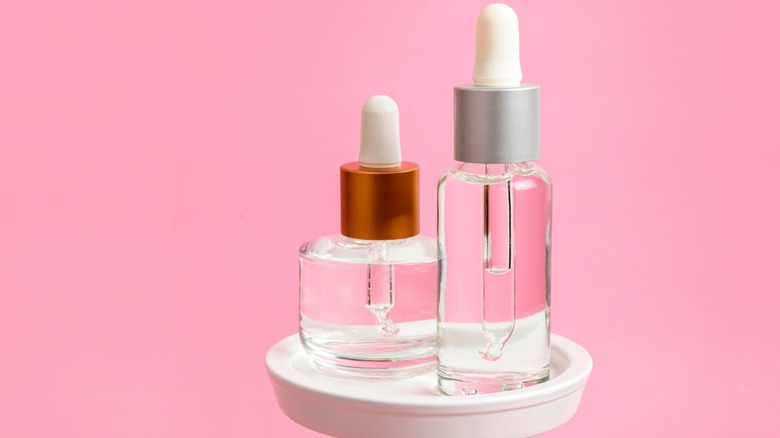 Arkhipenko Olga/Shutterstock
We may receive a commission on purchases made from links.
If you're into taking care of your skin, then you know that a good skincare routine requires a lot more than simply soap and water. Exfoliation, in particular, is imperative because it "helps to unclog pores, therefore reducing acne," dermatologist Michelle Henry, MD, told Eccotique. 
Exfoliation also helps with increasing cell turnover and blood circulation, promoting collagen production, brightening your complexion, and improving your skin's overall appearance, according to Business Insider and Healthline. That's a lot of benefits if you ask us. Still, no two exfoliators are the same, and one will be better for you depending on your skin type (i.e. oily, normal, dry), and the particular issues you are trying to address (i.e. acne, excessive oil production, uneven skin-tone). So what types of exfoliators are out there? 
First we have the mechanical types. These tools consist of the exfoliating brushes and gloves, and, of course, exfoliating scrubs (side note: If you love the satisfying feeling of small beads hitting your skin, be careful as these scrubs can both irritate and cause micro-tears in your skin that diminish its barrier, per Paula's Choice). The second type of exfoliation, which is considered to be safer by many, is chemical (aka acids), according to Vogue. The two most popular acids are BHA and AHA, and if you have oily skin, one is certainly more effective than the other, depending on your skin type.
AHAs and BHAs have different benefits for skin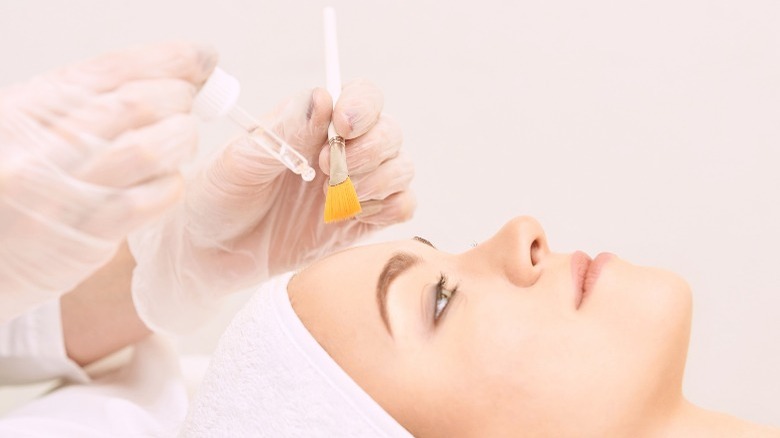 elenavolf/Shutterstock
Alpha-hydroxy acids (otherwise known as AHAs) are derived from natural substances such as sugar cane, milk, almonds, or grapes, according to Business Insider. Examples of AHAs include glycolic, lactic, tartaric, and citric acids. These acids work by breaking down the glue that holds our skin cells together, promoting the skin's natural cell-turnover process, via Healthline. Because AHAs work primarily on the skin's surface, they can help target concerns such as acne marks and hyperpigmentation. AHAs are also ideal for those with dry skin as its molecular makeup helps to retain water, keeping the skin moisturized, via Business Insider.   
Beta-hydroxy acids (BHAs), on the other hand, are derived from willow bark, according to Hello Magazine. BHAs acids comprise the ever-popular salicylic acid and beta hydroxyl acid, whose benefits include hydrating the skin, reducing the appearance of fine lines and wrinkles, and improving firmness, via Healthline and Paula's Choice. BHAs, which are oil soluble, work by penetrating deeper into the skin "to dissolve sebum and remove dead skin cells within the pores," dermatologist Dr. Anne Wetter, co-founder of DNA skincare brand Allél, told Hello Magazine. BHAs are also effective at targeting inflammation, making them a popular choice for oily, blemish-prone skin, as well as those with congested, or enlarged pores, per Paula's Choice. 
These BHA products are crowd favorites for combatting oily skin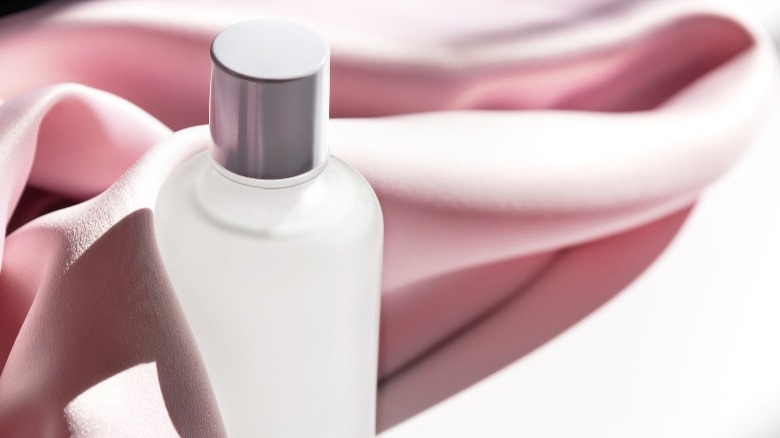 22Images Studio/Shutterstock
Now that we've established that BHAs are the preferred choice for oily skin, here are some crowd-favorite products you need to pick up ASAP. First up on our list is the Skin Perfecting 2% BHA exfoliant by Paula's Choice ($29.50, Sephora). Paula's Choice has basically perfected BHA and AHA products, and one of their most popular is this BHA exfoliant, which works diligently to unclog pores, reduce signs of wrinkles, and even skin tone. The leave-on product is meant to be used two daily after cleansing and toning, per Business Insider.
Next up is the ZAPZYT Acne Wash Cleanser by ZAPZYT ($13.95, Amazon). This highly-favorited BHA product combines the cleansing and exfoliating steps into one, saving you both time and money. It combats both oiliness and acne, and is hypoallergenic and fragrance-free (so it wont irritate your skin!). It's also great for using on other parts of your body that may be prone to acne (i.e. back or chest), according to Skin Care Hero. Third on our list is the Beta Hydroxy Acid (BHA) Blemish + Blackhead Serum by The INKEY List ($10.99, Sephora). This BHA serum comes in the form of a lightweight liquid that targets blackheads and breakouts. It features salicylic acid to gently exfoliate the skin, zinc compound to control oil, and hyaluronic acid to hydrate and plump skin. It should be used after cleansing but before heavier serums and moisturizers, per Huda Beauty.