The Exact Lip Color Mena Suvari Wore In American Beauty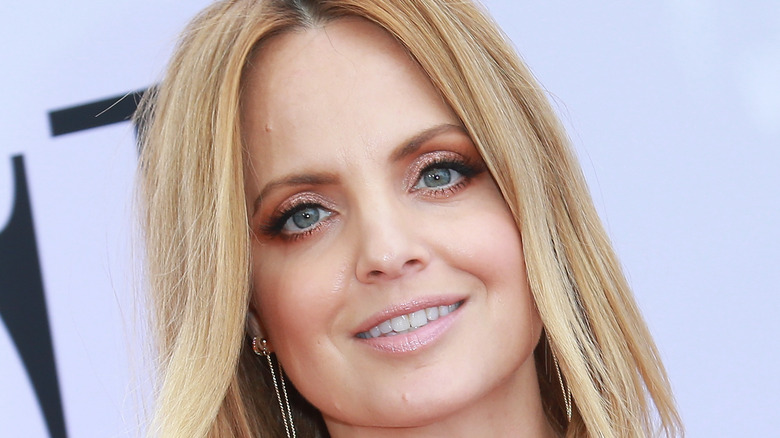 Leon Bennett/Getty Images
"American Beauty" was a star-making moment for then-teenager Mena Suvari. The young actor, who also starred in "American Pie" that year, played an object of lust for an older man, portrayed by Kevin Spacey, who was also the father of her on-screen BFF (Thora Birch). Sam Mendes' boundary-pushing film, released in 1999, went on to win five Oscars. And per IMDb, Suvari herself was nominated for Best Supporting Actress at the BAFTAs. However, although it was a rousing success all round, the uncomfortable subject matter has been heavily criticized in subsequent years, particularly after the many real-life sexual assault allegations against Spacey. 
But to just focus on the film is to notice its '90s aesthetic, particularly when it came to beauty looks. And while "American Beauty" may have been released all the way back in 1999, the makeup, particularly for Suvari's character, is still on point. Case in point? Her stunning lip color. 
Mena Suvari's lip look was a subtle nude
As TikTok user and makeup artist Brittany Cale detailed, when it came to creating a killer lip look for Mena Suvari in "American Beauty," her makeup artists reached for Spice lip pencil from MAC Cosmetics (pick it up for $19 online) and Kiss Me lip-balm from Philosophy. Unfortunately, this product is no longer available, but Cale recommended Lanolips tinted lip-balm in Rose (grab one for $13.50 online) as a substitute. 
While it may have seemed that Suvari was on top of the world the year both "American Beauty" and "American Pie" came out,  the actor later admitted to People that she was "living a double life" at the time. 
Suvari revealed the extent of her personal struggles in her memoir, sharing, "Every time I would go on a set. Every time I was interviewed, I was acting the whole time. It was another role for me to play. That I was okay." Thankfully, she enjoyed focusing on her craft. Of "American Beauty" in particular, Suvari noted, "It was a beautiful experience, being given the opportunity to work and express myself right when I needed I to save me."