The Actual Lip Color Audrey Hepburn Wore In Breakfast At Tiffany's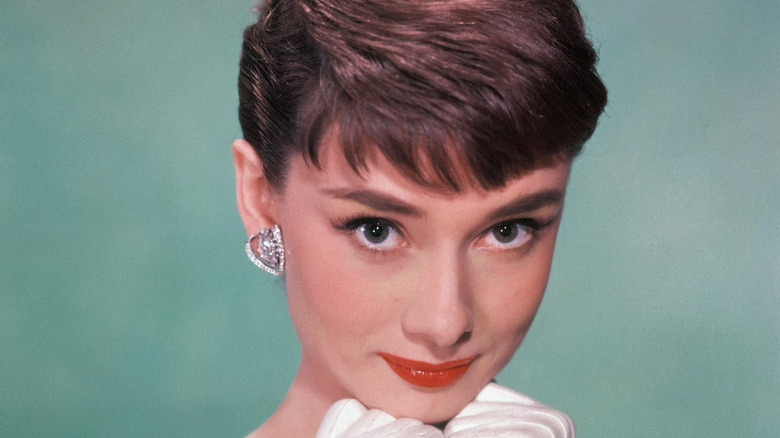 Hulton Archive/Getty Images
We may receive a commission on purchases made from links.
When it comes to beauty and fashion icons of the 1950s and 1960s, few reign as supreme as the legendary Audrey Hepburn. According to Marie Claire, Hepburn was the greatest beauty icon of all time, and years after she died, her iconic style lives on in modern-day beauty and fashion trends.
In a survey conducted by Artistry by Amway, makeup artists voted that starlets from Hollywood's Golden Age were the most influential when it comes to modern beauty trends. Surprisingly, their lists included actresses like Marilyn Monroe and Ava Gardner, not pop stars like Beyoncé or Lady Gaga. No matter how much time has passed since they ruled the silver screen, their legacy lives on.
In all of Hepburn's iconic film roles, there was none more glamorous than her portrayal of Holly Golightly in "Breakfast at Tiffany's." Possibly her most recognizable role, many have been attempting to replicate her look from the film (via Harper's Bazaar). As it turns out, getting the glamorous look might be easier than you thought.
You can find Hepburn's lipstick at the drug store
Sure, Audrey Hepburn was one of the most glamorous movie stars in Hollywood history, but replicating her look might be less expensive than you'd imagine. Many of our current celebrities only rock the highest quality makeup brands that usually come with a hefty price tag, but according to TikTok's Brittany Cale, you can snag Hepburn's iconic lipstick she wears in "Breakfast at Tiffany's" from your local drug store.
During one of her most iconic roles, Hepburn was wearing Revlon's "Pink in the Afternoon," a color that is still available to purchase today (via Southern Living). You can snag this lip shade from your local drug store, Walmart, Ulta, or even Amazon.
You might be wondering how on earth anyone knows what exact lipstick was worn by one of the biggest pop culture icons during the 1960s. However, it seems Revlon has confirmed that Hepburn wore "Pink in the Afternoon" during the film, as well as in an ad campaign years later, where they noted on the advertisement that she did indeed wear that specific shade in the movie. Anyone else headed to Ulta to buy this lipstick, like, right now? And the best part, it's under $10.