The One Fall Lip Color Influencers Say Will Be Going Viral In 2021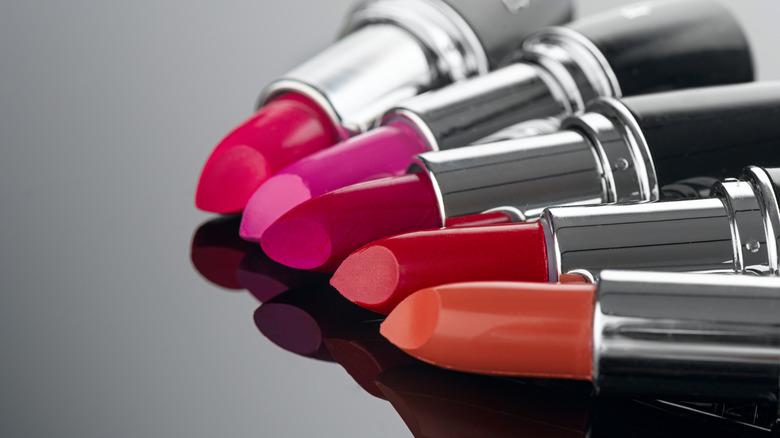 Subbotina Anna/Shutterstock
If you love all things pumpkin spice, then you're going to love the latest lip color that's predicted to go viral this fall. The lip color, which scores of influencers are raving about, is what pumpkin spice would look like if it could be bottled into a lipstick. And the best part is, this yummy-looking lip color comes in a budge-free liquid lipstick formula that's absolutely mask-friendly (per Lifestyle Asia). 
So without further ado, the lip color everyone's obsessing over is the Maybelline Super Stay Matte Ink Liquid Lipstick in Amazonian.
According to Makeup and Beauty Blog, Amazonian is a burnt sienna nude and the Maybelline liquid lipstick formula performs on par with more expensive brands like NARS. While it may look intimidating in the tube, the earthy-toned rusty brown shade is universally flattering and wearable, even complementing olive skin tones (per iDiva). Among others, TikTok beauty guru Ruby Locknaro has raved about the lip color and even predicts that Amazonian will be the hottest lip color of 2021 (via TikTok).
What makes Maybelline's Amazonian so special?
Ruby Locknaro likes that you don't need to touch up the long-lasting formula of Maybelline Super Stay Matte Ink Liquid Lipstick in Amazonian and says the color gives the perfect fall vibes, per her TikTok. In addition, she noted that the color doesn't require a lip liner, as it's opaque and comes with a pointed applicator that provides a sharp application. 
Even Issa Rae's makeup artist, Delina Medhin, recommended the color to The Zoe Report, telling the outlet, "[This collection] has some beautiful nudes that are long-wear and don't budge. I really like Fighter and Amazonian." According to Makeup and Beauty Blog, Fighter is a darker and more orange-toned take on Amazonian.
But if orange-toned lipsticks aren't your thing, then there are still plenty of other fall-friendly tones you can choose from. Medhin recommends MAC Matte Lipstick in Velvet Teddy and Taupe as fall-toned nudes that work across all skin tones. She suggests layering the two to make a gorgeous nude lip color. But if you like a grungy look, Medhin suggests a dark brown shade like Bobbi Brown Crushed Lip Color in Dark Chocolate.
Now all the ultimate fall fans can show off their love of PSLs by matching them with a not-so-basic lip color.