The Best Eye Looks To Pair With Orange Lipstick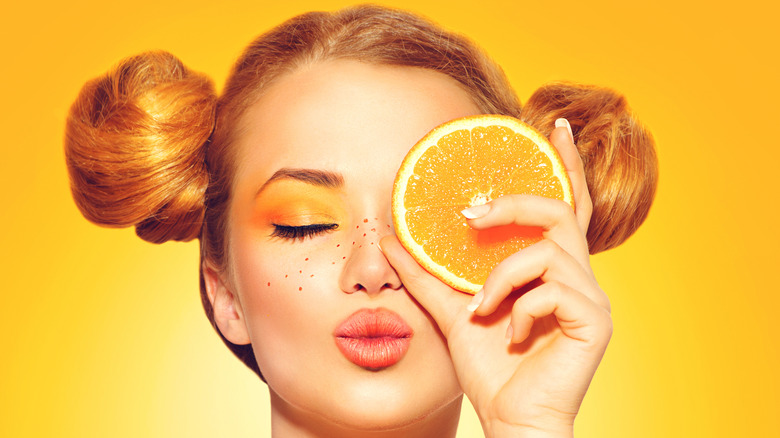 Shutterstock
Now that we can take our masks off, statement lip colors are making quite the comeback for the summer. In fact, lipstick sales increased by 80 percent after the CDC stated that fully-vaccinated individuals could stop wearing masks, per CNN. Walmart told CNN that lipsticks in bright colors like purple and blue, as well as '90s-inspired browns, are becoming best-sellers. But there's another bright lipstick shade that is coming in hot. According to Coveteur, bold orange lipstick is on-trend for the summer, with the shade being more wearable than bubblegum pink and more fashion-forward than your mother's red lipstick. 
If you want to try an orange statement lip, it can initially seem tricky trying to pair the shade with the right eye look. But there are several combinations of eye looks that can complement orange lipstick. The first step to conceptualizing your complete look with orange lipstick is to decide what shade of orange lipstick you want to wear. There is a whole spectrum of orange shades that range from wearable to bold. If you are new to orange lipstick or want an office-friendly look, you can try a rusty-nude lipstick like Juvia's Place Nude Velvety Matte Lipstick in Lady (via Huda Beauty). If you want something that packs a punch, try a brighter orange lipstick. More saturated shades of orange lipstick, like a true orange or blood orange, especially complement people with tan-to-deep skin tones (via Harper's Bazaar).
Eye looks that pair well with orange lipstick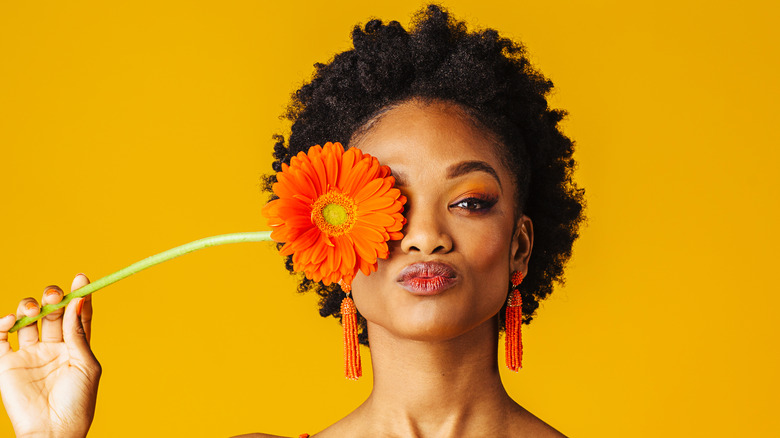 Shutterstock
For those with very light skin, a red-orange or tangerine lipstick like MAC Matte Lipstick in Mangrove, can pop on your skin tone. For light to medium skin tones, coral shades, like MAC Matte Lipstick in Tropic Tonic, can warm up the complexion. It's also a shade that can be universally flattering, per Stylecaster. The undertones of pink in coral shades help make the color more wearable. Knowing your skin undertone is also crucial in finding the right shade of orange lipstick. According to Huda Beauty, orange lipsticks with a blue or white base especially suit those with cooler undertones.
On the other hand, those with warmer undertones should look for orange lipsticks with golden-yellow undertones. If you have an olive undertone, the good news is that orange lipsticks complement your skin well, according to Harper's Bazaar. A true orange like MAC Amplified Lipstick in Morange or a paprika orange like MAC Matte Lipstick in Chilli are especially stunning shades for olive skin. If you want a bold statement lip, a matte formula will give you intense color payoff and will last well throughout the day. But if you want something more subtle, you can either lightly dab orange lipstick or go for a lip gloss for a juicy, orange popsicle-stained look.
Eye looks that pair well with orange lipstick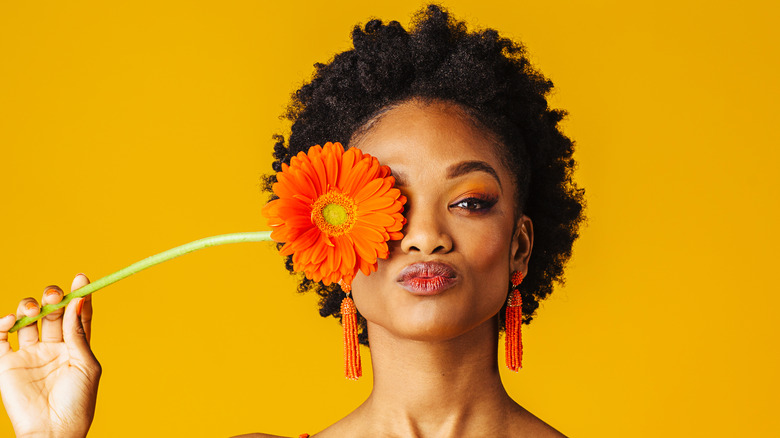 Shutterstock
One of the simplest ways to wear orange lipstick is to pair it with an orange eyeshadow, per Huda Beauty. A matte or shimmer eyeshadow can work, depending on your mood. To create a cohesive orange look, you can try pairing a universally-flattering rust lipstick like MAC Matte Lipstick in Marrakesh, with an orange-toned blush, and orange eyeshadow. You can also choose to keep the attention on your orange lips with a classic look — winged eyeliner, mascara, and bold brows (via Stylecaster). For a nighttime look, Huda Beauty suggests a smoky rust look using a copper eyeshadow and black eyeliner.
One effortless eyeshadow look to pair with a red-orange lipstick is going for a warm gold or bronze eyeshadow on the lid (via Huda Beauty and Glamour). For a bold look, you can try playing with complementary colors. According to Glamour, pairing a green eyeliner with a rust lipstick can be a fun, statement-making look that is still wearable. If you're more on the daring side, Huda Beauty suggests trying a neon eyeliner like Danessa Myricks Beauty Waterproof Cushion Color in Totally Tangerine or JD Glow Cosmetics Matte Gel Liner in Pastel Neon Orange. No matter which look you go for, you'll be telling yourself, "Orange you glad you tried orange lipstick?