The Exact Lip Color Kristen Stewart Wore As Bella Swan In Twilight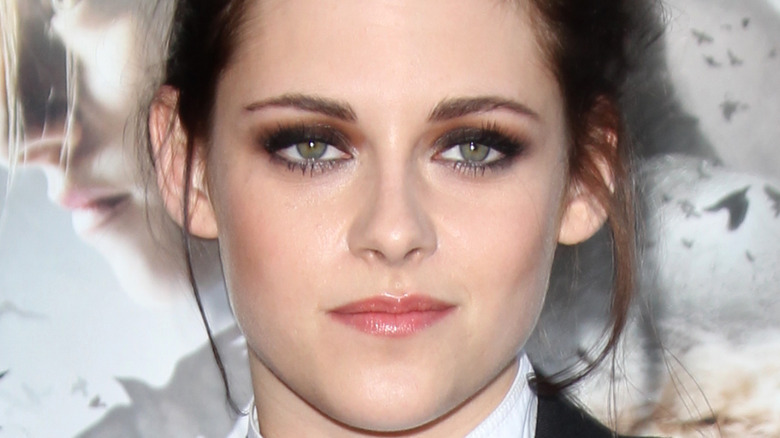 Kathy Hutchins/Shutterstock
If you were a teenager in the early 2000s, you were more than likely swept up in the "Twilight" phenomenon. The book penned by Stephanie Meyer was popular in its own right, but the story of a human girl, Bella Swan, falling in love with a vampire named Edward Cullen was fully immortalized (no pun intended) when the film adaptation premiered in 2008 (via IMDb). The lead roles were played by Kristen Stewart and Robert Pattinson respectively, and though the two had already achieved a certain amount of fame before being cast, the "Twilight" movies propelled them into stardom.
Since the final movie in the "Twilight" saga premiered in 2012, Stewart has gone on to star in several film projects like "Seberg," "Charlie's Angels," and "Happiest Season." The California native is currently receiving praise for her incredible performance as Princess Diana in the upcoming film "Spencer," which may even earn her an Academy Award nomination, according to critics (via Entertainment Weekly). Although she's likely to give impressive performances in every role she undertakes throughout the rest of her career, Stewart's name will always be synonymous with the "Twilight" saga.
Everyone who watched her performance wished they could be Bella, being whisked away to safety by the hunky and mysterious Edward Cullen. Unfortunately, we can't all be granted eternal life by a vampire, but at the very least we can buy ourselves the exact lip color Kristen Stewart wore as Bella Swan in "Twilight." Better than nothing, right?
Kristen Stewart wears this subtle lip color by Benefit in Twilight
Although Kristen Stewart undergoes a physical transformation in the "Twilight" movies as Bella Swan transitions from a human teenager into a superhuman vampire, her makeup in the films is a constant source of envy (via InStyle). Every choice was deliberately selected to reflect Bella's natural style, including the lip color she wore in the first "Twilight" film.
According to makeup artist Robin Mathews, "Bella would never wear lipstick or gloss, so what I put on her doesn't have any shine, and it's only a shade or two darker than her actual lip color" (via Allure). If you're wondering what this exact lipstick is, TikTok user Brittany Cale (who goes by the username @britneykale) has you covered. For "Twilight," Cale claims that Stewart wore the Benefit Cosmetics silky finish lipstick in the shade Good to Go (via Youtube). 
Apparently, Benefit no longer makes the Good to Go shade anymore, but Cale suggests going for Benefit Cosmetics' newly launched Nude Pink color as the closest possible match. Now all you'll need to do is pack your bags, head for Forks, Washington, and see if you can nab a vampire for yourself.