Soccer Star Cristiano Ronaldo Spent A Staggering Sum On This Unusual Gift For His Girlfriend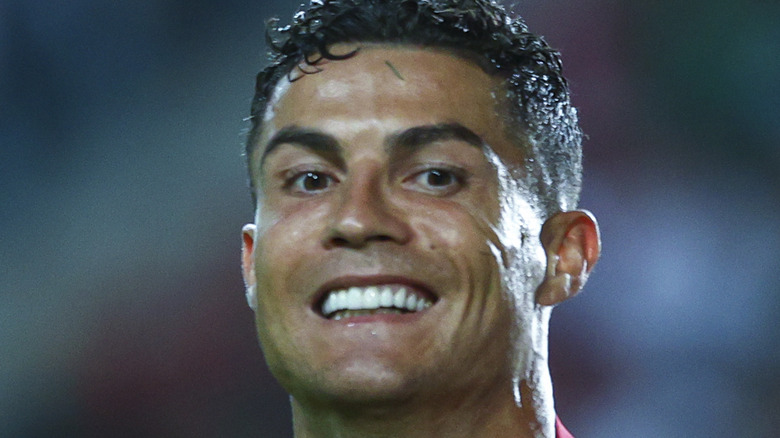 Carlos Rodrigues/Getty Images
Georgina Rodríguez is one lucky lady. The stunning Spanish model, affectionately deemed "my beautiful queen" by her boyfriend, soccer superstar Cristiano Ronaldo, has a passion for designer items. Ronaldo also enjoys designer brands, which makes their initial meeting seem like the start of a perfect fairy tale. The power couple met five years ago at a Gucci store, and Rodríguez claims it was love at first sight (via Harper's Bazaar).
Through their time together, the pair have been spotted sporting Louie Vuitton, Chanel, and Hermes, but of course, on Ronaldo's whopping salary the duo can buy nearly anything they desire. The soccer star's bank account allows him the luxury of splurging on items like the unique gift he just presented to his queen. 
The Daily Mail reports that the 27-year-old model posted to her Instagram stories gushing that she was "left speechless" by this generous and lavish gift from Cristiano.
A high priced Louis Vuitton jewlery trunk
According to The Sun, Georgina Rodríguez was floored when she received the Louis Vuitton Malle Vendome, a 4-foot, 6-inch high jewelry trunk with eight drawers, a bust, and a mirror. She posted the photo above to her Instagram stories, which has now vanished. The post shows two of the children she raises with Cristiano Ronaldo playing with the new designer piece, and it's just adorable that the trunk is taller than them. The jewelry trunk was specially created for the grand opening of a new Louis Vuitton boutique located in the famous Vendome Square of Paris, France.
The Daily Mail reports that the gorgeous designer trunk cost Cristiano Ronaldo a staggering £150,000, which, according to the XE currency converter, is equivalent to $206,419.99. The publication also states that Rodríguez has plenty to fill it, with a jewelry collection estimated at just over $3.5 million, or £2.6 million in British pounds (via XE currency converter).
According to The Sun, you can learn more about Georgina in an upcoming Netflix documentary that tells the story of her rags-to-riches life.