Why Andrew Cuomo's Former Top Aide Melissa DeRosa Is Reportedly Getting Divorced
lev radin/Shutterstock
According to a New York Post report, Melissa DeRosa, the former top aide to ex-New York Gov. Andrew Cuomo, is getting divorced. In August, DeRosa resigned from her post in Cuomo's office after she worked to defend the ex-governor from sexual harassment allegations that ultimately led to his resignation. The Daily Mail reported that DeRosa's soon-to-be ex-husband is Uber executive Matthew Wing. They were married for nearly five years, and they don't share any children. 
DeRosa and Wing met in 2013 while working together in Cuomo's office. Wing served as Cuomo's press secretary and later, his communications director during Cuomo's reelection campaign, and DeRosa was Cuomo's communications director. According to The New York Times, the two married at Sagamore Resort in Bolton Landing, New York, on August 27, 2016. DeRosa chose to keep her name after getting married.
A few weeks ago, the Daily Mail revealed that DeRosa celebrated her 39th birthday with a selfie at her sister Jessica Davos' home in Cape Cod, where she has been staying since August, according to the New York Post. So, why are DeRosa and Wing getting divorced?
Here's why Melissa DeRosa and Matthew Wing decided to split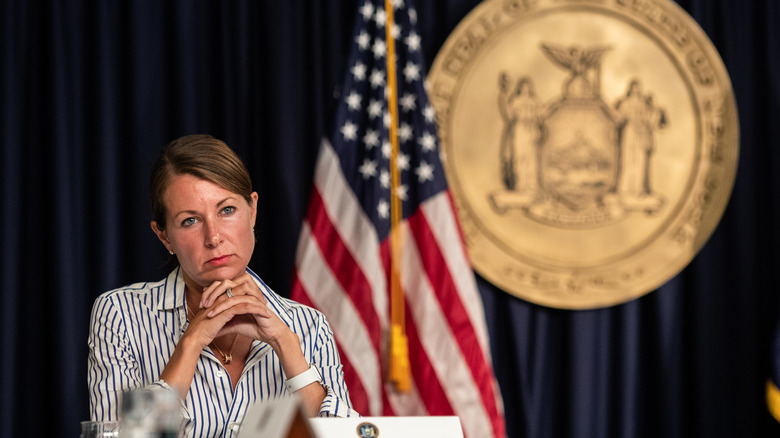 Jeenah Moon/Getty Images
A source told the New York Post that Melissa DeRosa and Matthew Wing "decided that the marriage had run its course." A friend revealed that the COVID-19 pandemic played a role in the demise of their union due to her ending up in Albany while he was working with Uber in San Francisco. Although they have not appeared to file for divorce in New York state, both DeRosa and Wing secured representation for the upcoming legal dissolution of their union. Robert S. Cohen, who also represented Melinda Gates and Ivanka Trump in the past, will represent DeRosa. As for Wing, he's retained lawyer Sheila Riesel, whose past clients include Al Pacino and Woody Allen.
As part of their split, they plan to sell their apartment in Brooklyn Heights, which they listed on Friday for $2.59 million after purchasing it in 2016 for $2.2 million. Located on Pierrepont Street, the brownstone duplex features three bedrooms and two baths. In addition, she's reportedly eyeing a new property for herself in Greenwich Village (via the New York Post).
The couple apparently began discussing their potential split this past spring. They issued a joint statement that said, "Despite the fact that this chapter in our lives is ending, we are and always will be very close friends."