How Mejuri Has Created A Loyal Social Media Following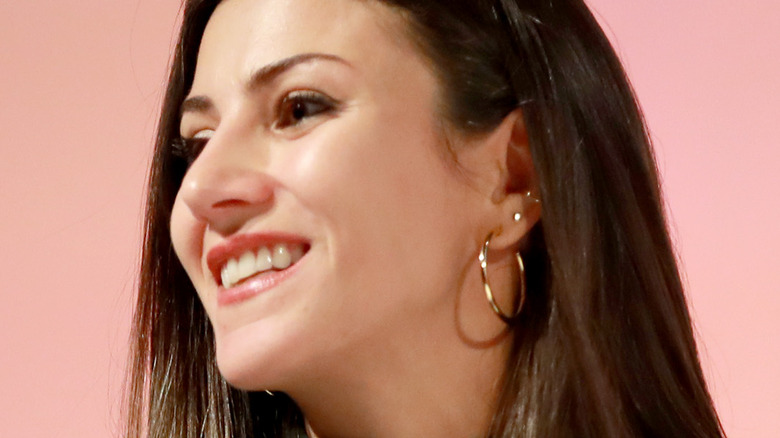 Rich Fury/Getty Images
Few things in life match the magic of jewelry. Diamonds truly are a girl's best friend, and they call to her with each and every twinkle. Try as you might, it's hard to fight the lure of all that sparkle. Of course, with that sparkle, comes a massive dent in your wallet. More and more online affordable jewelry brands continue to launch every day, but none quite do it with the flair of Mejuri.
Founded in 2013 by Noura Sakkijha, Toronto-based Mejuri has grown at an impressive rate, becoming a cult-favorite affordable, but always elegant jewelry brand. It's landed itself honorable mentions in Vogue, Goop, while also managing to land on the necks of countless celebrities such as Selena Gomez (via Teen Vogue). The brand started simple but continues to grow, now even including a men's jewelry range and multiple collaborations with big names, such as Goop and Sarah Harris.
Mejuri's online community is the secret to their success
Mejuri's allure lies primarily in the beauty of every piece of fine jewelry, each intricately designed to have an elegant, dainty aesthetic. But, what's really garnered so much popularity is the mission behind the brand. Skipping the in-between steps and providing complete transparency, and removing retail markup from the process, is what allows the brand to produce quality at a realistic price point (via Mejuri). With all their success, one of Mejuri's greatest achievements is their level of social following.
It's rare for a brand to accumulate actual fans, but Mejuri is widely loved on social media and often supported by creators. Mejuri shows the love in return by consistently showcasing their followers. CEO Noura Sakkijha said, "To me, the truest expression of Mejuri is mutual uplift: all of us supporting each other, and you, our community, feeling empowered to invest in yourself and, in turn, the community around you" (via Mejuri).
Sakkijha is often asked how Mejuri built such a community, and in a Shopify interview, she explained, "The face is that our team is our community. They're so interconnected and so it feels very genuine." Mejuri's social media presence has aided in the loyalty of their following. They try to listen to what their customers want and deliver that. Sakkijha continued, "We learn about ourselves to learn about our community and we're able to apply our learnings very quickly. I think these are very key things that help us stay relevant."