Hypoallergenic Jewelry Brands To Try If You Have Sensitive Skin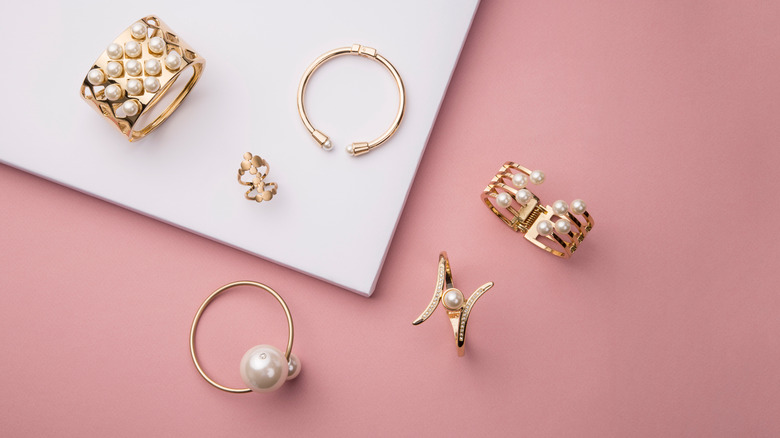 Shutterstock
We may receive a commission on purchases made from links.
When it comes to accessorizing, adding a little pop of something to an outfit can totally change a look. For a lot of people, jewelry is the way to go when adding a flare or "little something" to any outfit. Whether it's earrings, necklaces, bracelets, or rings, adding something simple or even a statement piece can totally complement anyone's style.
While there are a lot of jewelry brands on the market, not everyone can wear everything that's sold. There are some people in the world who have allergies to specific metals, some of which are used in jewelry that we wear every day. In fact, 10% to 15% of people have metal hypersensitivity, an allergy to metals (via MedBroadcast). The allergies can trigger reactions, like swelling or even rashes on an individual's skin (via the Cleveland Clinic). Luckily, there are some brands that use hypoallergenic materials to make their products (via Jewelry Shopping Guide). These materials don't cause any kind of harsh or major reactions, because they don't trigger any allergies in individuals who have them. 
Metals that tend to cause reactions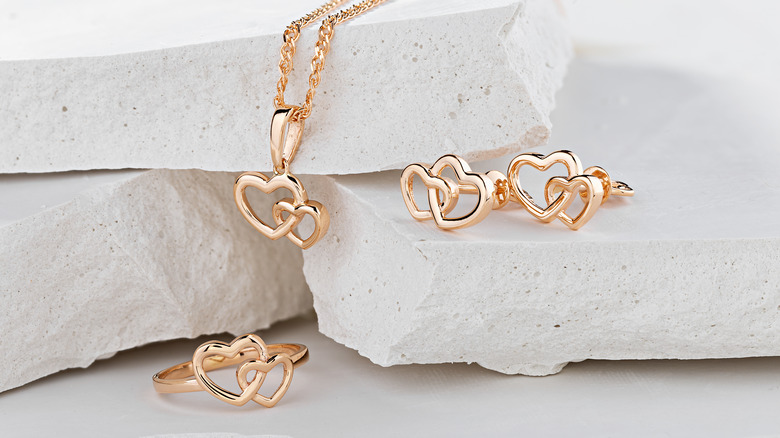 Shutterstock
Finding the right kind of metal for your skin is important when trying to avoid breakouts and allergic reactions. There are a few different metals that are well known to cause serious reactions to those who are prone to them. Nickel happens to be the one metal that tends to cause the most reactions in people with metal hypersensitivity (via Winchester Hospital).
Surprisingly, nickel is found in more things than we realize. Most jewelry brands have some form of nickel in them, which is why many people develop reactions like rashes and hives. Even when shopping for jewelry using other metals, some still contain nickel, like white gold (via A Fashion Blog).
Some individuals also have allergies to brass because it's an alloy of zinc and copper, as noted by Winchester Hospital. As copper happens to be a common allergy, it can cause a reaction easily in people who wear it. There are also those who are allergic to gold, no matter how high the karat count. With many jewelry companies combining metals in their items, it's hard for people with this condition, or even just sensitive skin in general to find trendy and safe jewelry. 
Brands that use hypoallergenic material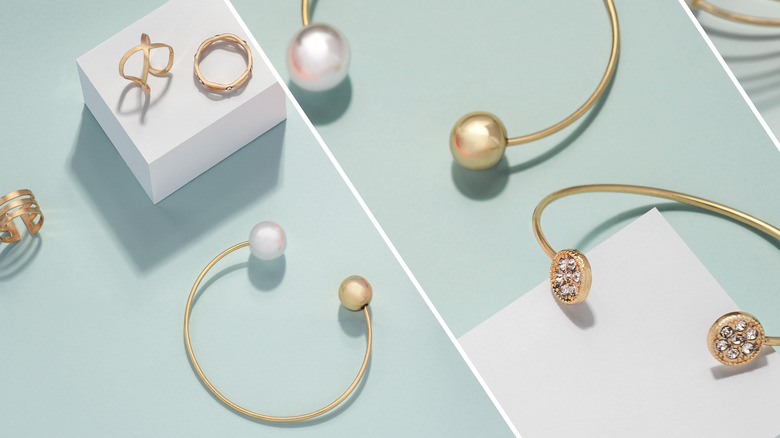 Shutterstock
Fortunately, there are many brands that use hypoallergenic materials in their products that are not only safe but also stylish. Alex and Ani is one such brand. The company is a popular one and is known for using charms and mottos to inspire and motivate their jewelry wearers. Their jewelry is usually made from recycled materials, but now they are mainly pushing and selling hypoallergenic jewelry to shoppers. Not only that, but they are pretty reasonable in price, so you can buy yourself more than one piece.
While not everything on the Baublebar website is hypoallergenic, they do have specific pieces that are marked and titled "hypoallergenic," making this another good option for those who have allergic reactions to jewelry. On their website, they note that their hypoallergenic pieces are certified nickel-free, lead-free, cadmium-free, and phthalates-free, which means you're probably not going to have a reaction to any of their pieces. Sensitively Yours makes jewelry for both kids and adults that are simple and minimalist. The company notes that their "sensitive skin jewelry products are made from irritant-free metals available to eliminate skin and ear sensitivity and to ensure a comfortable fit." They have artisan-made products, too!  
Finally, you might want to check out FIBO STEEL. Available on Amazon and eligible for Prime, FIBO STEEL has products that are all made from stainless steel which is totally hypoallergenic (via Amazon). In fact, most places that do piercings use either surgical or stainless steel for their piercing earrings, so, you know it's totally safe from reactions (via Body Shock). Plus, they have tons of amazing reviews on their shop!