This Milk Makeup Concealer Is Amazing At Covering Dark Spots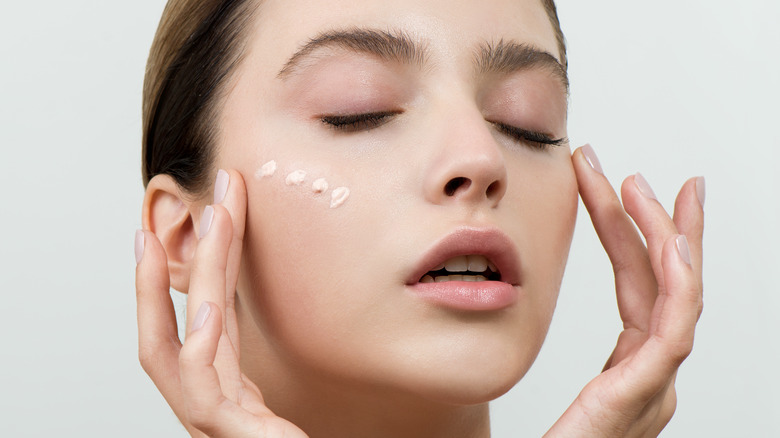 Juta/Shutterstock
Figuring out the perfect makeup product for you can be a challenge. While it's great to see how many options are out there, it can feel impossible to keep up. Whether you're a Sephora or Ulta fan, it's easy to get overwhelmed. Beauty influencers can often be a guide, but even watching them it can seem like they have a new holy grail each passing day.
More specifically, when it comes to concealers, everyone has their own personal target. Perhaps you struggle with under-eye darkness. Maybe your daily battle is that morning puffiness. There's also that dreaded creasing to try to avoid. Fortunately, the concealer market is flooded with countless options created to target each and every specific need.
If you watch beauty YouTube or TikTok, this is one of those cult products you're guaranteed to have come across. Milk Makeup has made its mark in the beauty world by offering lightweight, blendable products with a mix of fun, bright colors and products you can have fun with, like face tattoo stamps. Well, Milk Makeup has come through yet again with a holy grail concealer that promises to help you out in every area, especially with those pesky dark spots.
Milk Makeup's Flex Concealer will conceal, hydrate, and heal your skin
While Milk Makeup offers no shortage of fun products, the brand also manages to formulate the perfect daily staples. The Milk Makeup Flex Concealer ($28) has been featured across countless beauty accounts and has even earned honorable mentions in magazines like Vogue Australia.
The creamy formula lends itself to serve multiple purposes. If you struggle with coverage but only ever find full-coverage concealers that are drying and cakey, this is your new go-to. Somehow, the formula manages to maintain a creamy, hydrating base while also packing a punch of buildable coverage that you can tailor to how much you need.
You can finally get something to even out your skin tone, correct those dark circles, patch over any dark spots, and still keep your skin hydrated. In fact, the Flex Concealer earned a spot as "the best concealer for dry skin" on the New York Post's list of the best concealers. The Flex Concealer also made it to Vogue's list of the best concealers for its skincare properties, with the formula including a blend of blue lotus and chamomile to soothe the skin. It truly does it all!