The Exact Lip Colors Lauren Graham Wore As Lorelai In Gilmore Girls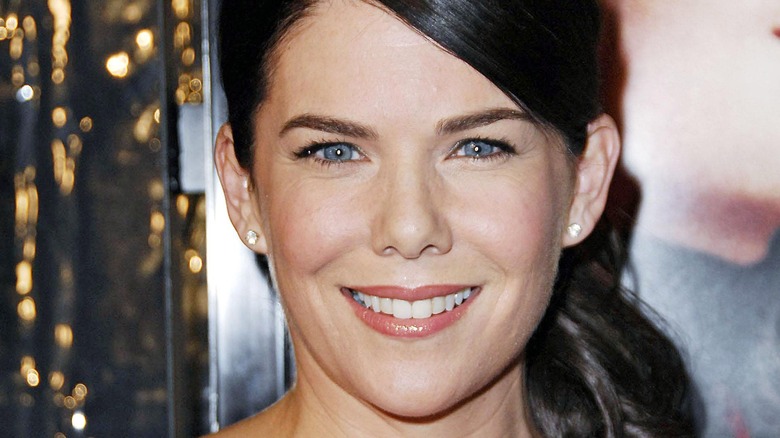 Everett Collection/Shutterstock
If you believe in Lorelai Gilmore supremacy, you're not alone. An endless stream of Lorelai content sits pretty on Pinterest boards, Reddit subs and TikTok's ever-popular hashtag. "Gilmore Girls" creator and writer Amy Sherman Palladino's quick wit channels itself into one of the best characters on the series: a strong, independent woman who can girl-boss close to the sun and never get burned.
Lorelai, played by Lauren Graham, definitively makes the show for more reasons than one. A bingeing fest of the cult classic series will reveal that Lorelai is the flawed hero we all need to look up to. She rejects elitist values from her parents, effortlessly recites an encyclopedic number of pop culture references — and looks absolutely stunning, even while ugly-crying. Ultimately, she's a Y2K icon — a decade after the show ended, too.
While a lot of that may have to do with the fact that Graham is perfection herself, the makeup and styling of Lorelai also had a lot to do with the character's impeccable taste. A quick hack to bring Gilmore to your wardrobe is investing in tie-dye bandanas, graphic band tees, and sultry slip dresses. But if you want to pair that with the exact shades of lip colors she wore, keep scrolling.
Lauren Graham wore many lip colors on the set of 'Gilmore Girls'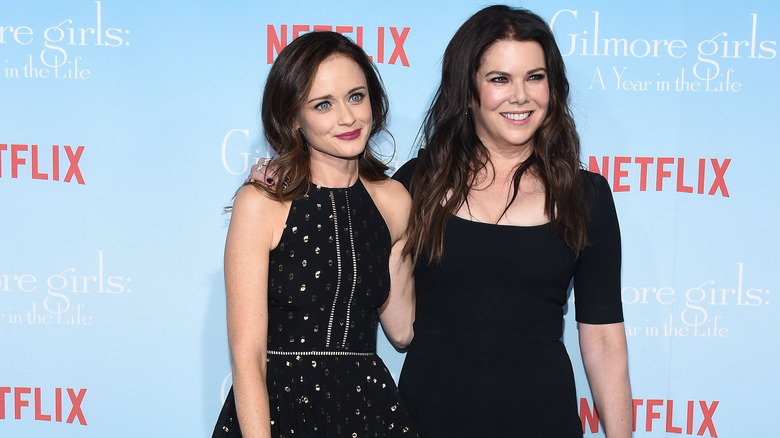 DFree/Shutterstock
The famous Vicious Trollop shade of lipstick — the in-universe crimson hue both Lorelai and Emily wore in a Season 2 episode — has made countless appearances in makeup collections inspired by "Gilmore Girls." It featured in Urban Tree Farm's lip balm flavors, along with a Java Junkie and Spring Break shade ($22.99 each). Brija Cosmetics made an eyeshadow version to match the lip color, per Bustle, and Ulta Beauty came out with an entire dedicated collection to the show. However, the real Lorelai Gilmore wore a series of hues, all ranging from a deep wine to a light gloss.
Tegan Taylor, the show's lead makeup artist, revealed the overall makeup colors she used on the Gilmore girls to InStyle. "I love Bobbi Brown's University Palette. It has a wide range of colors in it and can be applied either heavily for a bold look, or softly for a subtle, more natural look." Taylor also told Refinery29 that she used Clinique lipsticks because they were unaffected by the copious amounts of coffee the girls drank on the show. Mac's Viva Glam lipstick stayed on set, too. The Aquaphor healing ointment ($7.29) was another staple, Taylor told Refinery29.
A TikTok user and makeup artist said that she found a few products as well: the now-discontinued Chanel lip glosses in the shades Blush and Pulsar, as well as the no-longer-sold Stila glazed lip pens (though you can get a similar Stila product for $24). Regardless, your vanity has quite a few options to transform you into Lorelai Gilmore.