What's Really Going On With Scott Disick Following Kourtney Kardashian's Engagement?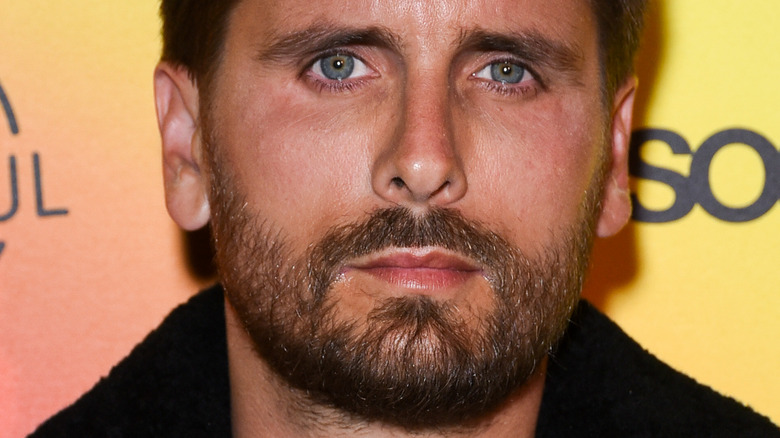 Presley Ann/Getty Images
Kourtney Kardashian and Travis Barker are ready to make their love for one another official. The Blink 182 drummer popped the question to the "Keeping Up With the Kardashians" star over the October 17, 2021 weekend, per Us Weekly. Barker and Kardashian, who have been dating since early 2021, reportedly got engaged during a romantic moment on the beach at the Rosewood Miramar Hotel in Santa Barbara. In true Kardashian fashion, the moment was filmed for the family's brand new Hulu reality series. The newly-engaged star also shared photos of the proposal, which featured a rose-laden beach scene, on her Instagram.
E! Online also reports that Kardashian's sisters, Khloé and Kim, were there to share the special moment with her. Other family in attendance included mom Kris Jenner and Jenner's boyfriend, Corey Gamble. "They were all in on it and surprised them afterwards inside the hotel. They are all celebrating in the restaurant and have a private area," an insider told the outlet.
The marriage will be the first for Kardashian, who famously dated Scott Disick for nearly a decade. The pair share three children together — Mason, Penelope, and Reign. Meanwhile, Barker has been married twice before — once to Melissa Kennedy, with that relationship only lasting a year, and then to Shanna Moakler, for four years (via USA Today). Barker and Moakler have two kids together: Alabama and Landon.
Thus far, Disick has yet to make any public comments about Kardashian's engagement. However, sources are claiming that he's not in a good place about the situation.
Scott Disick is reportedly struggling with the engagement news
According to Page Six, Scott Disick is unhappy about Kourtney Kardashian's engagement to Travis Barker. Disick has made no secret about the fact that he still has strong feelings for Kardashian and recently spoke about those feelings during a reunion special with Andy Cohen. The TV personality blatantly asked Disick if he'd "bless" the couple's relationship. "I mean, yeah," Disick replied. "I think if you really love somebody right, you want them to be happy no matter what. So, I do give her a blessing to be happy." 
However, sources are claiming that Disick is struggling with Kardashian's engagement news. "Scott is going crazy. He's going to go off the deep end. It's really bad. It's about to get dark," the insider dished. Just last month, sources told Us Weekly that Disick wasn't happy about Kardashian's romance with Barker or the fact that they often flaunt their PDA on social media for all, including their children, to see. "Scott's sick of seeing photos of them splashed everywhere. He hates Travis," the source said. "But what's really got him riled up is the effect Travis and Kourtney's relationship is having on his relationship with Kourtney."
It seems that Disick and Kardashian may have a lot of issues to work through when it comes to their co-parenting, as well as Disick's close relationship with Kardashian's family. However, fans are hoping that everyone can move on in a healthy way.
Fans express concern for Scott Disick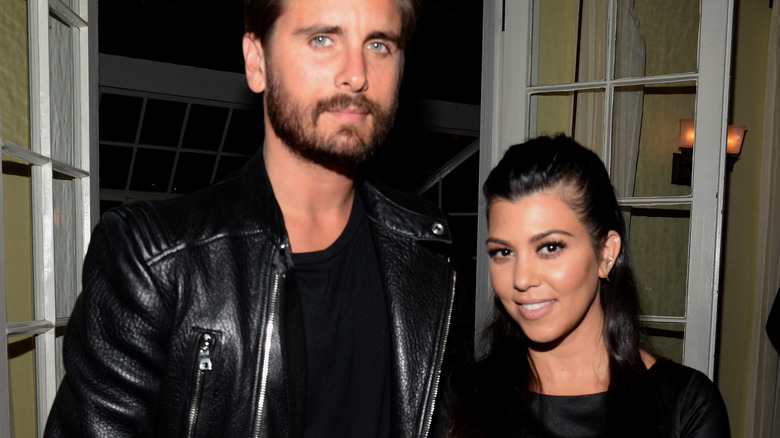 Chris Weeks/Getty Images
One hurdle to everyone moving on in a healthy way may be that as Screen Rant reports, fans are bombarding Scott Disick on social media about his ex's engagement, which reportedly was sealed with a ring costing as much as $1 million (via Yahoo!). In the comments section of the star's most recent Instagram post — which has nothing to do with Kourtney Kardashian or Travis Barker or even their kids — people piled on with responses like, "scott are u ok. heard about the engagement." Another follower implored, "Someone check on Scott and be sure he's okay!!"
It didn't end there, with more comments pouring in like this one: "Soooo how u feel about kourt ?" Even Perez Hilton popped into the comments section to tell Disick he was sending him prayers in light of the news that Kardashian and Barker were now engaged.
Over on Twitter, the content was similar, with a post by Disick that was intended to showcase items from his Talentless collection instead being taken over by fans who only wanted to talk about the engagement. "You could've had what Kourt and Travis have," one harsh comment read, while someone else said, "Travis ask one time she said yes, you ask 637 times, and she said no."
Another Twitter user posted a Beyoncé meme of her song "Single Ladies (Put a Ring on It)." Ouch.
Luckily, other fans expressed support in their comments, with one person saying, "ahhhhh Scott, we're all going thru it."