Selena Gomez Surprised Everyone With Her New Hairstyle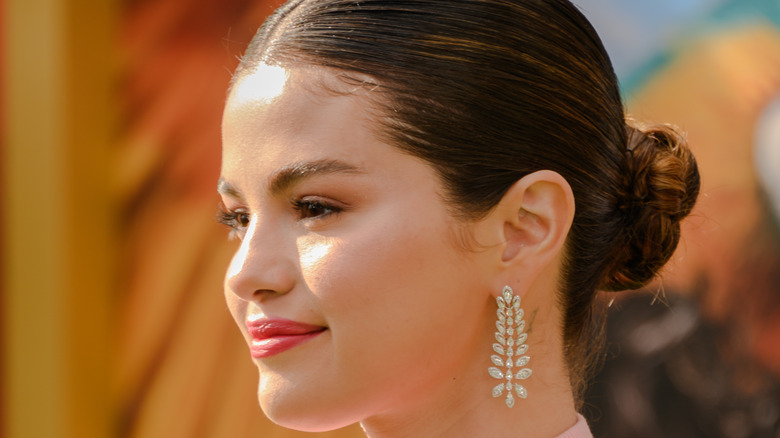 Silvia Elizabeth Pangaro/Shutterstock
If there's one thing Selena Gomez loves, it's switching up her hair. Over the years, it's been almost impossible to keep up with her ever-changing hair lengths and colors, and she loves to drop her latest look suddenly and surprise everyone. The natural brunette hasn't met a look she can't pull off. From a bob with bangs to long and layered locks, it's hard to decide which looks best on her (via Glamour).
It hasn't been long since Gomez's last bold hair switch-up. The "Selena + Chef" host hopped onto her brand Rare Beauty's Instagram account on April 23, 2021 to share her sudden switch to platinum blonde hair with dark roots. Gomez gave everyone whiplash yet again a couple of months later on July 2, 2021 when she celebrated Rare Beauty going global by posting a pic on Instagram surrounded by balloons and chocolate brown hair. While people have yet to recover from the change, just four months later Gomez has chopped it all off again. 
Selena Gomez showcased her new bob on TikTok
As Selena Gomez's hit starring role in the Hulu show "Only Murders In the Building" came to a close in October 2021, the singer took to TikTok to celebrate and announce that she would be hosting a watching party during the finale. Well, fans could hardly concentrate on the announcement when Gomez used the video to debut her new blunt bob!
Gomez looked adorable while smiling from ear to ear while her new hairdo sat sleekly. The refreshing blunt cut is a big change, although it is somewhat reminiscent of the last time Gomez went for a bob in 2019 (via Instagram). Fans filled the comments section of her TikTok, gushing over the new hair and complimenting the star. One follower made it to the top of the comments list exclaiming, "YOU LOOK SO GOOD WITH SHORT HAIR SELENA." Understandably, everyone agrees, Gomez looks fresh and more youthful than ever!