Inside Eddie Lucas' Relationship With Rachel Hargrove Today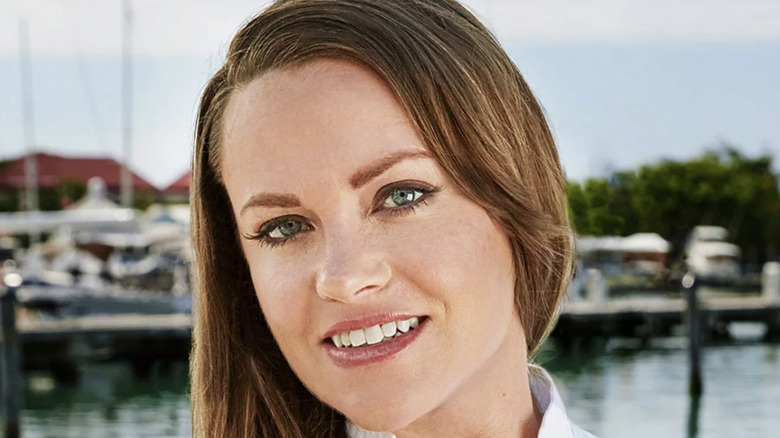 Bravo
Fans were shocked when Rachel Hargrove abruptly left the cast of Bravo's "Below Deck." It seems the chef has no regrets about her exit, telling Entertainment Tonight in an exclusive interview, "I just paid rent with Cameos telling people to eat my c***er!" — making a nod to her famous line during the explosive moment on Season 8 of the show.
However, she did feel bad for leaving Captain Lee without a chef. "I didn't really want to leave Captain Lee hanging," she said. "I just needed a breather and needed to walk off and take a second. Especially for everything that was happening to process it. That was one of the craziest sheets I've seen in my life. And then, I'm running as a sole chef? But it really was, I didn't want to disappoint him."
Among the cast members, no one was more upset with Hargrove's decision to leave than Eddie Lucas (per Showbiz CheatSheet). "It's really bad," she said of their relationship. "But I'm one of those where I just hash it out or I walk off. I don't care. I'm one of those. Where I'm like, 'Mm. Is it something personal?'"
Now that Season 8 of the show has come to a close and "Below Deck" Season 9 is set to air soon, are Lucas and Hargrove still on bad terms?
It seems there may still be drama between Eddie Lucas and Rachel Hargrove
Before things got bad between Eddie Lucas and Rachel Hargrove on "Below Deck," many fans believed there was some sexual tension there, although Hargrove had a boyfriend (via Meaww). However, if there was tension, they never acted on it.
On "Watch What Happens Live," Lucas shared that he and Hargrove have since squashed their beef. "It was annoying," he admitted. "But everybody's allowed to cut loose and blow off steam. And Rachel's absolutely entitled to blow off steam also and do what she wants to do to have fun." 
He explained that he was frustrated about how her behavior affected everyone else on the crew. "Should I have said something? Yes, I should have," he said (via Showbiz CheatSheet). "But I was afraid of setting Rachel off and getting her to quit again."
Hargrove respected what Lucas had to say. "With regard to Eddie as well, I do hold his opinion to a high regard," she said. "So I was a little disappointed when he didn't come to me and say it. Because I really would have heeded it. I would have apologized."
If the two are now on better terms, it likely won't be shown on Season 9 of "Below Deck." According to Entertainment Tonight, both Lucas and Hargrove are returning for the show's 9th season, and they still have some issues to work out.