Donald Trump Thinks This About Donald Trump Jr. Having A Future In Politics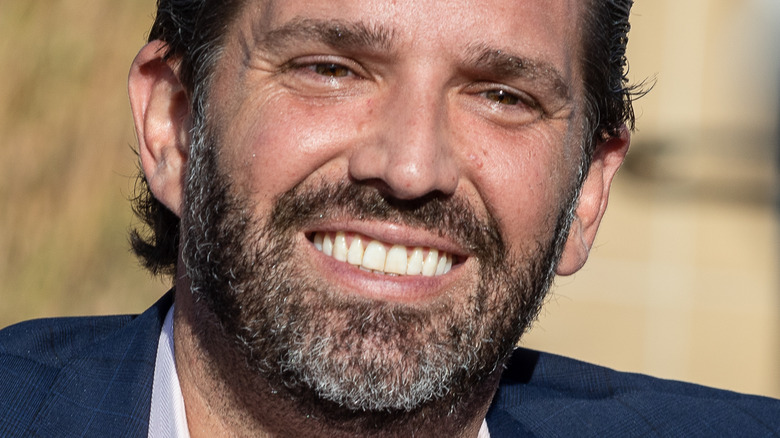 Chris Manning/Shutterstock
Just as Donald Trump is rumored to be running for president in 2024, his son, Donald Trump Jr. has speculated about having a future in politics of his own. Even back in 2017 it was speculated that he may run for governor of New York (via Town & Country). Trump Jr. may have been considering a mayoral run in New York City at some point as well — although his father didn't rate his prospects very high in 2020 (via NBC New York).
And could the younger Trump even be an eventual presidential candidate? When the idea was floated that he might entertain a run in 2024, he said he hadn't "personally thought about" a White House bid, but didn't rule it out either (via People).
Now, Donald Trump is supporting his mini-me in a very Donald Trump way. Because when it comes to his son running for office, the former commander in chief feels very good about Trump Jr.'s chances, and isn't afraid to say so loudly and proudly.
Donald Trump shows his support for his son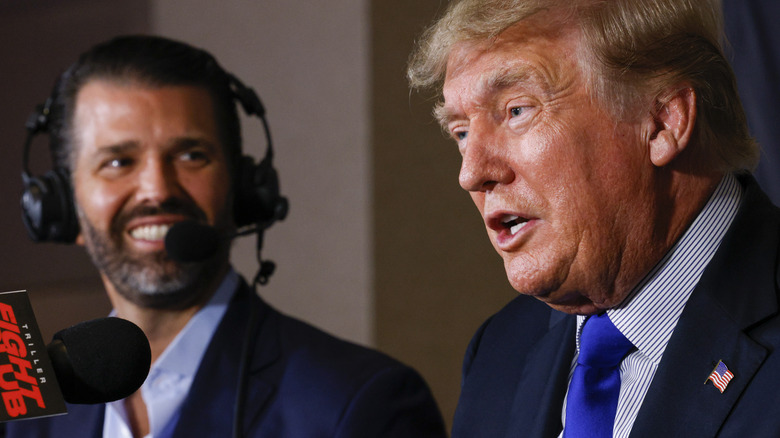 Douglas P. Defelice/Getty Images
According to Business Insider, in talking to Washington Examiner's David Drucker for his book, "In Trump's Shadow: The Battle for 2024 and the Future of the GOP," the businessman-turned-politician said about his son's future in politics, "I would help him."
For now, Trump's son is helping his dad, having taken on a high-level position as a top advisor to the oftentimes-embattled former president, according to CNN. The outlet reports that Trump Jr. oversees things operationally for his father, but is also perhaps the biggest influence on how his legacy and future is being defined — at least the elements that are within the family's control.
Meanwhile, with a 2024 presidential bid still up in the air for himself, Trump told Drucker about his son running for office, "There are certain places where he couldn't be beaten." He did not say what places or what office he was referring to.