Why Meghan Markle's Family Leave Plea To Congress Has Brits In A Tizzy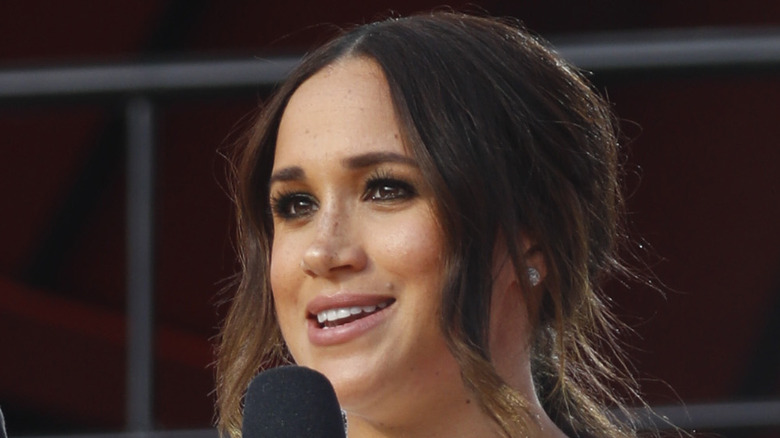 John Lamparski/Getty Images
Meghan Markle's latest statement made to the public was a personal plea for Paid Leave for All, and was framed as a statement from a new mother who said she understood all too well the pain of having to choose between work and caring for their children. The letter, which was shared widely by the umbrella movement, began by saying "I'm not an elected official, and I'm not a politician. I am, like many, an engaged citizen and a parent" (via HuffPost). And it was because of that, that she said was writing to Congress to advocate for paid leave.
The correspondence mentioned her growing up years, and touched on her personal experience which she shared after the birth of her daughter Lilibet Diana. She said: "Like any parents, we were overjoyed. Like many parents, we were overwhelmed." But she also indicated she understood she was one of the lucky ones, writing, "Like fewer parents, we weren't confronted with the harsh reality of either spending those first few critical months with our baby or going back to work."
Her letter was addressed to House Speaker Nancy Pelosi and Senate Majority Leader Chuck Schumer and executed on stationery with "From The Office of the Duke and Duchess of Sussex" printed across the top. And she closed by thanking the House Speaker and Senate Majority leader "on behalf of my family, Archie and Lili and Harry, I thank you for considering this letter" (via Paid Leave for All).
Meghan's letter triggered an uproar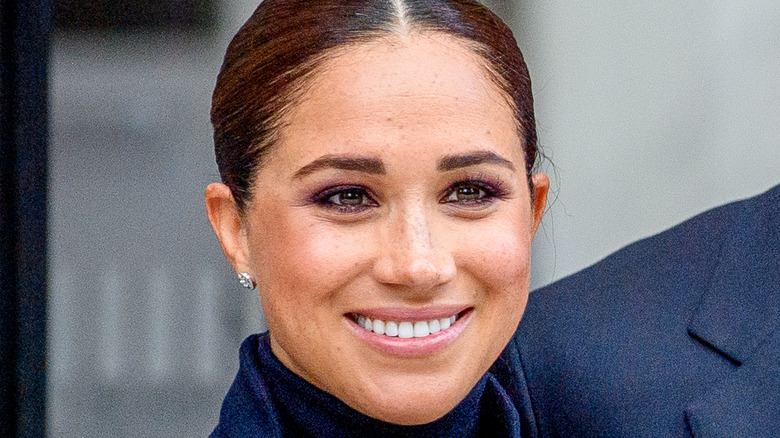 Roy Rochlin/Getty Images
Meghan may have had good intentions when she wrote the letter, but the message, as well as the way it was communicated, raised eyebrows on both sides of the Atlantic; her supporters applauded the message, while her critics were incensed over the manner in her thoughts were communicated. 
One fan praised Meghan, tweeting: "THIS IS WHAT IMPACT LOOKS LIKE yes she's trending[,] trending. when she speaks the world LISTENS and all it took was a letter. AND GUESS WHAT SHES TRENDING AS MEGHAN MARKLE, we don't care abt "titles." Another tweeted, "If one letter from Meghan can overshadow William's big event, it's really not that interesting, is it? Also, it was posted to highlight the cause she is advocating for. Lastly, Meghan, The Duchess of Sussex is her legal name now. She's allowed to use it."
But as this Twitter user argued, "If she penned that letter as MM as a concerned citizen, it still would be embarrassing but to present as D&D of Sussex they are treading on an influence of foreign entity. I think this needs to be investigated. British titles are not free reign to do anything you want." 
As part of the Megxit deal, Harry and Meghan continue to be known as the Duke and Duchess of Sussex, although they cannot actively use their HRH titles. As a fourth Twitter user fumed, "Of course she used her title inappropriately. It's part of defining how important she thinks she is now she married Harry."