Meghan And Harry Have Influenced What People Name Their Babies. Here's How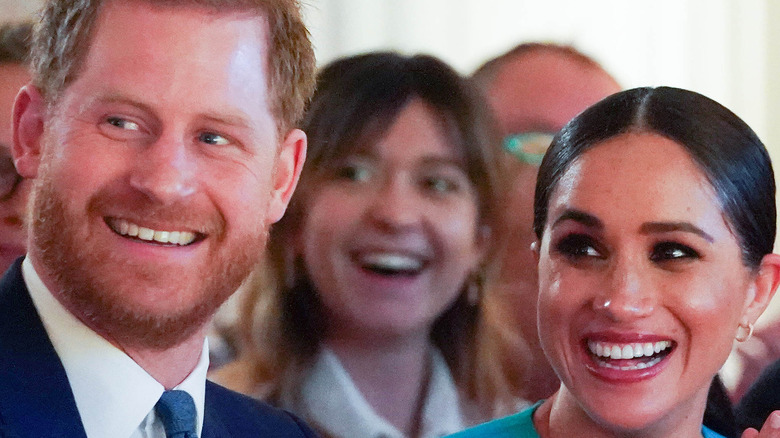 Wpa Pool/Getty Images
Prince Harry and Meghan Markle defected from the royal family over a year ago but they're more ubiquitous now than ever before. In September, Time named the Duke and Duchess of Sussex among the 100 most influential people in the world, citing their social justice initiatives and extensive charitable work through non-profit foundation Archewell. 
As a tribute to the impressive couple argued, "They don't just opine. They run toward the struggle." The California transplants stepped back from royal duties to carve out a more private existence, but they've since signed multimillion-dollar deals with the likes of Spotify, Netflix, and Apple TV+ (via Sky News). 
Time's editor-in-chief Edward Felsenthal wrote for the outlet that all the people chosen for the list were "extraordinary leaders from around the world working to build a better future" who, particularly, "in a year of crisis have leaped into the fray." The Sussexes were in good company alongside U.S. President Joe Biden and his VP, Kamala Harris, as well as pop stars Billie Eilish and Britney Spears, and even Olympian Simone Biles. Aside from making their views heard on everything from vaccine inequity to climate change, Meghan and Harry have also been highly influential in baby names, changing what parents call their kids in a notable way.
Royal baby names are increasingly popular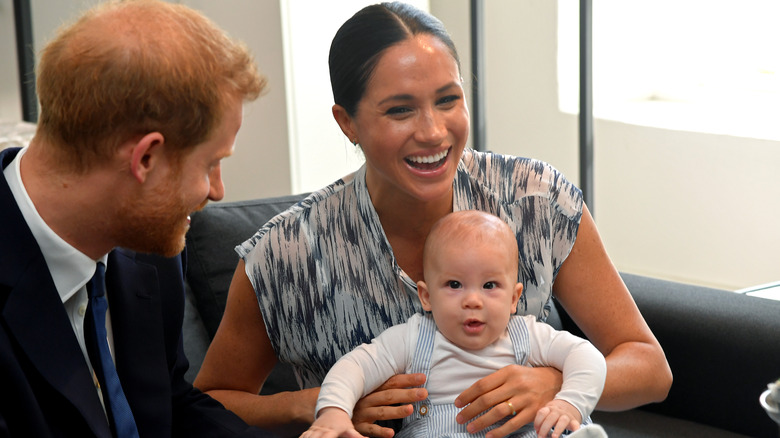 Pool/Getty Images
SheKnows reports that, judging by recently-released data from the U.K.'s Office for National Statistics, the name Archie has never been more popular. In fact, it's broached the top 10 baby names of the year in England and Wales for the first time in history. Prince Harry and Meghan Markle named their first child Archie back in 2019. It was considered a leftfield choice at the time, since neither the boy's first nor middle names have anything to do with the monarchy, either historically or otherwise. The couple made up for it with daughter Lilibet, so-called after Queen Elizabeth's nickname (via The Guardian). Lilibet also made an appearance on the list, at number 7. 
Although Archie has hung around the top 50 since 2003, the highest the name managed to chart before the Sussexes' baby was born was number 18, back in 2017. It's worth noting the name Archie is also popular because of teen soap "Riverdale." In fact, when the name was chosen by the couple, social media lost its collective mind wondering whether the royal defectors were secretly fans of the show. Elsewhere, Harry himself remains popular, as does his nephew, George, both of whose names graced the top 10. As Sky News notes, Oliver topped the list again for the eighth year in a row, while Olivia has been the reigning champion for girls for five years. 
If Meghan and Harry need any ideas for the next baby (if they decide to have one), they know where to look.