Is Crockett Island From Netflix's Midnight Mass Real?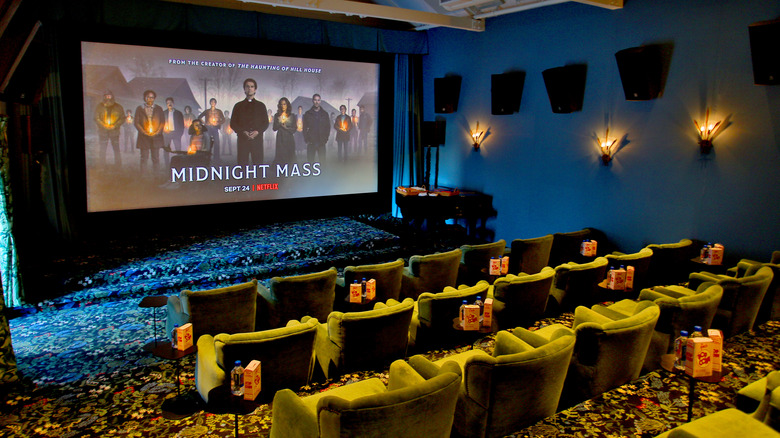 Rachel Murray/Getty Images
Would it really be Halloween season without a new Netflix show from Mike Flanagan? Flanagan is the creator of the wildly popular horror shows "The Haunting of Hill House" and "The Haunting of Bly Manor," which premiered on the streaming platform in 2018 and 2020 respectively (via IMDb). Both "Hill House" and "Bly Manor" featured recurring cast members, including Flanagan's wife Kate Siegel and current "You" star Victoria Pedretti. Each season focused on a different story, with "The Haunting of Hill House" serving as an adaptation of the 1959 Shirley Jackson novel of the same name, and "The Haunting of Bly Manor" serving as a loose adaptation of Henry James' "The Turning of the Screw" (via Collider).
In lieu of making a third season of "The Haunting," Flanagan decided to showcase a standalone story in his latest project, "Midnight Mass." According to SyFy, Flanagan felt it was important to focus on an original story in this latest supernatural installment. "'Midnight Mass' was always so original and important and personal, it just never felt like it was ever going to be a part of that universe," he said.
Despite straying from the original literature to screen format he used previously, "Midnight Mass" is equally as terrifying as Flanagan's two seasons of "The Haunting." If you've been keeping up with this spooky show each week, you'll know that the setting of the story is just as scary as the characters who inhabit the place. "Midnight Mass" is set on Crockett Island, an unsettling area that adds to the frightening atmosphere of the show. But is Crockett Island from Netflix's "Midnight Mass" actually a real place? 
Where was Midnight Mass filmed?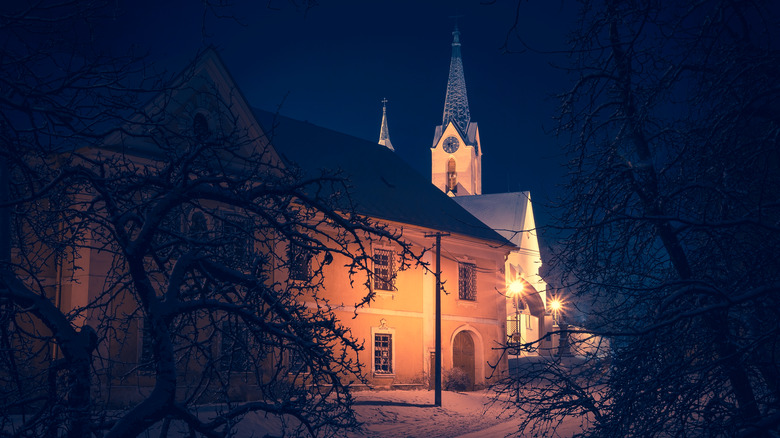 Madihes/Shutterstock
Netflix's latest supernatural horror show "Midnight Mass" has been creeping out audiences since the series premiered in September 2021. The show is the latest creation from writer/director Mike Flanagan, but this particular cast of characters is located on a terrifying island instead of being stuck inside a haunted house. The characters of "Midnight Mass" live in an isolated community on Crockett Island, where they're subjected to a series of mysterious events following the arrival of a priest, Father Paul, played by actor Hamish Linklater (via Newsweek).
When you watch the show, the island itself feels haunted, and it adds a layer of uncertainty to the already chilling events. Many people have wondered whether Crockett Island is a real place, mainly because they would avoid it at all costs if it really exists. Fortunately — or unfortunately, depending on how you feel about being deserted on a scary island — Crockett Island is a work of fiction.
According to Marie Claire, "Midnight Mass" was filmed in Garry Point Park in British Columbia, Canada. Though it doesn't look anything like the darkened version you see on your screen, you can visit Garry Point Park and the neighboring Steveston Village if you want to feel like you're part of the Netflix show (via Decider). There's been some debate about where Crockett Island is supposed to be located in this fictional version of reality, but Flanagan has yet to clarify where its geographic origins lie.