Why Bill Clinton's Recent Health Update Has Twitter Talking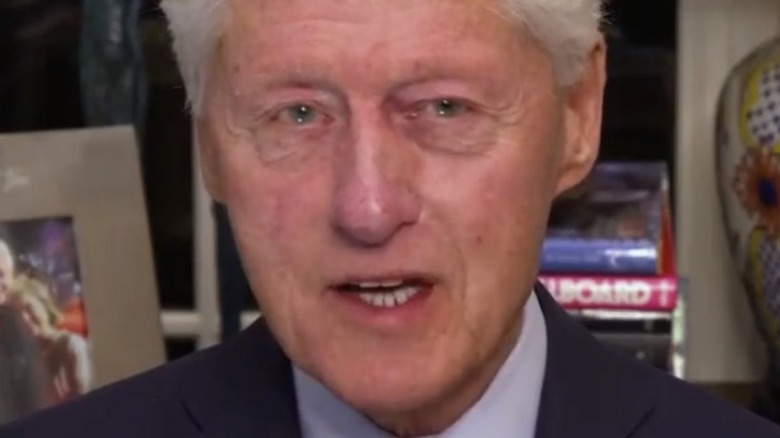 Theo Wargo/Getty Images
William Jefferson Clinton isn't our oldest living president -– that honor goes to Jimmy Carter, who recently celebrated his 97th(!) birthday, according to ThoughtCo. Clinton entered the Oval Office while still in his 40s, and is only 75 years old today despite having been an ex-president for all but a few weeks of the 21st century — unless you're in the "new millennium began in 2001" camp, in which case he's been an ex-president for all of it. Clinton may not be our most-loved former POTUS, either, as that title is probably also held by Jimmy Carter, the hammer-swinging patron saint of Habitat for Humanity who worked hands-on to build homes for the less fortunate well into his 10th decade (via CNN).
While Clinton was a polarizing and scandal-plagued figure during his time in office, he has now seemed to have aged into more of a "beloved elder statesman" figure as witness the outpouring of concern over his recent health difficulties. As per United Press International, he was hospitalized for a urological infection last week. He got out of the hospital this past Sunday, and on Wednesday released a video on Twitter telling his followers "'I'm really glad to be back home, I'm doing great."
Twitter had no harsh words for the 42nd president
While Twitter + politics in most cases makes for an ugly equation, it seems that nearly everyone responding to the 42nd president's video had nothing but good wishes for him. Numerous comments echoed the words of a Twitter user who said "Glad to see you home Mr President. [heart emoji]," while others tweeted pleas like "Please take care of yourself!" 
One more eloquent tweeter expanded upon the theme by saying "President @BillClinton I'm so glad you're home too..take your time one day at a time. I've had you in my thoughts and prayers. Again I'm so happy you've made it home. THERE'S NOTHING LIKE HOME TO HELP WITH YOUR RECOVERY." Another tweeted a warning most likely meant for Twitter as a whole: "Sepsis is no joke. Even in the time of Covid, do not delay seeing your doctor. That goes for cancer screens, cardiac workups — the whole shebang. Take care of yourself out there."
Of course, there are always a few jokers in the pack, such as one conspiracy buff who tweeted, "Bill why was this vid filmed on a Nokia flip phone? Blink quickly three times if you're being held captive" and another who wrote, "And is he in front of a green screen? I actually can't tell." Someone else took a mild swipe with their tweets at the former president's fashion sense, saying "That's a Nice Grandpa sweater," but even they finished it up with a "Glad you are feeling better."