The Comfortable Mask Jennifer Aniston Can't Stop Wearing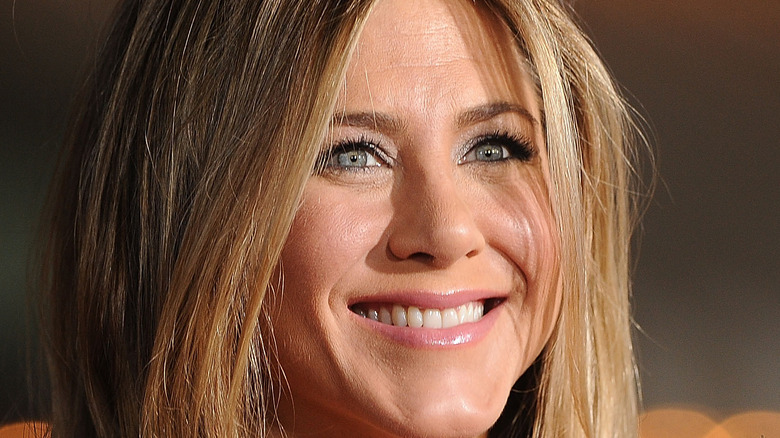 Jason Merritt/term/Getty Images
We may receive a commission on purchases made from links.
With the COVID-19 pandemic raging on, we've all gotten used to wearing face masks as a matter of course. At first, they were purely for safety purposes, but as the months dragged on, face coverings became incorporated into our wardrobes in funky and fashionable ways. In fact, it's highly likely you've got a number of favorite face masks that you rotate accordingly, depending on what you're wearing that day. Unsurprisingly, the rich, famous, and fabulous have made wearing face masks cool. 
As Hello! notes, royals including Kate Middleton and Meghan Markle have shown real flair with floral and sustainable face coverings, while Ariana Grande, Jennifer Lopez, and many others stepped out in theirs to make a salient political point. After the pandemic first began in 2020, designer Tory Burch even started a viral social media campaign using the hashtag #wearadamnmask and got some of our favorite A-listers involved. Jennifer Aniston's go-to mask, meanwhile, is just one little click away. 
Jennifer Aniston's go-to face covering is kind to skin
According to People, nineties icon Jennifer Aniston chooses the celeb-favorite Wolford Reversible Lace Silk Face Mask when she's out and about. The luxurious silk face covering is equally comfortable and kind to skin, so it's ideal for all-day wear. Aniston was spotted wearing the face mask on her Instagram, dropping off her ballot to vote, and even when arriving to pay Jimmy Kimmel a visit on his talk show. 
The super-soft, skin-friendly fabric promises to also be moisture-wicking, temperature-regulating, and hypoallergenic. It's super cute too, while adjustable ear loops ensure comfort is key. You can pick one up on Amazon for $21, though these little beauties typically retail for twice that amount. The reviews are almost universally great, with a 4.6 out of 5 rating gleaned from hundreds of users. 
Shoppers frequently describe it as their favorite mask, ideal for double-masking if required, and even promise you won't need to worry about the dreaded "maskne" with it either (via Amazon). The fact it's reversible, machine washable, and has a built-in nose wire likely means this will soon be your go-to face mask alongside the "Friends" star herself.