Is Donald Trump Really Launching His Own Social Media Network?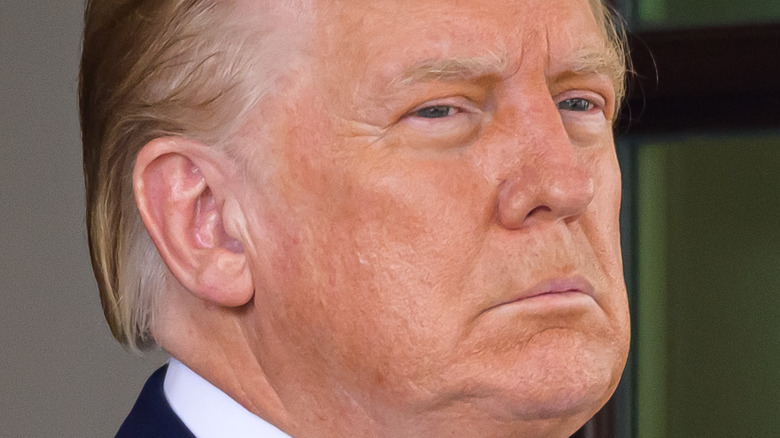 noamgalai/Shutterstock
We can't say things have been the same for former President Donald Trump since January 2021, the month he left the White House and Twitter imposed a permanent suspension on his account following the January 6 riot on Capitol Hill. Then Facebook imposed its own suspension, which is meant to last until 2023.  
To say Trump took the loss of Twitter hard is an understatement — the Associated Press described the social media platform as a cudgel, which Trump used to strike out at those who displeased him. At the time he was deplatformed, Trump had more than 88 million followers, even though that number rose and fell by a few hundred thousand (via Slate).
And even though Trump may be working hard to get his voice back on Twitter — he's even suing them because he says the ban violates the First Amendment — it seems he's not taking any chances and so has decided to launch a new digital media platform of his own. His Trump Media and Technology Group is building a social media network it is calling "Truth Social," and whose sole aim is to go head-to-head against both Facebook and Twitter. The company's headquarters is listed as Mar-A-Lago. 
A rival for big tech?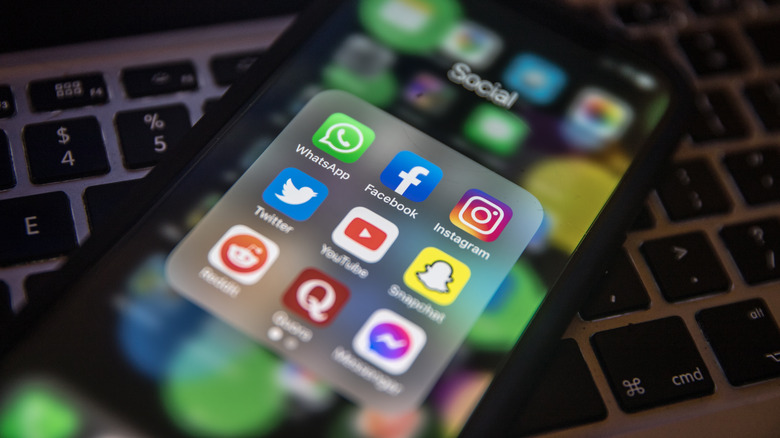 Matt Cardy/Getty Images
The group's aim is simple. In Donald Trump's words, the media company is looking to build up a "rival to the liberal media consortium" and to "stand up to the tyranny of Big Tech." Its social media platform, which has been named "TRUTH Social," is expected to launch November 2021 and will first be available to invited users before it goes national in 2022. The company is promising a video-on-demand service, which will carry a mix of entertainment, news, and programming — all of which have been described as "non-woke." Those who sign up to get emails from the new Trump Media Group are asked to waive their right to sue the company via a class action suit (via CNBC). 
While Truth Social might be of interest to the MAGA user, investors will want to know that Trump's Digital Group plans to list on the NASDAQ by merging with a "Special Purpose Acquisition Company," or SPAC, called Digital World Acquisition Corporation. The Wall Street Journal says SPACs are different from IPOs because they are allowed to do things that companies which go public the traditional way aren't allowed to do. For instance, investors can take their money out of the SPAC before an acquisition deal is finalized, which means the value of its shares can plummet after a company is listed.
The launch is not surprising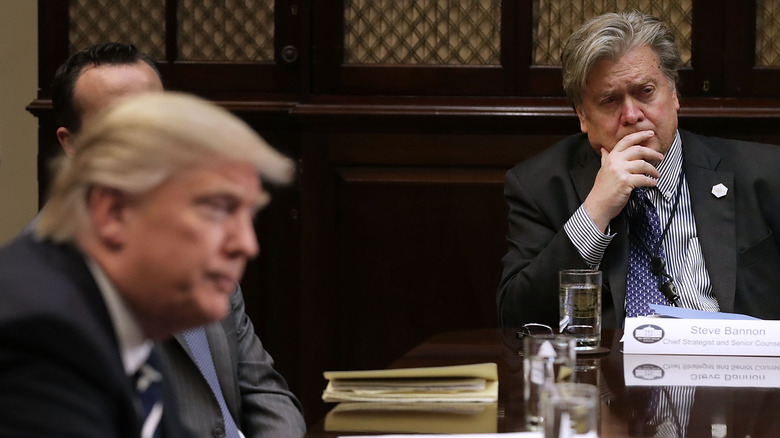 Chip Somodevilla/Getty Images
Donald Trump's decision to launch a new digital media company isn't really surprising because both he and his advisers have been hinting at this for months. But this wouldn't be the first time that the MAGA-verse has tried to take on Facebook and Twitter. In July 2021, it had announced the launch of "Gettr," which is positioned as a "non-bias social network for people all over the world" (via Independent). Gettr was launched by Jason Miller and Steve Bannon, and by the end of the first month, it claimed to have 1.5 million users, most of whom were politically aligned with the far-right (via Stanford). 
Prior to that, Trump's team had launched a "communications platform" that published content from the former president, but it shut down a few months later. At the time, Miller had said the site was "auxiliary to the broader efforts we have and are working on" (via BBC).