Royal Expert Shares A Bittersweet Memory Of William And Diana's Bond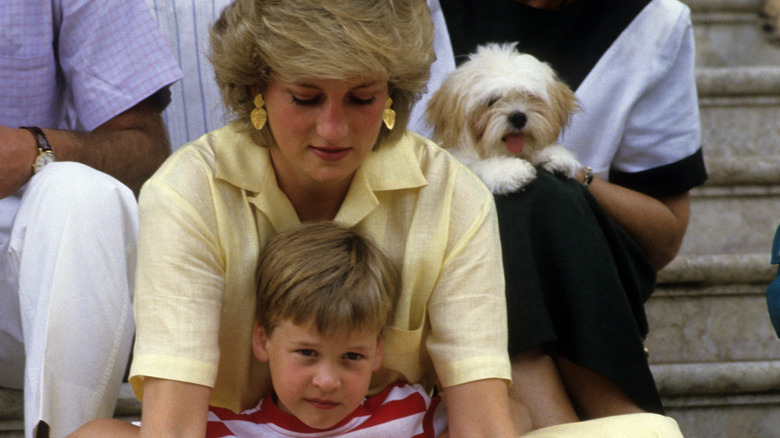 Anwar Hussein/Getty Images
Princess Diana — and not Prince Charles — chose Prince William's first name. The king-to-be, according to what historian Robert Lacey once dished to People, would have preferred to name his son after the legendary Arthur. Diana, however, had her heart set on naming their firstborn after William the Conqueror. That was, apparently, that.
Princess Diana wouldn't just give Prince William his namesake. She also dished out a refreshing kind of shock and awe. Diana was the kind of mom who canceled royal lunches in favor of taking her boys for Happy Meals at Mickey D's, at least according to what former royal chef Darren McGrady told Marie Claire. Then there was the time Diana brought supermodels to the palace. "When I came home from school to have Cindy Crawford, Christy Turlington, and Naomi Campbell waiting at the top of the stairs," William remembered in an ITV documentary (via Independent). "I was probably a 12 or 13-year-old boy who had posters of them on my wall and I went bright red."
Wills adored Diana. As he got older and his mother and father's marriage began to unravel, he became increasingly protective of her.
Prince William's touching gesture to comfort Princess Diana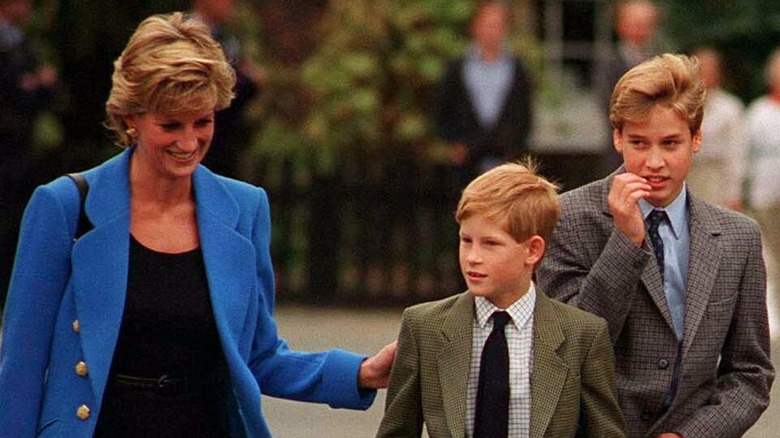 Anwar Hussein/Getty Images
When Princess Diana divorced Prince Charles, The Firm took part of her title. Instead of "Her Royal Highness Princess Diana," she became, simply, "Princess Diana." a change As Mirror once explained the change was not insignificant; it meant she would have to curtsy not only for her ex-husband but also for her sons. "Don't worry Mummy, I will give it [HRH title] back to you one day when I am King," William promised his mother at the time, as per Diana's former butler, Paul Burrell.
Penny Junor's biography, "Prince William: Born to be King: An Intimate Portrait," gives further glimpses into just how much Wills worried about his mom (via The Times). When William was 10, Junor wrote, Charles and Diana got into a fight. Diana shut herself into the bathroom to cry. William, in turn, found a pack of tissues and passed them to his mother under the door. "I hate to see you sad," the young prince allegedly said.
It's a heartbreaking gesture, and it was far from the last of the kind. Diana, herself, detailed a similar series of events to Martin Bashir in her electrifying 1995 BBC interview (via House Beautiful). James Hewitt, Diana's former lover, had recently published a book about their affair. In the aftermath, Diana went to visit her boys and help them weather the press storm."William produced a box of chocolates," the princess told Bashir during the interview. "And said, 'Mummy, I think you've been hurt. These are to make you smile again.'"