Here's How Stefanie Scott Prepared To Play Carrie In The Girl In The Woods - Exclusive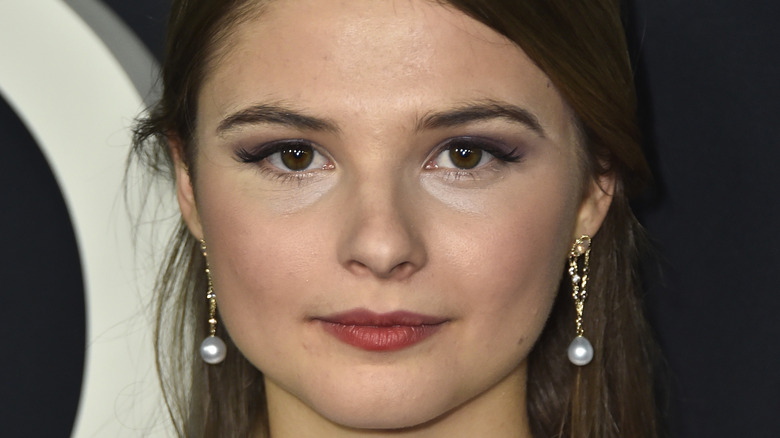 Frazer Harrison/Getty Images
Anyone who's watched the Peacock series "The Girl in the Woods" knows that the main character, Carrie, was born to fight. Seeing such a strong woman on screen is always something special, too. "This is such a great role, and I feel so lucky that I got to play her," actor Stefanie Scott told us in an exclusive interview. Yet, as incredible as Carrie may be, Scott didn't grow up in a cult in the woods, so she had a whole lot of work ahead of her when she accepted the role. As an experienced actor, she could nail any lines thrown her way, but when it came to starring in multiple fight scenes, that was another story.
While the actor may have not entered show business to be a stuntwoman, Scott's certainly turned into one. Before she ever played Carrie, she first learned what it truly took to be an action star in "Insidious: Chapter 3." Since then, she's been doing all of her own stunts. Yes, you read that right. Every single scene you see in "The Girl in the Woods" is all Scott's work — and she's not slowing down anytime soon. "Now I'm all hooked on it," she told us.
We got the chance to sit down with Scott to talk about the intense preparation it took to play Carrie.
There was intensive training involved in order for Stefanie Scott to become Carrie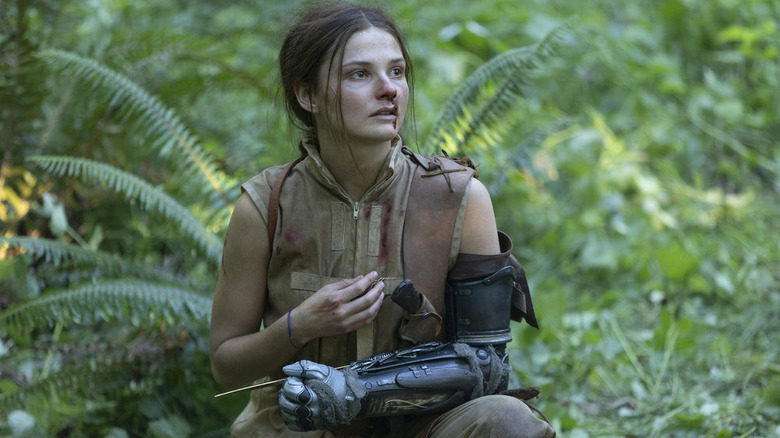 Scott Green/Peacock
To prepare herself for any punch that came her way, Stefanie Scott spent seven days a week working with the experts. Before she even stepped foot on set, she was away, learning the ins and outs of all sorts of self defense. "For three hours a day, I did MMA fighting, boxing, punching, kicking, learning martial arts and stuff with a professional," she told us. The actor even had to learn how to fight with knives — something Carrie does throughout the series.
Despite all that intense training, it was still only the beginning of what it took to become Carrie. "When I got to Portland [where the series is filmed], I was working every day with the stunt team, learning everything I had to learn," Scott told us, and even on her off hours she was working to become a fighter. "On the weekends [I had] to learn the routines for what we were shooting that week," she said. It's definitely a lot more work than starring in a rom-com, but becoming an action hero is something that will always have a special place in Scott's heart. "I really hope I get to do it again, because that was the best part of the shoot, for sure," she said.
Season 1 of "The Girl in the Woods" is available to stream now exclusively on Peacock.