How Is Alec Baldwin Coping After The Fatal Incident On The Set Of His New Movie?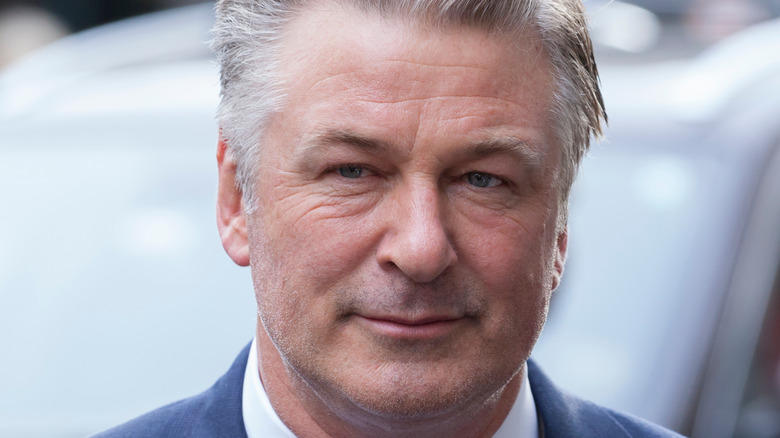 lev radin/Shutterstock
Tragedy struck on the set of Alec Baldwin's new feature flick, "Rust," while on location in New Mexico on October 21, 2021. Baldwin was using a prop gun, and when he discharged it, the film's director of photography was struck and the director was injured. Director of Photography Halyna Hutchins lost her life in an accident still being investigated by authorities as of this writing, while director Joel Souza was hospitalized, but released hours later (via Deadline).
According to The New York Times, the shooting occurred during either the filming of a scene or a rehearsal at the Bonanza Creek Ranch in Santa Fe, New Mexico. A spokesman for the Santa Fe Sheriff's office said that they were "trying to determine right now how and what type of projectile was used in the firearm." The popular star who was using the prop gun at the time of the accident had shared a picture from the set earlier in the day on Instagram of him with what was apparently prop blood. The caption was tongue-in-cheek and read, "Back to in person at the office. Blimey...it's exhausting." That photo was soon deleted after the fatal incident (via People).
A photo revealed Alec Baldwin's condition after the accident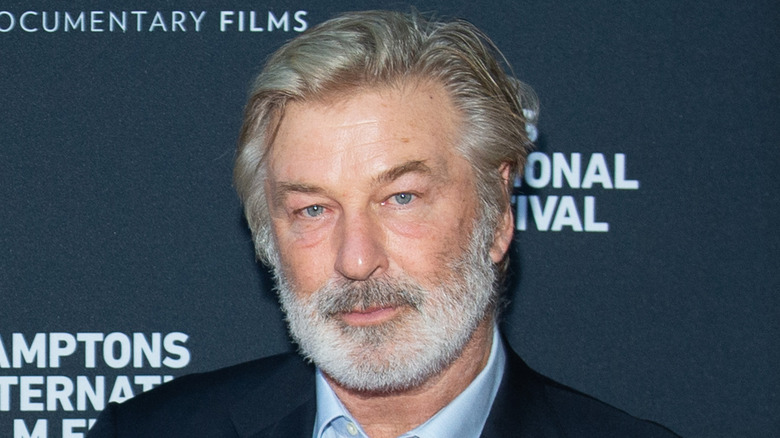 Mark Sagliocco/Getty Images
People obtained a photo from the Santa Fe New Mexican of Alec Baldwin, taken after the gun was discharged. It shows the actor looking shaken while on his cell phone, holding his face mask in his other hand. Baldwin's spokesperson also gave People a statement about the incident, saying, "There was an accident today on the New Mexico set of 'Rust' involving the misfire of a prop gun with blanks."
The morning after the incident, Baldwin took to Twitter via the Hilaria and Alec Baldwin Foundation to express his remorse and sorrow over what transpired on the set of his movie.
"There are no words to convey my shock and sadness regarding the tragic accident that took the life of Halyna Hutchins, a wife, mother and deeply admired colleague of ours," Baldwin wrote. "I'm fully cooperating with the police investigation to address how this tragedy occurred and I am in touch with her husband, offering my support to him and his family. My heart is broken for her husband, their son, and all who knew and loved Halyna."
Baldwin's followers also expressed their shock at what happened, offering sympathy to the actor.
"Oh my goodness what an awful experience and tragedy for all involved. This was a tragic accident and hopefully they will get to why that prop gun was so lethal. Try to stay strong and grateful you are supporting and in close contact with the family," one follower tweeted. Another wrote, "I can only imagine what you and this poor woman's family are going through. Wishing you both peace."
Alec Baldwin's movie shut down production after the tragic accident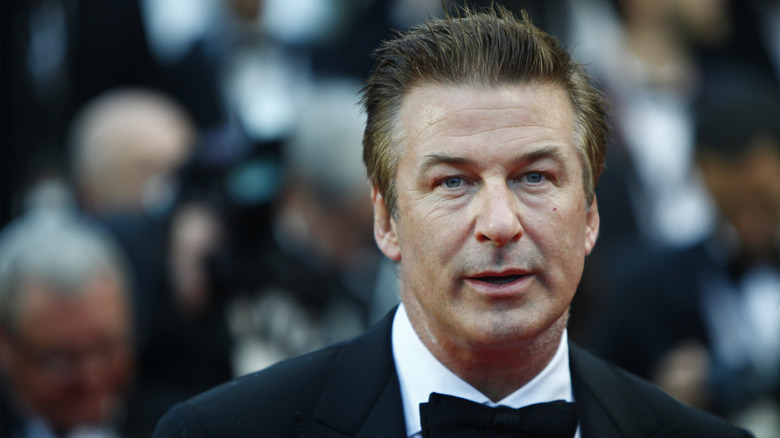 PAN Photo Agency/Shutterstock
Since the fateful shooting involving a prop gun, the set of "Rust" has been shut down and the production company, Rust Movie Productions LLC, expressed its heartbreak in its own statement. "The entire cast and crew has been absolutely devastated by today's tragedy, and we send our deepest condolences to Halyna's family and loved ones. We have halted production on the film for an undetermined period of time and are fully cooperating with the Santa Fe Police Department's investigation," the statement read, as noted by People. "We will be providing counseling services to everyone connected to the film as we work to process this awful event."
Halyna Hutchins' husband also expressed his grief over the tragedy, while not wanting to get into the legalities of the case or the investigation that's taking place. "I don't think there are words to communicate the situation," Matthew Hutchins told Insider. "I am not going to be able to comment about the facts or the process of what we're going through right now, but I appreciate that everyone has been very sympathetic. I think that we will need a little bit of time before we can really encapsulate her life in a way that is easy to communicate."
Matthew also shared with the New York Post that he had spoken with Baldwin, and that the actor had been "very supportive."
As of publication, there have been no charges filed against Baldwin or anyone else involved with the tragic accident, but Baldwin was officially questioned and later released by authorities in New Mexico (via Deadline). According to The New York Times, some outstanding questions about the incident remain, including what type of weapon was being used, whether it was discharged several times, and what the safety protocols were on the set for any weapons present.