Adele Reveals The Creepy Memento That She Calls Her 'Proudest Possession'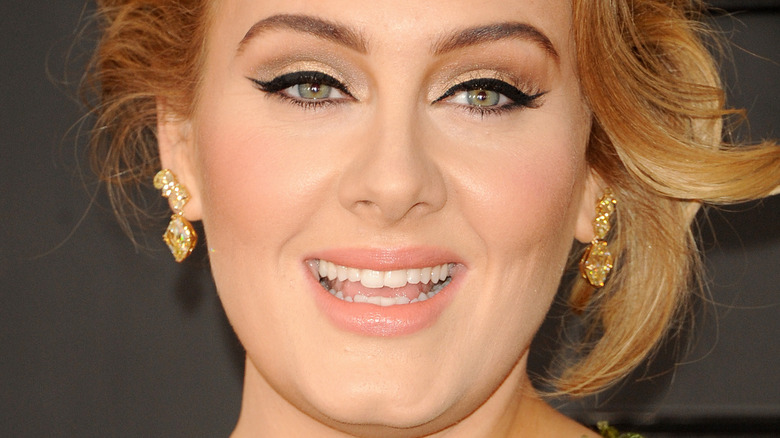 Tinseltown/Shutterstock
Adele is one of the most beloved singers on the planet. According to Forbes, the British songstress had one of the best-selling albums of the 21st century! With iconic songs like "Rolling in the Deep" and "Hello" among a million others, we're sure plenty of fans have Adele memorabilia in their homes, but would you believe that she counts a memento belonging to another famous singer as one of her most treasured possessions?
First, consider that Adele is a huge Celine Dion fan. As Elle reported in 2018, the mom of one wore a sweatshirt featuring the "My Heart Will Go On" legend to her concert. But the younger crooner is an even bigger devotee of Dion than you even knew.
As Page Six reports, Adele recently revealed she has something Dion used previously framed in her home. No, it's not an item of clothing. It's way creepier.
Adele recently took part in Vogue's "73 Questions" segment and shared all the details about the icky memento (via YouTube).
Adele has James Corden to thank for this memento
A framed piece of Celine Dion's chewed — yes, chewed — gum is what Adele says is her "proudest possession" (via YouTube). Yes, you read that right! But, how?
"James Corden, who's a friend of mine but also does 'Carpool Karaoke,' which I did, he did it with her and knew how much of a fan of hers I was," Adele recounts for the interviewer during the Vogue segment. "And so he made her spit her gum into a piece of paper and framed it for me" (via Page Six).
Wow.
Not surprisingly, reaction to this revelation from Adele was met with mixed reactions on Twitter, with one fan enthusing, "As if I needed another reason to love Adele even more, she owns a framed piece of Celine Dion's used chewing gum." This sentiment was echoed again and again.
But someone else couldn't help but ask, "She said she has Celine Dion's chewed gum framed (gifted by James). Why adele? Why???"