What Adele Really Looks Like Underneath All That Makeup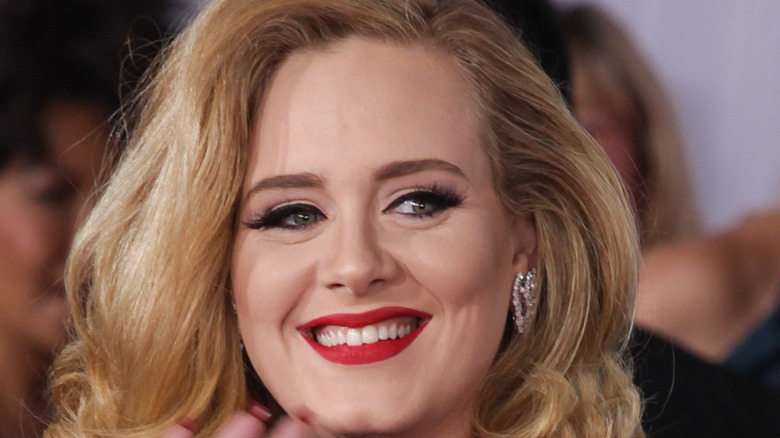 DFree/Shutterstock
Adele has pulled on the heart strings of many of us. Most of us have heard the singer crooning the words of "Rolling in the Deep" or "Someone Like You" while we sit in the driver's seat of our car and try to hold back from opening the floodgates of our tears. A singer and a star who is able to so easily inflict our rawest emotions makes us want to get an honest look at who she is.
Recently, the "Skyfall" songstress has been hogging the headlines over her stunning transformation. Adele has been a little cagey over how she has lost so much weight in such a short period of time, but we've managed to piece together her lifestyle changes. "I used to cry but now I sweat," she has revealed about her journey (via Women's Health). The artist has also reportedly followed the Sirtfood diet which has caused her to ditch the processed food and fast for certain periods of time (per Good Housekeeping). As private as Adele is about her weight loss, the photos are revealing her success. But we're most curious about what this newly transformed icon's image looks like when she strips away all that makeup — her signature cat eye and red lip. 
Adele has a gorgeous, fresh face under her cat eye and classic red lip
When Adele first burst into the spotlight over 10 years ago, she was made up to the max. Her pouty red lip and signature eyeliner were the defining parts of her old-world glamorous work (via Vogue). Perhaps it is due to her new look, or maybe she's just sick of sitting in the makeup chair, but Adele appears proud to strip her face free of the formerly caked on foundation and show the public what she really looks like via her social media (via Instagram). And we have to say, her au natural snap is exposing her straight up glow! 
The singer boasts flawless skin, and proves her smiling lips are full without a hefty dose of lip liner. One of the makeup-less photos may have been released to pledge to her love of soccer, but we're too distracted by her perfectly arched eyebrows. Adele has certainly caused us to bare our raw emotions as we listen to her music. So thanks for the very real photo of yourself, Adele, we love your authentic self!