What We Know About The Fatal On Set Incident Involving Alec Baldwin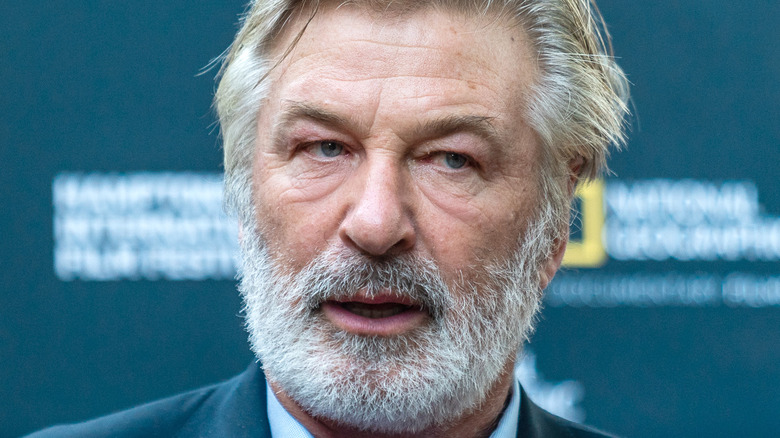 Mark Sagliocco/Getty Images
Actor Alec Baldwin has been no stranger to controversy over the years. In 2011, he was kicked off an American Airlines flight for unruly behavior, per the New York Post, and, the following year, photographer Marcus Santos filed criminal charges against the actor after Baldwin allegedly punched and shoved him (via New York Daily News). 
According to CBS New York, Baldwin was arrested in 2014 after riding a bike the wrong way down Fifth Avenue, and let's not forget when a voicemail recording emerged of him calling his 11-year-old daughter, Ireland, a "rude, thoughtless, little pig" in 2007 (via National Post). Scandal seems to follow the 63-year-old wherever he goes.
Now, Baldwin — who's perhaps best known for playing Jack Donaghy on the hit NBC comedy "30 Rock" and for his portrayal of former President Donald Trump on "Saturday Night Live" — is making headlines for something more serious than ever: an accidental fatality on a movie set.
The fatality occurred on the set of the movie 'Rust'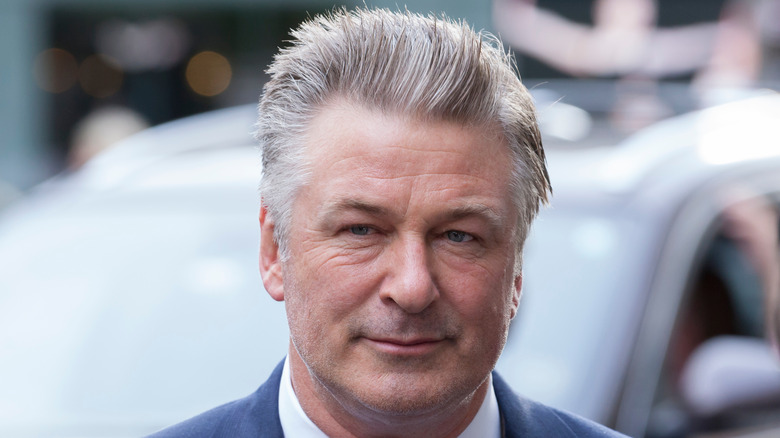 lev radin/Shutterstock
According to Deadline, Alec Baldwin reportedly fatally shot cinematographer Halyna Hutchins, 42, with a prop gun on the set of the forthcoming Western film "Rust" on Oct. 21, 2021. Hutchins had been working as the director of photography on the movie, which was being filmed on Bonanza Creek Ranch in New Mexico.
As the BBC reported, local police confirmed that sheriff deputies had arrived on the scene at around 1:50 p.m. local time following an emergency call. Hutchins was airlifted to the University of New Mexico Hospital, where she later died from her injuries. The director of "Rust," Joel Souza, was also injured and transported via ambulance to Christus St. Vincent's hospital.
Speaking to Deadline, a production spokesperson from "Rust" Movie Productions LLC later confirmed: "Two crew members have been taken to the hospital and are receiving care. Production has been halted for the time being. The safety of our cast and crew remains our top priority."
Per the BBC, a Santa Fe sheriff spokesman revealed in a statement that the "30 Rock" star had spoken with detectives following the incident. "He came in voluntarily and he left the building after he finished his interviews," the spokesman confirmed.
Meanwhile, a spokesperson for Baldwin also confirmed that the tragic incident occurred after the misfiring of a prop gun with blanks. Police have since stated that an investigation is ongoing to determine exactly what happened and that no charges have been filed.
Tributes have poured in for Halyna Hutchins
According to her website, Halyna Hutchins was born in Ukraine and grew up on a Soviet military base in the Arctic Circle. She went on to study journalism in Kyiv and later moved on to study film in Los Angeles. In 2019, American Cinematographer magazine named Hutchins a "rising star" among her peers, and some of her previous film credits include 2020's "Archenemy," directed by Adam Egypt Mortimer. Paying tribute to his former colleague, Mortimer wrote in a tweet: "I'm so sad about losing Halyna. And so infuriated that this could happen on a set."
In a joint statement, John Lindley and Rebecca Rhine, the president and executive director of the International Cinematographers Guild, said that they had "received the devastating news" of Hutchins' death. "The details are unclear at this moment, but we are working to learn more, and we support a full investigation into this tragic event," the statement read (via Variety). "This is a terrible loss, and we mourn the passing of a member of our Guild's family."
Meanwhile, Shannon Lee, sister of the late actor Brandon Lee — who was also fatally shot on a film set back in 1993 — also paid tribute to Hutchins. "Our hearts go out to the family of Halyna Hutchins and to Joel Souza and all involved in the incident on 'Rust'. No-one should ever be killed by a gun on a film set. Period," she wrote on Twitter.