Joe Gorga Shares His True Feelings About Sister Teresa Giudice's Engagement
SD Mack/Shutterstock
Teresa Giudice and her boyfriend, Luis "Louie" Ruelas, are engaged, and her brother, Joe Gorga has spoken out on the big news. People reported in November 2020 that "The Real Housewives of New Jersey" star was dating the businessman, two months after her divorce from Joe Giudice was finalized. The Giudices' 20-year marriage came to an official end in December 2019 (via Us Weekly).
The engagement took place Tuesday, while the couple was visiting the Amanzoe Resort in Porto Heli, Greece. According to exclusive photos in People, it involved sparklers, candles, roses, and fireworks. Afterwards, a group — which included Giudice's friend and former "RHONJ" costar Dina Manzo as well as her husband, Dave Cantin — stayed up until 5 a.m., enjoying champagne, lobster, sea bass, and lamb chops.
While they are still in Greece, Gorga told Us Weekly that a celebration of some sort will take place when Giudice and Ruelas return home.
'It was meant to be,' Joe Gorga said about his sister's engagement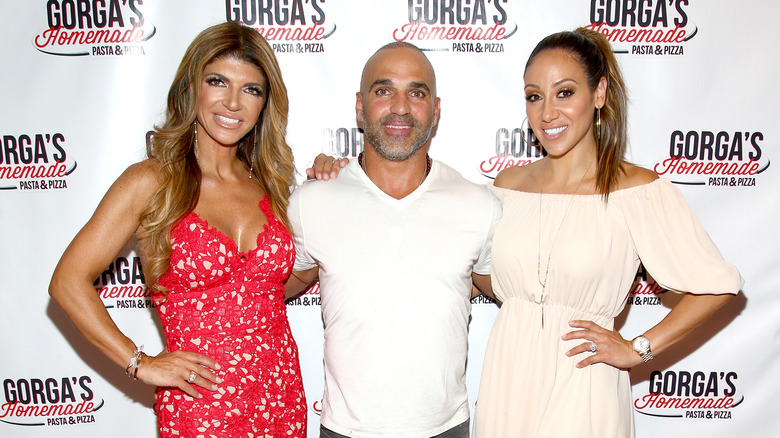 Paul Zimmerman/Getty Images
When speaking with Us Weekly, Joe Gorga also shared his thoughts on his sister's engagement, admitting that he even cried when he heard. "I'm so excited. I'm so happy for her."
Thankfully, Gorga seems to approve of his new soon-to-be brother-in-law, Luis "Louie" Ruelas, who told Gorga about the proposal beforehand. "[Luis] came in like what she needed. She needed that Superman to come in and take her life and fix it, and that's what he's doing. I always said she needed a beast of a man, and he is one of them. He's living up to everything he's talking about, so I'm just so happy that they're in love." He also said that his former brother-in-law, Giudice, knows about the engagement, as "the girls told him."
The real estate developer, who regularly appears on "RHONJ," ended by saying his sister "always wanted to be loved" and that Ruelas "loves her." "It was meant to be. It's a beautiful thing, and I love it."