The Exact Lip Color Kiernan Shipka Wore In Chilling Adventures Of Sabrina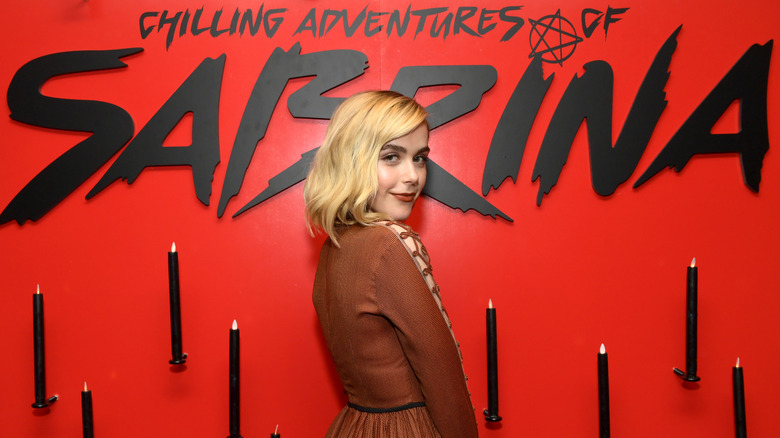 Emma Mcintyre/Getty Images
Kiernan Shipka was already a pint-sized star, thanks to her well-received performance as Sally Draper in "Mad Men," but Netflix's "Chilling Adventures of Sabrina" introduced the actor to a whole new generation of fans ravenous for more Archie Comics content, following the massive success of "Riverdale." Although "CAOS" was, obviously, more fantastical than the hit CW show, it proved to be catnip for audiences and critics alike, garnering an impressive 81% overall rating on reviews aggregator Rotten Tomatoes. 
Of its debut season, The New York Times gushed, "'Sabrina' is a blast," while The Atlantic praised the supernatural teen drama for "being a surprisingly complex interrogation of power, aware both of the necessity of women claiming it and of the consequences that usually follow when that power is used for revenge." 
Aside from being a solid genre piece, "CAOS" was also notable for boasting drool-worthy makeup and costumes, as i-D detailed. Shipka, in particular, emerged as a style icon.
If you're looking to replicate her effortlessly cool, witchy look as Sabrina Spellman, this is exactly where to pick up the lipstick used on the show.
Kiernan Shipka wore the most gorgeous high-end lipstick
Although Kiernan Shipka was playing the most famous teenage witch in the world on "Chilling Adventures of Sabrina," her style was always undeniably chic with a retro twist. As it turns out, the lipstick her iconic character wore on the show probably wasn't one that most teenagers, or even grown adults, could comfortably afford. 
As makeup artist Brittany Cale revealed on TikTok, Christian Louboutin Very Prive, a deep berry shade, was used for Shipka's classic lip look. It retails for $90 on the brand's site, but it's slightly cheaper on eBay at $85.04 (it's typically around $98.88, though). 
Playing Sabrina clearly meant an awful lot to Shipka, who gushed to Inverse: "You get close to these characters and when I talk about Sabrina, I'm not talking about myself playing her, I'm talking about her." As the actor elaborated, "They become friends, confidants, and vehicles in which you express your emotions. To let go of that is hard, but it's also beautiful. I was forever grateful that I had Sabrina during two very big years of my life. She got me through." 
No word on whether the gorgeous costumes or high-end makeup products helped Shipka get into character to play the stunning sorceress, but we can presume they worked a certain amount of magic on her.