Former Advisor Shares What's Fueling Donald Trump's Desire To Run In 2024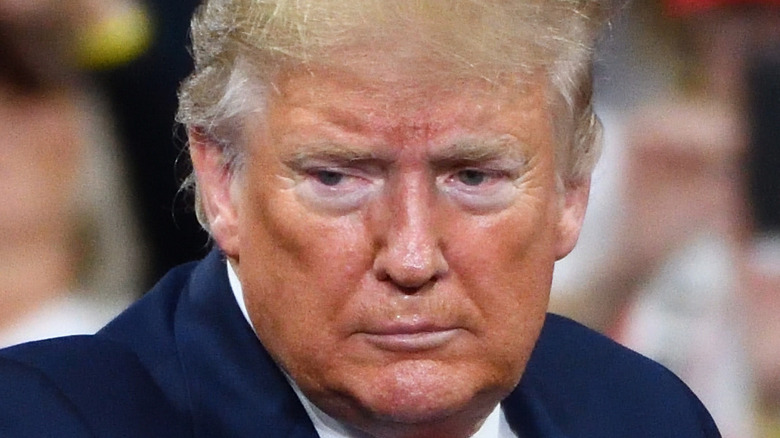 Evan El-Amin/Shutterstock
Despite real estate failings and ongoing legal battles, it looks like Donald Trump is gearing up for yet another presidential run. Speaking about the former POTUS's motivations, one of Trump's previous advisors said that President Joe Biden's troubles in office are fueling Trump to give it a go in 2024. Trump has hinted at another run, and many politicians have speculated that he would return. The new interview with David Gergen, political commentator and former White House communications director, also indicates that voters can expect to see Trump on their ballots. 
Speaking with CNN, Gergen said, "The signs are that he is increasingly interested." Additionally, Gergen added that Trump's "interest intensifies when he sees Biden in trouble." Following the harsh criticism Biden received for pulling troops out of Afghanistan, Gergen said that Trump "was really chomping at the bit," and "had to be talked out of it," per Business Insider. "And now with Biden's approval rating sinking down into the low 40s and the economy still not straightening out and the pandemic still not over, that just makes Trump very very hungry," Gergen added. "I think it's going to take something hugely unexpected or a dramatic change in his health or a prison sentence to stop him."
Donald Trump's 2024 odds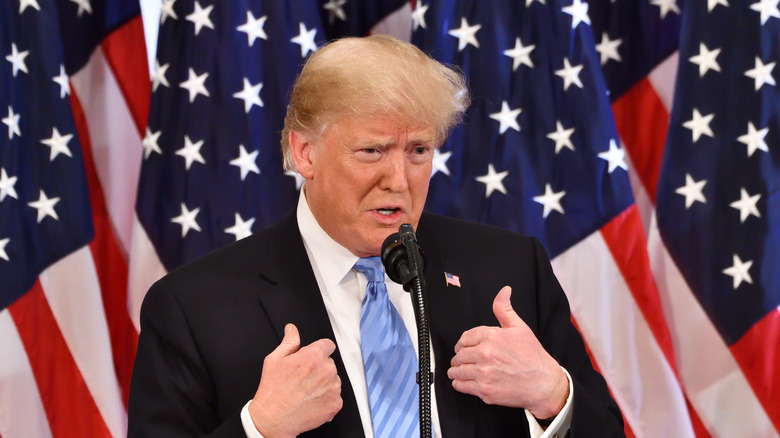 Evan El-Amin/Shutterstock
Donald Trump may not have formally announced a 2024 presidential campaign, but he has been building interest. Earlier this month, he held a rally at the Iowa state fairgrounds, a popular stop on the campaign trail, as well as a rally in Georgia in September, per CNN. His reception at these events, however, has been a bit of a mixed bag. At the Iowa rally in particular, a huge slate of big name Iowa Republicans were in attendance; including Gov. Kim Reynolds, Senator Charles E. Grassley and Iowa Republican Party chairman, Jeff Kaufmann. 
The show of force in Iowa may not be an indicator of party support for another Trump presidency, though. One of the most notable Republican attendees, Sen. Grassley, has publicly criticized Trump. In a statement, Grassley said that Trump "President Trump continued to argue that the election had been stolen even though the courts didn't back up his claims," and "belittled and harassed elected officials across the country to get his way."
Then, Trump harshly criticized other Republican leaders for failing to come to his aid in overturning the 2020 election at his rally in Georgia. He even went so far as to tell those in attendance that he would rather have Democrat Stacy Abrams as governor as opposed to current Georgia governor Brian Kemp. 
Even if Trump does decide to run again, he will have quite a bit of rallying to do.