Everything We Know About The Wedding Of Princess Diana And Prince Philip's Godson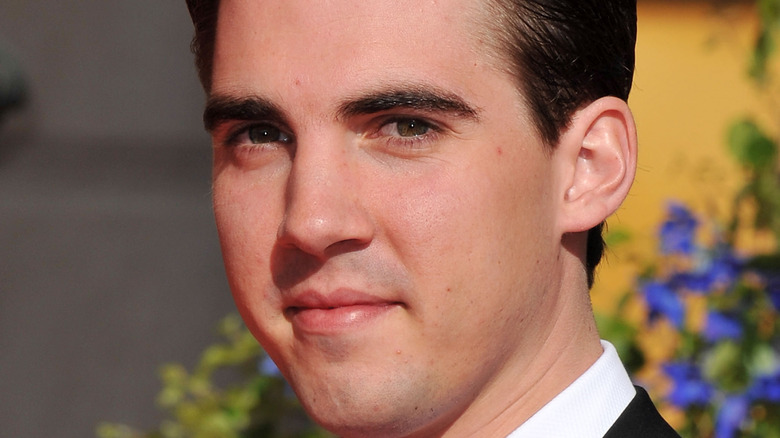 Pascal Le Segretain/Getty Images
While there may not be any British royal family weddings on the horizon, those itching to get their fix of fancy dresses and socialites need look no further than Europe. Princess Diana and Prince Philip's godson, Philippos, has had not one, not two, but three weddings in recent months. And while they may not be quite the televised affair to match up to the likes of Prince William and Prince Harry, the main event looked rather elegant. Here's what we know about the most recent wedding ceremony between the youngest child of Greece's last king and queen, Constantine II and Anne-Marie of Denmark: Prince Philippos and Nina Nastassja Flohr, daughter of Swiss businessman Thomas Flohr. 
Grecian royals King Constantine — who is Prince William's godfather and Prince Charles's distant cousin — and Queen Anne-Marie first announced Philippos engagement back in September of 2020. "Their Majesties King Constantine and Queen Anne-Marie are delighted to announce the engagement of their youngest son HRH Prince Philippos to Nina Nastassja Flohr, daughter of Thomas Flohr and Katharina Flohr," they wrote in a statement, per People. The same article shared that the two were engaged on the Greek island of Ithaca. 
Following the engagement, Nina shared a touching Instagram post with a photo of the two of them. "My dearest Philippos. I love you today, I will love you tomorrow and forever," she captioned it. "You make us happier, better, and stronger. I cannot wait to spend the rest our lives together."
Prince Philippos and Nina Nastassja Flohr's wedding day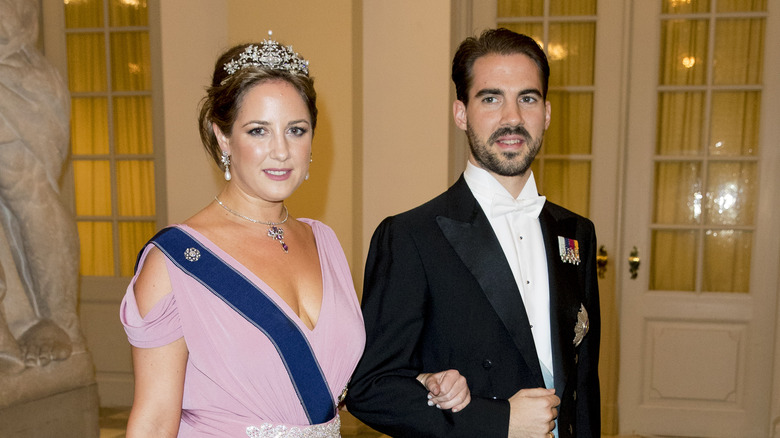 Patrick Van Katwijk/Getty Images
Prince Philippos and Nina Flohr's October 23 wedding marked the third celebration of their nuptials, with each subsequent event being more elaborate than the last. The first "wedding" was a small civil ceremony in December of 2020 in St Moritz, Switzerland. People reported, "Due to Switzerland's strict COVID-19 restrictions, only the couple's fathers King Constantine, 80, and Thomas Flohr, 60, were present at the civil ceremony." In June, the couple celebrated the marriage with a few more close friends and family, holding an intimate gathering at the Cambridgeshire Stibbington House, home of Alice and Tom Naylor-Leyland, per Town & Country. 
The third wedding ceremony was by far the most extravagant. This time around, Philippos and Flohr held a religious celebration at the Metropolitan Cathedral in Athens, per Daily Mail. Going for the full wedding experience this time, Flohr wore an elegant Chanel wedding gown paired with the Antique Corsage tiara. The diamond and pearl tiara in particular has a royal history, being the first tiara that Queen Anne-Marie ever owned, per Court Jeweller.
Unlike the first ceremony, the couple's third celebration was a true regal wedding. The couple pulled out all the stops and invited their fair share of royal guests. Queen Sofia of Spain and Princesses Beatrice and Eugenie were among those to celebrate the long-awaited day. After having the pandemic derail their initial plans, the happy couple were surely pleased to have a true royal wedding in the end.