The Heartbreaking Death Of Sopranos Actor Val Bisoglio
Hollywood actor Val Bisoglio has died at the age of 95. According to The Independent, Bisoglio is best known for his portrayal of John Travolta's father in the 1977 movie "Saturday Night Fever," and the hit HBO drama "The Sopranos," in which he played the character of Murphy "Murf" Lupo, which became his last ever TV role. 
Some of the actor's other well-known credits include the comedy-drama "M*A*S*H*," in which he played the character of Sargeant Sal Pernelli, and "Quincy, M.E."
According to Variety, Bisoglio was born on May 7, 1926 in New York City. His parents had immigrated to the United States from towns in Italy. Bisoglio began his acting career under the watchful eye of famed actor, director, and screenwriter Jeff Corey, and later starred in stage productions such as "Kiss Mama," "A View from the Bridge," "Wait Until Dark," and New York City's "Shakespeare in the Park" with Arthur Penn.
Val Bisoglio's family releases a statement about his death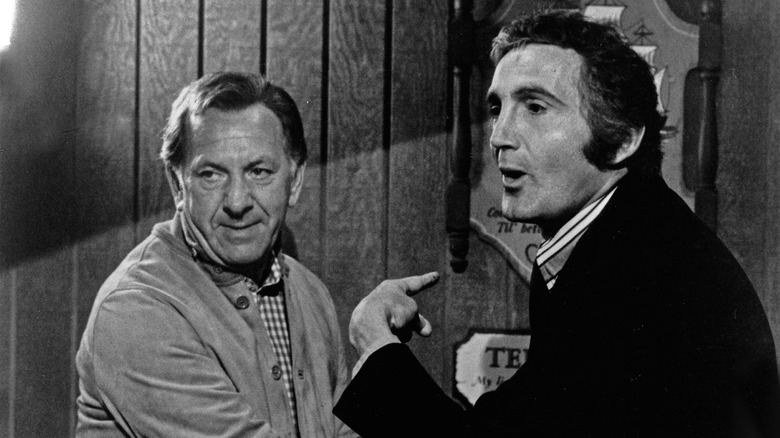 United Archives/Getty Images
In a statement to Variety, the family of Bisoglio confirmed that the actor had died at the age of 95 on October 18, 2021, in his mountain home near Los Olivos, California. 
The "Sopranos" star is survived by his wife of 25 years, Bonnie B. Ray Bisoglio, his sons Joseph Valentino Bisoglio and his wife Devon, Sgt. Scott Chapman and his wife Andrea and Casey DeFranco, as well as his brothers-in-law Will R. Ray, E. Scott Ray, Gaylord W. Ray, and J. Enos Ray. 
Per The Independent, Bisoglio also had passions outside of acting and participated in the Mobilization for Youth pilot project of the Kennedy Administration, an anti-poverty program that aimed to train teenage dropouts for employment.
Responding to the sad news of his passing, many fans of Bisoglio paid their respects online. "Val was an early inspiration. Was so thrilled when I saw him pop up on The Sopranos. Always real," one fan wrote on Twitter.