Why Fans Can't Stop Talking About This New Character On The Simpsons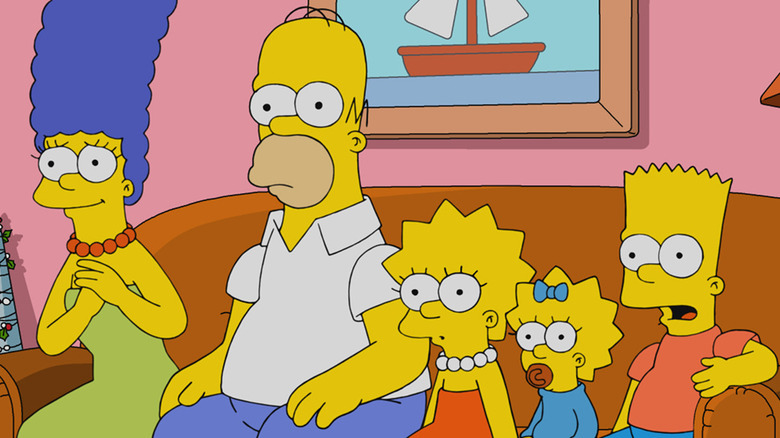 Fox
For more than three decades, "The Simpsons" has been entertaining the world with its wacky antics, topical humor, and huge roster of famous guest stars. Part of the show's enduring appeal is its humanity. Behind the spiky hairdos and yellow skin are fully realized people with individual strengths and flaws. The "Simpsons" world has even shown a serious side by dealing with the deaths of major characters like Maude Flanders and Edna Krabappel (the latter a reaction to the real-life passing of actress Marcia Wallace, per Screenrant). 
Now the show is addressing an important topic with the introduction of yet another new character. In an episode called "Lisa's Belly," Lisa and Marge visit a hypnotherapist named Dr. Wendy Sage, who also happens to be a breast cancer survivor. Sage has undergone a unilateral mastectomy but opted not to have reconstructive surgery, so she sports what she terms a "uniboob" (via TV Insider).
Sage has a bio on the Instagram page @LessThanTwo Breasts. Introducing herself as a therapist who helps patients with body negativity issues, she explains, "I like crystals, candles, indoor plants and my one remaining boob. Living out loud as a one-breasted woman is an opportunity to celebrate survivorship and honor my body for all it endured during treatment."
Dr. Wendy Sage is based on a real member of the Simpsons extended family
"Simpsons" showrunner Matt Selman had actually wanted to feature a character like Sage for several years; his wife, actress Renee Ridgeley, is a breast cancer survivor. She originally had implants following her mastectomy, but had them removed when they began to affect her health. "We are always looking to reflect the world as the world changes for good and for bad — usually bad! — but we didn't want it to feel preachy or jammed in," Selman recently told Yahoo! Life. "We wanted the fit to feel really clean." When the writers came up with a storyline in which Marge criticizes Lisa's body, Selman saw it as the perfect opportunity to introduce Sage.
Ridgeley is now an advocate for women who "stay flat" rather than undergo reconstruction. However, she says the character of Sage isn't meant to be a breast cancer symbol. "[T]he episode does not focus on her past disease," she told Yahoo! Life. "Sage shows up as exactly who she is now. By living openly as a one-breasted woman, she sends a message of acceptance and wholeness celebrated by individuals in marginalized groups."
Fans are raving about the episode. Reactions on the Instagram account include: "We love Sage! Thank you so much for this amazing representation," and "Beautiful representation of so many women out there."