Is This How Donald Trump Will React If He Doesn't Win The Republican Nomination For 2024?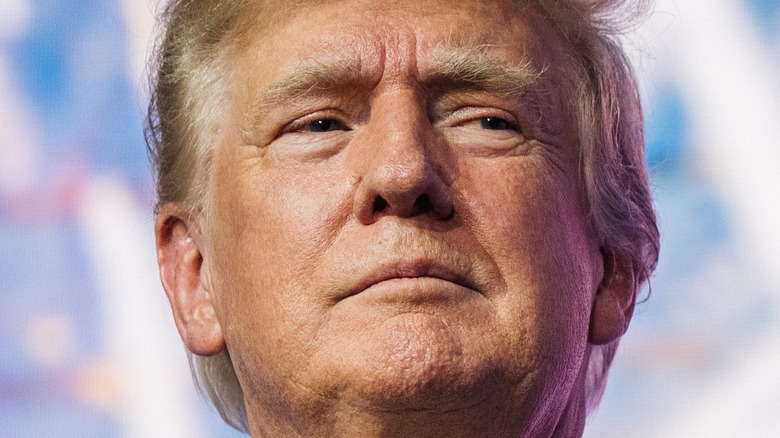 Brandon Bell/Getty Images
Although former President Donald Trump has not formally announced that he is running for president again in 2024, the political punditry has been speculating he will since he lost the 2020 election. In fact, Trump still claims he won that election, although Joe Biden has been president since January 20, 2021. When asked by Sean Hannity if he has decided whether he will run again, Trump only says that yes, he has decided but has not said what that decision is (via Yahoo! News).
In addition, since the United States seems to be in the midst of a presidential election at all times, there's been plenty of polling potential 2024 candidates, and Trump is always included as a choice, with pollsters often asking if respondents would like Trump to run again. An October 2021 Quinnipiac poll showed 58% of Americans would like to see someone else at the top of the Republican presidential ticket (via MSN), while 78% of Republicans said they do want him to run again. If he doesn't run in the primary or if he loses the nomination, some political experts fear what he will do to the GOP.
Republicans might feel 'handcuffed' to Donald Trump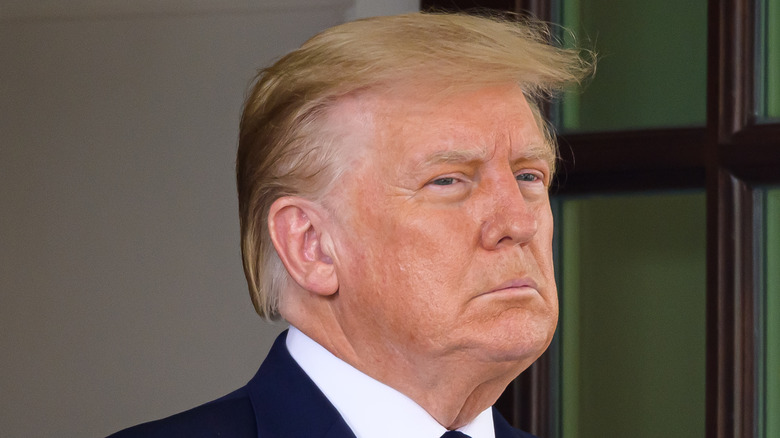 noamgalai/Shutterstock
After former President Barack Obama gave a campaign speech in support of Virginia gubernatorial candidate Terry McAuliffe on October 23, 2021, he described how the Republican party is still tied to Donald Trump whether they want to be or not. Former Republican Congressman David Jolly, who left the party after Trump was elected (via Newsweek), agreed with Obama during an appearance on MSNBC.
"What president Obama was describing there was the handcuffs around the wrists of all leading Republicans, but let's not give them a pass here. They put their wrists out there and asked for those handcuffs," Jolly said.
While Jolly worries about polling from Grinnell College that shows Trump and Joe Biden tied at 40% each in a 2024 matchup (via Newsweek), he also thinks there is time for Democrats to improve their messaging, while Republicans should be wary of Trump whether he is at the top of the ticket or not.
Will the GOP hitch itself to a losing candidate in Trump?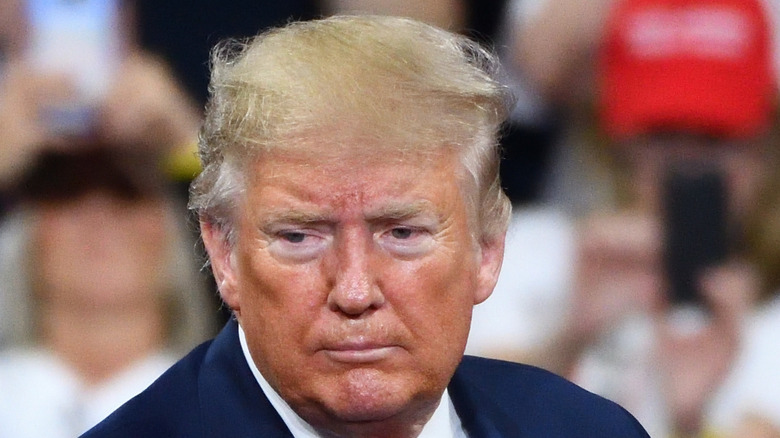 Evan El-Amin/Shutterstock
Former Florida Congressman David Jolly also has his doubts whether Donald Trump will really run again in 2024, but if he doesn't, he may cause trouble for whoever does end up running against Joe Biden in 2024. "He will say he's not running because the system is rigged and nobody should participate, and he'll actually kneecap whoever might be the potential Republican nominee behind him" (via MSNBC).
Indeed, Trump already put out a statement in October 2021, saying unless Republican officials remedy the fact that he lost in 2020, Republican voters will just stay home in 2022 and 2024 (via The Daily Beast).
If he does decide to run again and actually gets the nod, Jolly believes he wouldn't be the best candidate to win over the general electorate even if he does Republican voters. "Donald Trump very likely could be the nominee of the Republican Party and he very well might win, but it's a slim chance. This is a person who lost the popular vote twice, and so the Catch-22 for Republicans is, if he decides to run and gets the nomination, you're going into '24 with a losing candidate" (via YouTube).