Why Kourtney Kardashian's Latest Instagram Post Has Everyone Talking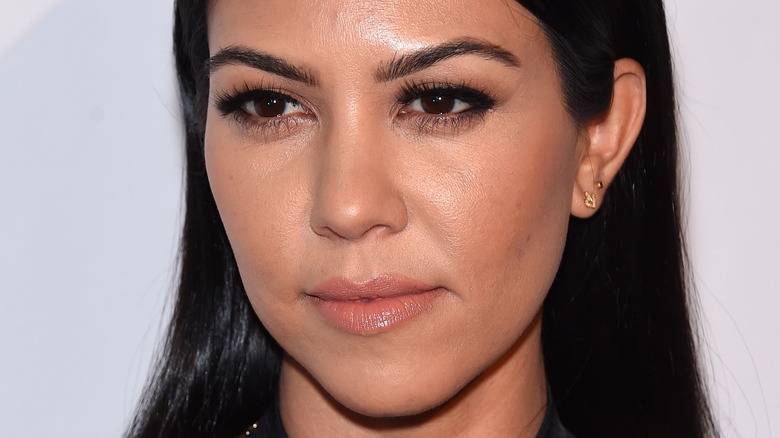 DFree/Shutterstock
Fans of Kourtney Kardashian are already buzzing about her new engagement to Travis Barker, especially since the ring the Blink 182 band member gave the reality star is, gulp, said to be worth as much as $1.34 million (via NZ Herald).
Of course, Kardashian shared the news of the betrothal via Instagram, simply writing "forever" as a caption to images of a rose-strewn beach proposal. She later posted more pics of the engagement, with Barker commenting, "Forever with you is a dream come true."
Now, the eldest Kardashian sister has taken to Instagram again, this time to show off her massive bling, and not much else (via Metro). Indeed, the mom of three is nude on a rose petal-covered bed, with her dazzling ring taking center stage.
But since a Kardashian can't do anything without creating a controversy, commenters on Instagram have drawn an interesting comparison between the topless images the star posted, and her sister Kim's infamous sex tape.
Kourtney Kardashian's fans come to her defense
Kim Kardashian herself recently commented on the sex tape that many people believe made her famous, joking that the footage was the last time she had a film open during her recent hosting stint on "SNL."
Meanwhile, over on Instagram, one commenter said about Kourtney's topless photo, "Her Kim era i fear." "We all know what happened last time a Kardashian was in bed with a camera... ask Kim how that one turned out," seconded another Instagram user.
But a Kardashian fan quickly came to her defense, and blasted the commenters comparing the image to the sex tape, writing to them, "I hope you don't have any daughters because it is disgusting and not funny that you're slut shaming a woman in 2021."
Meanwhile, many fans of the star were simply on hand to congratulate her on the engagement, with one person commenting on the images, "You deserve nothing but love and happiness."