Why Ron DeSantis' Latest Offer To The Police Over Covid-19 Vaccines Has Twitter In A Tizzy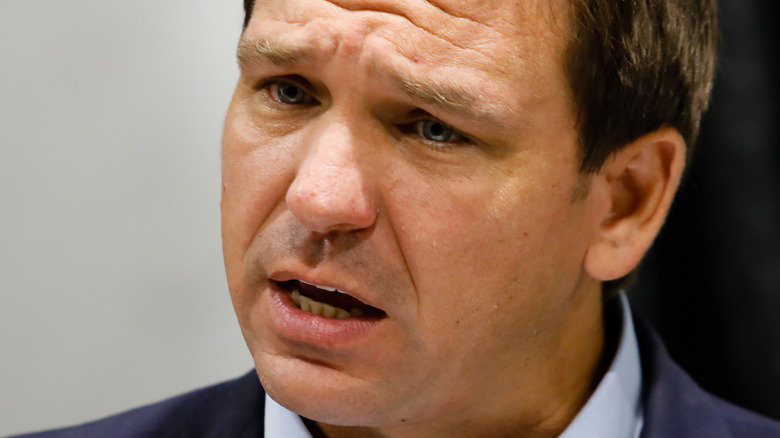 Bloomberg/Getty Images
Just as President Joe Biden confirmed he supports Covid-19 vaccine mandates for police officers, and went so far as to tell CNN's Anderson Cooper last week they should be "let go" if they don't comply, Florida Governor Ron DeSantis has appealed to the men and women in blue with a unique offer (via WebMD).
As The Washington Post reports, DeSantis said on "Sunday Morning Futures," "We're actually actively working to recruit out-of-state law enforcement, because we do have needs in our police and our sheriff's departments." He went on to tell host Maria Bartiromo that the state is looking to recruit police officers from cities like Seattle, Chicago, and New York City, where vaccine mandates are currently in effect.
In fact, DeSantis wants to offer disaffected police officers $5,000 to relocate to the Sunshine State. "We'll treat you better," he noted on the program.
Not surprisingly, the unconventional appeal has Twitter buzzing.
Governor DeSantis' offer gets pushback and support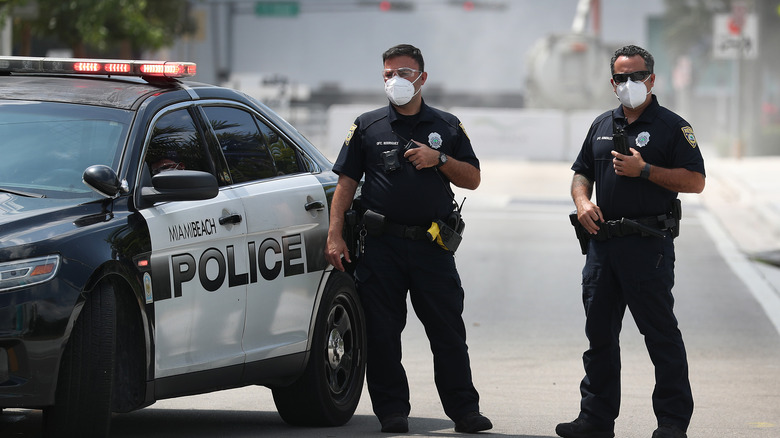 Joe Raedle/Getty Images
Governor DeSantis explained his rationale for the offer to police officers on his own Twitter feed, opining, "Your livelihood should not be dependent upon whether you get a COVID shot. This is a personal decision." He added, "The Biden Vaccine Mandate is unconstitutional, and we have a responsibility to fight back as a state." Finally, he said, "Vaccine mandates are bad for the economy."
But not everyone agreed. "Ron DeSantis – Is he the most stupid governor or the most dangerous – or both?" one Twitter user commented as a reaction. Someone else said in part, "Why then is twice vaccinated Ron DeSantis incentivizing Cops not to get vaccinated? He must hate Cops."
Someone else tweeted about the offer, "This is absolutely disgusting," while another person joked, "Next Gov. Ron DeSantis to offer bowls of fruit to COVID infected bats, if they will move down to Florida."
Still, DeSantis has his supporters on Twitter, with one saying, "Ron DeSantis is the most brilliant leader in America right now." Seconded another fan, "Gov. Ron DeSantis is doing everything RIGHT in Florida!! I hope he is our president someday soon."
Finally, another Twitter user noted, "I hate no love for Ron DeSantis and his administration but I will agree with you on this. I'm not anti-vaccine at all and I support anyone who chooses to get it, but people can't be oblivious to the fact that it doesn't prevent transmission of the virus."