Kylie Jenner's Blue Hair Look That Fans Envy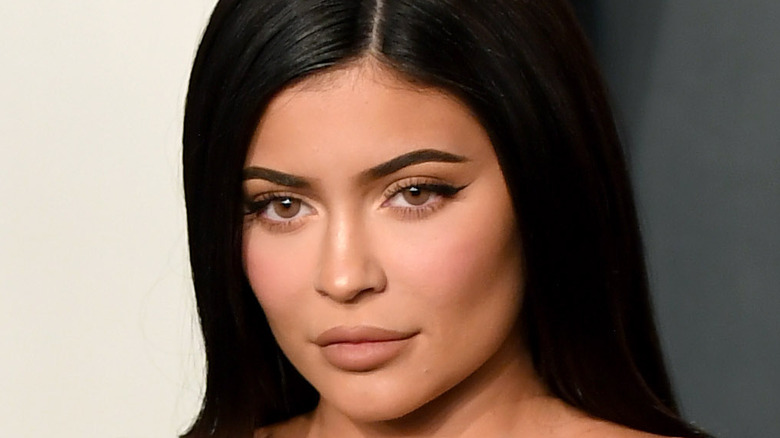 Karwai Tang/Getty Images
We may receive a commission on purchases made from links.
Kylie Jenner is well known for changing her 'do whenever the mood strikes. From her long, toasty blonde style in November 2020 to her brown "mom lob" in August of that year, everyone knows that the 24-year-old celebrity loves to experiment and revamp her locks (per Byrdie). But it's not every day that Stormi's mom changes her hair color to something a little more wild, like purple or pink. Remember when Jenner dyed her tresses a dreamy, dark blue shade?
Back in 2016, Jenner wowed fans when she posted a picture on her Instagram with brand-new hair. "Midnight blue," she wrote in the caption. Fans absolutely loved the look, writing in heart emojis and raving about the style. The pull may have been the subtlety of the shade, the softness of the hue, or the very dark undertones. Regardless, it left fans hungry for the look and trying to recreate it on their own. But how does one achieve the perfect color?
How to recreate Kylie Jenner's midnight blue hair
Achieving the mysterious, alluring shade of Kylie Jenner's midnight blue hair isn't incredibly difficult, but it does take care and patience. If you have blonde hair, you can easily dye your locks a darker shade. If you have brown hair or black hair, however, things will be a little more tricky. Mooky Chick recommended first lightening your hair a few shades up with bleach. This will allow the dark blue color to truly permeate your strands and last much longer. If you're worried about the health of your hair, you may dye it without lightening it first, but it won't last as long and will look far more subtle.
Hair dye brands that will deposit a bold, dark blue color include Overtone's semi-permanent coloring conditioner, Manic Panic's After Midnight Hair Dye, and Lunar Tides' Blue Velvet Hair Dye. For a more blue-black style, consider Live Color XXL in Cosmic Blue. Mooky Chick noted that this dye will give you a very dark black shade with a hint of blue. No matter what brand you choose, remember to follow the directions carefully and thoroughly saturate your strands with dye. With diligent work, you should succeed in recreating the shade of your dreams.