Inside Mike And Karen Pence's Life After Donald Trump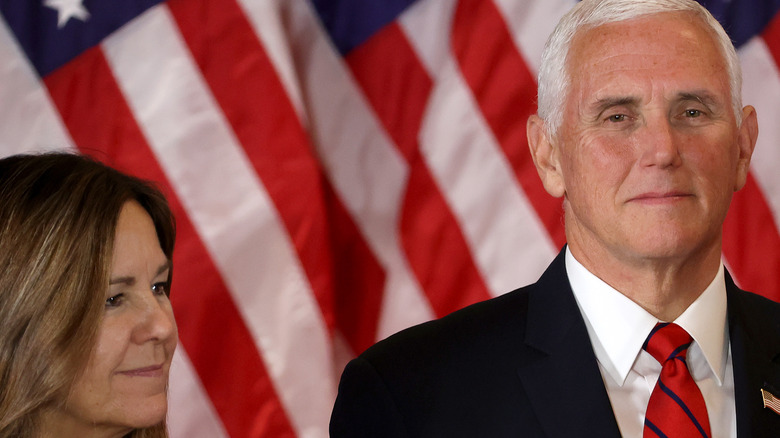 Chip Somodevilla/Getty Images
Mike and Karen Pence spent four long years in the public eye, and being the vice president under Donald Trump certainly didn't seem like an easy task. After all, Trump did sort of send a mob of angry supporters to harm Pence on January 6, 2021, with a number of the former president's supporters chanting the sentiment, "Hang Mike Pence" (via The Washington Post). But what does the former vice president think of that fateful day?
According to CNN, Pence shared his thoughts about the January 6, 2021 insurrection at the Capitol. "Look, you can't spend almost five years in a political fox hole without somebody — without — without developing a strong relationship. And you know, January 6 was a tragic day in the history of our Capitol building," he said. Pence continued, "But thanks to the efforts of Capitol Hill police, federal officials, the Capitol was secured. We finished our work. And the president and I sat down a few days later and talked through all of it.
Pence still claims he has a good relationship with the former president, telling CNN, "I can tell you that we parted amicably at the end of the administration, and we've talked a number of times since we both left office."
Regardless of what the former vice president might have said, he clearly is living it up in his post-White House life. He's stayed out of the public eye for the most part, but a lot has been going on for the Pence family behind the scenes.
The Pence family is enjoying their time outside of the White House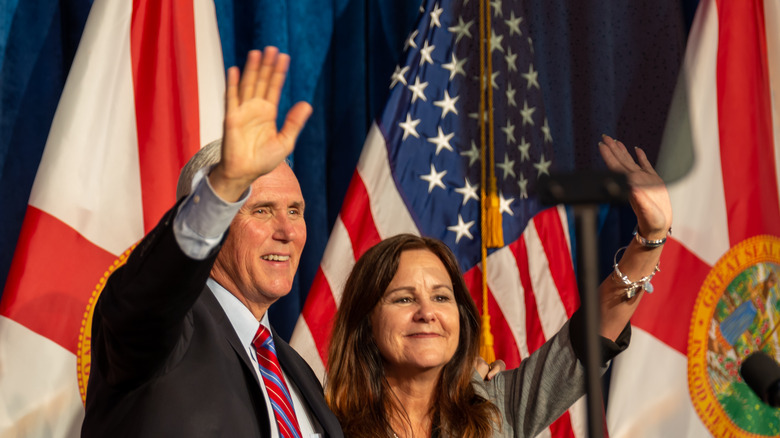 YES Market Media/Shutterstock
Mike Pence and his wife, Karen Pence, have a lot going on in their new lives outside of the White House. According to People, there is a multi-million dollar book deal in store for the couple, and Mike even started his own podcast.
On top of writing a book and making a podcast, the former vice president has been making public appearances where he is reportedly making $100,000 per speech (per Vanity Fair). When he isn't making his rounds on a public speaking tour, he's settling into his new home with his wife, Karen, in his home state of Indiana. "So Good to be Back Home Again in Indiana!" Pence tweeted in May 2021.
Some sources close to the former vice president believe his time spent at home will be short-lived, as he may make a presidential run. "You should not underestimate Pence– he has broad support among the big donors and in Congress, beyond just evangelicals. He's incredibly ambitious. He's a person who sees himself as the president," a close friend expressed. "In the meantime, he's making real money for the first time in his life. Running for president is also a great way of making six-figure speeches."