How George W. Bush Reacted When He Found Out His Granddaughter Is Named After Him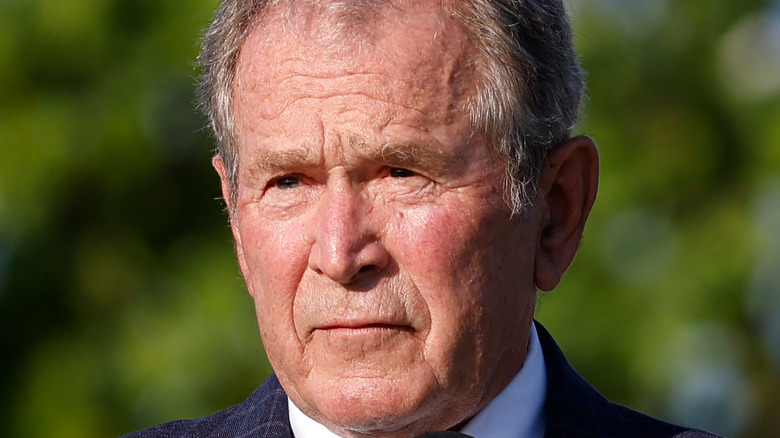 Cliff Hawkins/Getty Images
Former president George W. Bush and his wife Laura Bush became grandparents for the fourth time over when their daughter, Barbara Bush, gave birth to her first baby on September 27. The little girl is the latest member of the immediate Bush family, which also includes Barbara's twin sister, Jenna Bush Hager, and Jenna's own three kids, per PopSugar.
The Bushes' latest grandchild was born six weeks early, Laura revealed on Jenna Bush Hager's hour of the "Today" show. The plan was that Barbara would give birth at a New York hospital, but she and husband Craig Coyne were vacationing at the Bush family home in Kennebunkport, Maine, when the contractions came. As fate would have it, Barbara wound up giving birth at Barbara Bush Children's Hospital in Portland — the medical center named for her late great-grandmother (who she herself was named after). Keeping the tradition alive, the younger Barbara also paid tribute to a family member, naming her daughter Cora Georgia Coyne after her dad.
Does George W. Bush have a new 'favorite'?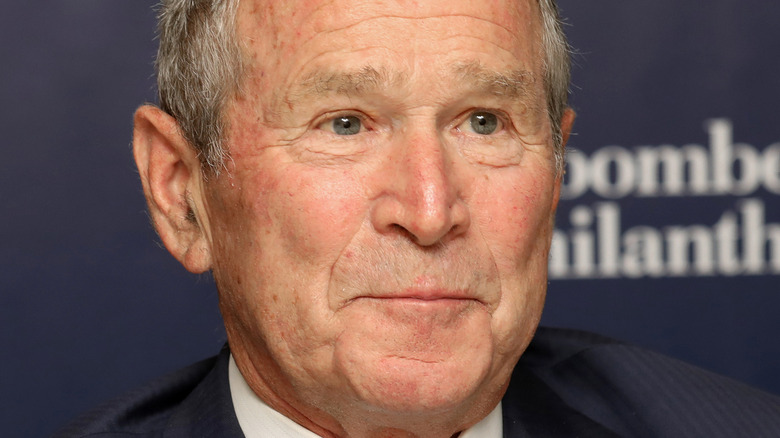 Bloomberg/Getty Images
Just a few days after Cora Georgia Coyne's birth, a thrilled George W. Bush shared his joy on Instagram, with a photo of him, Laura Bush, and their new baby granddaughter. "With full hearts, @laurawbush and I are delighted to announce the birth of our new granddaughter. Barbara gave birth to Cora Georgia Coyne on September 27, 2021, in Maine — not far from our family home where Barbara and Craig were married. Cora is healthy and adorable, and we are proud and grateful."
Laura later went on to her other daughter's talk show, "The Today Show With Jenna and Hoda," to talk about the latest addition to the Bush clan — and her name. "It was really great," Laura told Jenna Bush Hager of Barbara naming her daughter after their dad. "Cora Georgia. So she'll have to be his favorite."
Several days earlier, Jenna discussed the birth of her new niece on the show and offered her own reaction to her niece's namesake. "Henry [Jenna's husband] was like, 'Finally, somebody named something after your dad,'" she said. "It's in honor of him, and I think that's so sweet. We feel so lucky that he was ours, and I know Barbara wanted to pay tribute to him, so that is where that middle name comes from. It's a big one."