Will Real Guns Soon Be Banned From Movie Sets?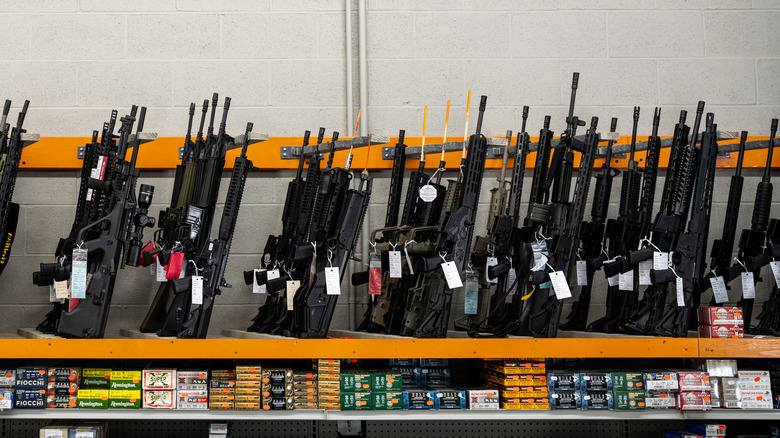 Bloomberg/Getty Images
On the movie set of feature film "Rust," a fatal accident claimed the life of cinematographer Halyna Hutchins (via Deadline). Alec Baldwin, who was rehearsing a scene that required him to point the gun "towards the camera lens," misfired the prop gun, killing Hutchins and injuring director Joel Souza. According to a statement by Souza, Baldwin was told he had a "cold gun" before he began rehearsing (via The Guardian).
Shortly after the horrific accident, Baldwin put out a statement on Twitter, expressing his "shock and sadness" over the situation. "I'm fully cooperating with the police investigation to address how this tragedy occurred and I am in touch with [Hutchins'] husband, offering my support to him and his family," Baldwin wrote. "My heart is broken for her husband, their son, and all who knew and loved Halyna." 
Elsewhere, Baldwin was said to be "hysterical and absolutely inconsolable for hours" following the accidental shooting, and according to a source who exclusively spoke to People, the actor known for his "Saturday Night Live" performances is said to be "canceling other projects." 
While the incident on the "Rust" set may have been an accident, it reveals the neglect and lack of communication on set that led to a clearly avoidable death.
The fatal accident has sent ripple effects throughout the film industry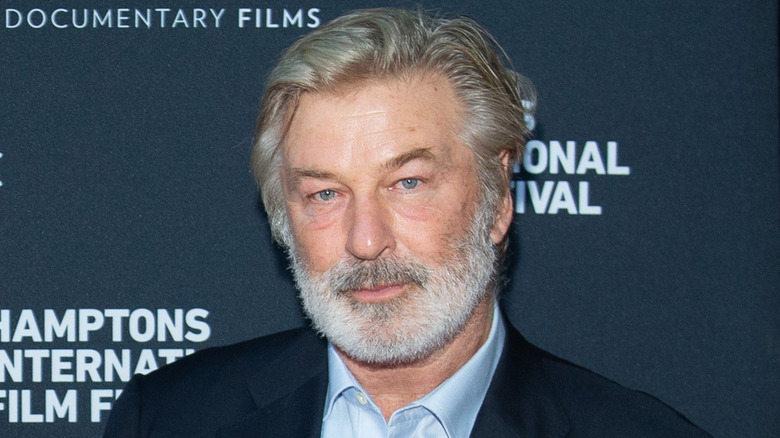 Mark Sagliocco/Getty Images
Many crew members, as well as workers on film sets, are claiming that the "cutting of corners" and poor working conditions could be linked to Halyna Hutchin's death (via The Guardian). Industry employees came together on Sunday, October 24, 2021, to mourn Hutchins as well as protest the dangers of working in Hollywood. The International Alliance of Theatrical Stage Employees' (IATSE) international vice-president, Michael Miller, told the crowd, "We're here to mourn. But I'm afraid we are also gathered with some frustration and a little bit of anger. Anger that too often the rush to complete productions and the cutting of corners puts safety on the back burner and puts crew members at risk."
Others in the film industry agree resoundingly, with filmmaker Bandar Albuliwi starting a change.org petition to "ban the use of real firearms on set and demand better crew working conditions!" The petition has almost 29,000 signatures as of publication, and Albuliwi hopes to push a bill called "Halyna's Law" to ban guns (via change.org). The industry is definitely shaken up by this avoidable tragedy and hopefully, guns are outlawed on film sets soon. If you'd like to help, sign and share the petition to help it reach others.