Chris Evans' First Acting Gig Isn't What You Would Have Thought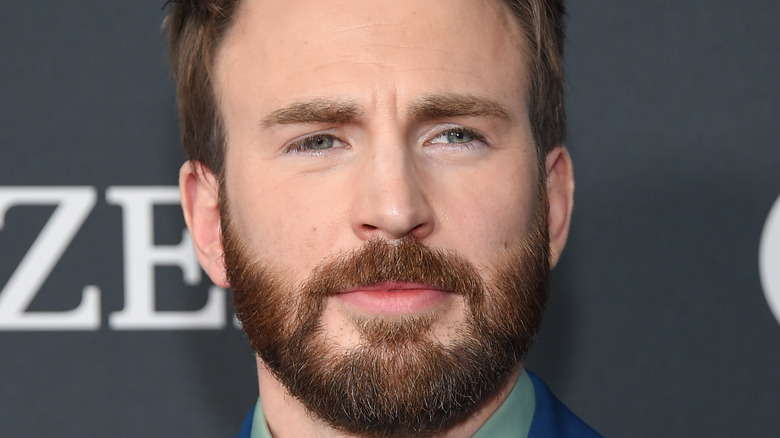 DFree/Shutterstock
With a career spanning over 20 years, Chris Evans has made quite an impact on the world of entertainment. The Boston native has appeared in numerous film and television roles, including "Snowpiercer," "Gifted," and "Knives Out" to name a select few (via IMDb). Of course, Evans is best known for his portrayal of Captain America in the Marvel franchise that has been dominating the box office for the better part of a decade. Evans has played Captain America in 11 films and has since become one of the biggest stars in Hollywood (via Marvel Cinematic Universe).
Before Evans was the Star-Spangled Man with a Plan, he appeared as another famous comic book character in 2005's "Fantastic Four" movie. Evans played Johnny Storm, and although he was charismatic in the role, the movie — and its sequel — didn't perform well at the box office (via IMDb). This was one of the most notable roles Evans had played up until that point, with one small exception.
If you grew up in the early 2000s, you probably glimpsed Evans for the first time when he played Jake Wyler in "Not Another Teen Movie," which many people believe was his first acting gig (via IMDb). Though it was definitely his big-screen debut, Evans had appeared in the series "Opposite Sex" the year before during an eight-episode stint. Evans' first acting gig, though, actually took place a few years earlier, and the role is definitely something you'd never expect!
Chris Evans' first acting gig was for an educational video in the late 1990s
Chris Evans has been a successful Hollywood actor for many years, but the Sudbury, Massachusetts native actually got his start by acting in school plays when he was young (via Backstage). His mother, Lisa Evans, is the artistic director of the Concord Youth Theatre, so performance had been a natural part of his upbringing (via Boston.com). The leap from an elementary school stage to a Marvel set is massive, but Evans steadily built up his portfolio over the years as he honed his acting skills with each new project.
Before making his television debut in 2000, Evans had a chance to flex his skills for the first time in the 1997 educational video "Biodiversity: Wild About Life!" (via IMDb). Evans gives an adorable performance as a student who's working with his classmates to create a video on biodiversity, so they can enter a contest and potentially win $1,000 (via YouTube). At the time, Evans was a 16-year-old student who had only performed at his local theater (via Insider). It isn't quite as gripping as his portrayal of Steve Rogers in "Avengers: Endgame," but Evans' first acting gig was still pretty impressive.