How Many People Really Watched Cher's Variety Show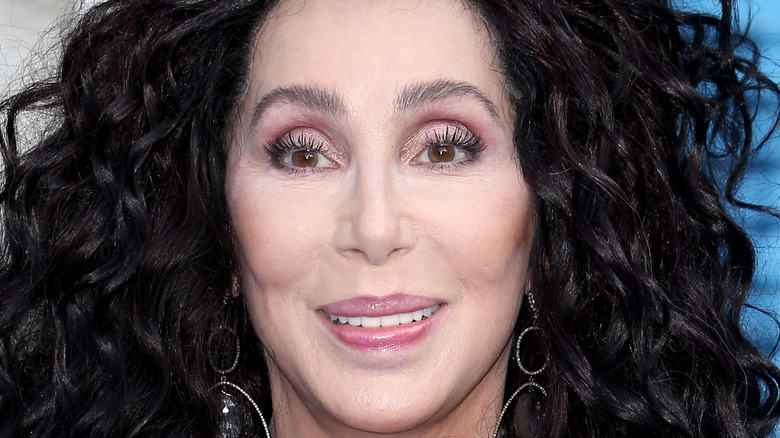 Cubankite/Shutterstock
In the 1960s, Sonny and Cher were musical sensations. The woman who was born Cherilyn Sarkisian in 1946 and grew up in the San Fernando Valley met Salvatore "Sonny" Bono, a man 11 years her senior, when she was just 16 years old after she dropped out of college and moved to Hollywood. 
He introduced her to music producer Phil Spector, and he ended up using her as a backup singer for groups like The Ronettes. After Sonny and Cher married in 1964, they decided to form their own act and even created a signature song, "I Got You Babe" (via Biography).
However, music wasn't the only destiny for this musical couple. While they had success in song in the 1960s, the 1970s brought them both something brand new. Cher had already appeared on television shows like "The Adventures of Ozzie and Harriet" when she was young (via MeTV), but she was about to make it big time on the small screen thanks to her fame with Sonny.
Sonny and Cher took primetime TV by storm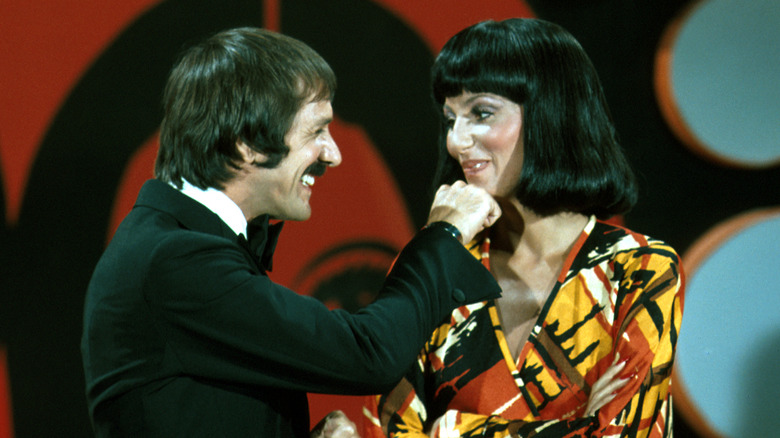 Michael Ochs Archives/Getty Images
With their popularity as a musical couple taking a hit, Cher and her husband, Sonny Bono, turned to television, and "The Sonny and Cher Comedy Hour" debuted on Aug. 1, 1971, becoming an instant hit. Their 1960s love anthem "I Got You Babe" closed out the show every week, giving America the illusion that they were watching a couple for the ages. On the show, Cher proved that she wasn't just a singer; she was also a very adept comedian who left people laughing (via My Lifetime).
At its height, "The Sonny and Cher Comedy Hour" was so popular that it was drawing in about 3 million viewers each week (via MeTV), but the show couldn't survive the fall of Sonny and Cher's marriage. In 1974, their variety show left the airwaves, and the superstar couple divorced. However, that wasn't the end of Sonny and Cher's time entertaining audiences on TV.
The couple couldn't leave television behind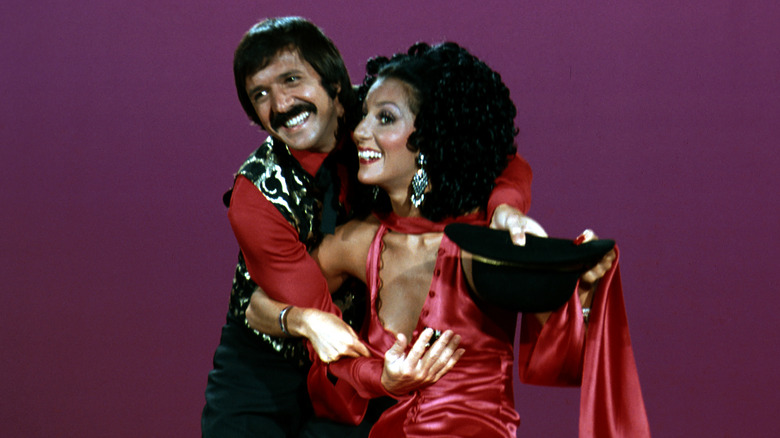 Michael Ochs Archives/Getty Images
Their marriage might have ended when their first variety series did, but that didn't mean the chemistry wasn't still there for Sonny and Cher. Television audiences wanted them back, and, in 1976, "The Sonny and Cher Show" was born, according to Rare.us. 
The show was quite similar to the original variety program that ended two years prior, except that the starring couple was no longer married. However, it didn't last long, and Sonny and Cher went their separate ways professionally by 1977.
The pair still shared a child, Chastity, who now goes by the name of Chazz, and each remarried. While Sonny ended up going into politics and died in a ski accident in 1998 as a member of the House of Representatives (via Biography), Cher's career flourished in concerts, recordings, and movies. She even won the Best Actress Oscar for 1988's "Moonstruck."
In 2021, Cher's connection to her ex-husband made headlines again when she sued Mary Bono, Sonny's widow, for royalty money she says she's entitled to from their earliest recordings.